Description
The Savi 8220 is a small wireless station that will simplify your communication. Thousands of office workers around the world choose Plantronics equipment
The Plantronics DECT Savi 8220 office headset is a mini wireless station that provides a range of up to 580 feet. The noise canceling model with Hi-Fi stereo support is used by many office workers. This equipment is ordered for banks, data centers and other companies. The main reasons for the popularity of the Plantronics DECT Savi 8220 are:
This manufacturer uses quality components
DECT Savi 8220 has built-in voice announcements
Compatible with UC phone applications from Avaya, Cisco and other companies
The manufacturer has received the DECT security certificate
Built-in Bluetooth 4.2
Microphone sensitivity is 112 dB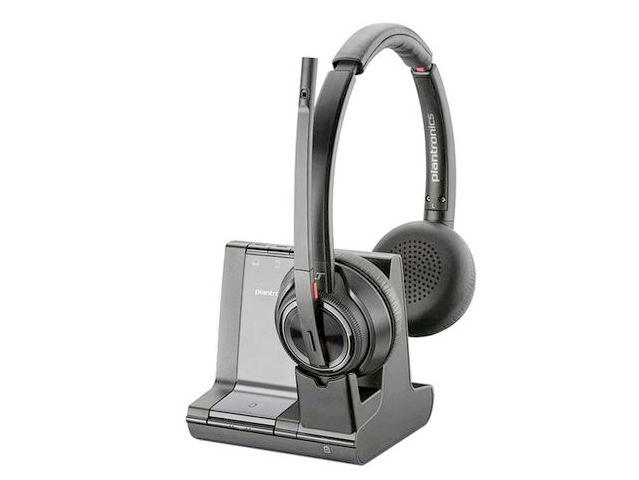 ---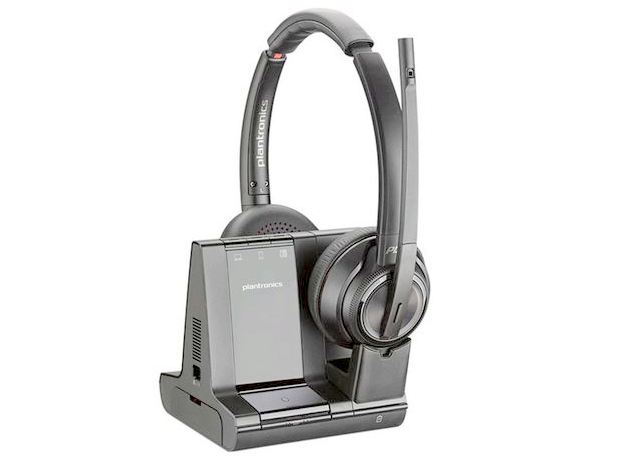 Our Take on the Plantronics Savi 8220 Office Wireless DECT Headset System:
Plantronics designers suggest using a built-in active noise canceling microphone that blocks out background noise. People can talk in their office without being distracted by outside sounds. In sensitive environments, noise reduction can be improved with the Close-Call Reduction feature. People can also set up communications through the Plantronics Hub for increased privacy. The Plantronics engineering department always creates excellent office equipment that will last for years. You can read several reviews of our customers about this product to be sure of this.
---
This mini wireless station has a universal charging base with three-way connection to PC, mobile and landline phone. Advanced equipment allows connecting the headset and the smartphone at the touch of a button. This system also supports DECT 6.0 and Bluetooth 4.2 connectivity. The microphone is flexible. Thanks to this special design, people can adjust it in accordance with the desired talking distance. If you are meticulous in terms of technical specifications, pay attention to the following:
Talk time Is 13 Hours
DECT Savi 8220 has On-Ear design
Wireless range: 580'
Impedance is 32 Ohms
Standby time is 50 Hours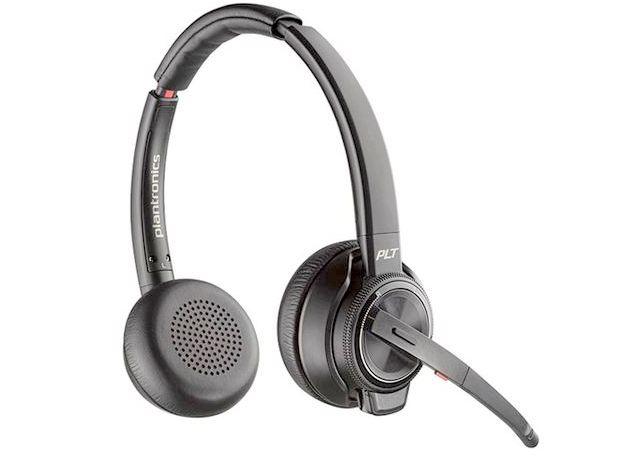 ---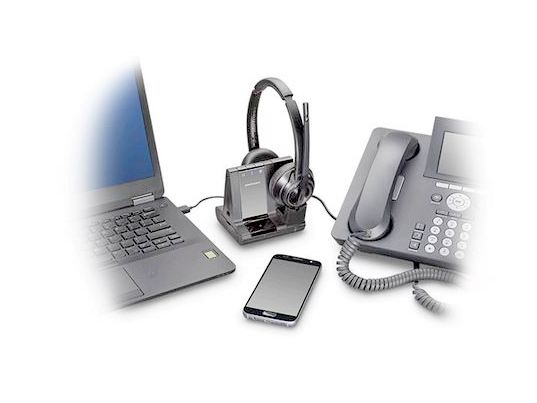 Plantronics never disappoints office workers with its hardware. Adaptive power systems allow you to switch to low power mode. People can set such parameters when the headset is near the Savi 8220 Office base. Plantronics designers have gone to great lengths to keep battery power. This manufacturer claims that you can use this wireless station for up to 13 hours of talk time without recharging. You can buy the Savi 8220 Office Wireless DECT Headset System to see the performance of this equipment. This is the best way to ensure that Plantronics engineering is creating truly superior electronics. Order in our store and we will deliver this item in just a few days.
TOP 10 KEY FEATURES:
| | |
| --- | --- |
| Wearing Style: | Over-the-Head |
| Frequency Mode: | Wideband |
| Driver Size: | 32.00 mm |
| Recharge Time: | 3 Hours |
| Bluetooth: | Yes |
| Battery: | Lithium-Ion Polymer (LiPo) |
| Capacity: | 700 mAh |
| Maximum Sound Pressure Level (SPL): | 118 dB |
| Weight: | 159 g (Headset) |
| DECT 6.0: | Yes |
Included in the box:
Plantronics Savi 8220 Office Wireless DECT Headset System
USB Type-A Cable
Wireless Headset
Phone RJ-11 Cable
Base
Payment & Security
Plantronics Wireless DECT Headset System