---
FREE Shipping on this item.
Please be advised that orders may take 1-2 days to process before shipping.
Description
DJI OM 4 Smartphone Gimbal with Hand Gesture Control, Shape Recognition, Foldable Smartphone Gimbal Stabilizer, 15-Hour Runtime,1/4"-20 Tripod Mount, Time-Lapse, Hyperlapse, Panorama Modes, ActiveTrack, Follow, Sport Modes and Supports up to 3.3" Wide Smartphones
DJI OM 4 Smartphone Gimbal gives you the power to shoot smooth and cinematic footage without purchasing any large tripod or dolly. It is an ideal accessory for heavy action shoots and keeps your Smartphone in a steady position. As compared to the previous Osmo Mobile 3 model, this Gimbal has a strong motor and more torque. The frame is compact and you can easily balance and fold down the smartphone. DJI has provided a magnetic smartphone mount that gives great flexibility to use your device with an easy and secure setup.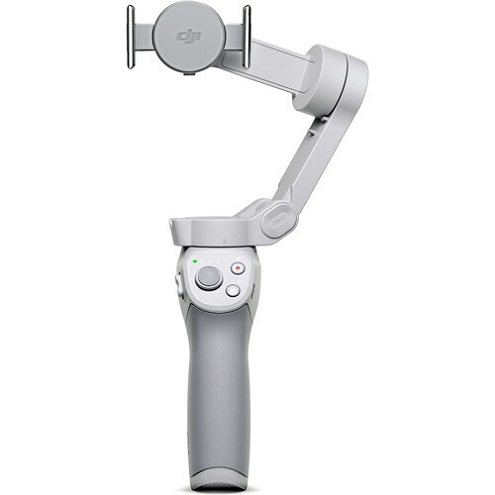 ---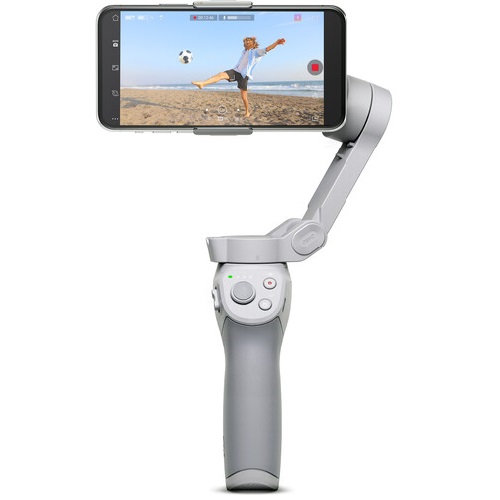 Our Take on DJI OM 4 Smartphone Gimbal:
DJI OM 4 Smartphone Gimbal is controllable via DJI Mimo Application that you can download on compatible iOS or Android devices. The application works on Bluetooth 5.0 and provides modes such as sport, inception, and others. The application sync up with OM4 and provides Slow-Motion, Landscape, Portrait, DynamicZoom, enhanced panorama, and other shooting modes for slow or fast action shooting. The tool has advanced features like hand gesture control and body shape recognition that make your shooting experience more enjoyable with great ease. You can use any smartphone up to 3.3" wide cradle to mount it with the Gimbal. Mounting and un-mounting are fast and simple with provided magnetic phone holder and smartphone magnetic ring.
---
DJI OM 4 Smartphone Gimbal comes with an integrated intelligent sensor that lets you know when the smartphone is properly mounted. This sensor saves your smartphone from damage due to wrong mounting. The handle is more comfortable and provides 15° angle along with useful features such as more accessories mounting, and accessibility to all ports while charging.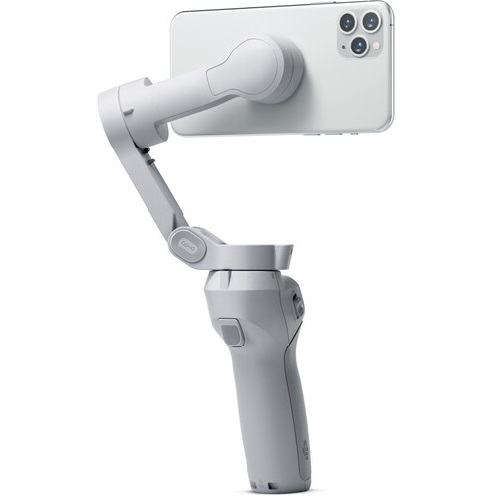 ---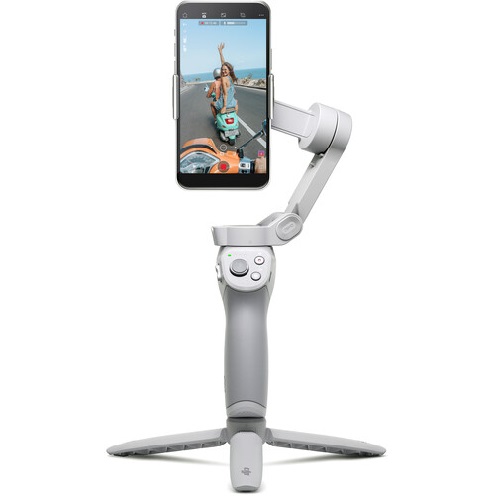 DJI OM 4 Smartphone Gimbal comes with a built-in battery that powers up the device for approximately 15 hours. You need to use USB Type-C cable for charging that takes around 2.5 hours to fully charge the Gimbal. You can also charge your smartphone and other accessories with the provided USB Type-A power output located on the back of the handle. If you love YouTube live streaming, there are Live stream moments features in the product. Gesture control features read certain hand gestures for video recording, still capturing or tracking a subject. Additional features like foldable design, controllable speed, 1/4"-20 tripod mounting thread, Grip tripod, redesigned comfort handgrip, etc., make it very useful in all types of working conditions.
TOP 10 KEY FEATURES:
| | |
| --- | --- |
| Number of Axes: | 3-Axis (Pitch, Roll, Yaw) |
| Load Capacity: | 170 to 290 g |
| Smartphone Dimensions: | 67 to 84 mm |
| Follow Speed: | Pan: 120°/s, Roll: 120°/s, Tilt: 120°/s |
| Ports: | 1 x USB Type-C (5 VDC Power) Input, 1 x USB Type-A (Power) Output |
| Battery Type: | One (1) Built-In |
| Battery Chemistry: | Lithium-Ion |
| Battery Capacity: | 2450 mAh |
| Battery Runtime: | 15 Hours |
| Mounting: | 1 x 1/4"-20 Female |
Included in the box:
DJI OM 4 Smartphone Gimbal
Grip Tripod
Smartphone Clamp
Magnetic Ring Holder
USB Type-C to Type-A Charging Cable
Wrist Strap
Storage Pouch
Payment & Security