Description
Leica APO-Macro-Elmarit-TL 60mm f/2.8 ASPH. Lens (Silver) features a swift f/2.8 maximum aperture so that you can get the best results when working in low-lighting conditions. Its other attributes include Four Aspherical Elements, Apochromatic Design, Life-Size 1:1 Macro Magnification, Minimum Focusing Distance of 6.3", Internal Focusing Mechanism, among others.
Its optical design features ten elements in nine groups so that you will be able to achieve flawless edge-to-edge illumination as well as sharpness. Also, it promotes high contrast all through the aperture range so that you will be able to get the most satisfactory result. It is compactly designed so that it can be perfect for everyday use. It comes with a full-time manual focus, which guarantees a minimum focus distance of 6.3 inches. There is an in-built aluminum alloy lens hood that helps with the prevention of ghosting and lens flare for perfect image capturing.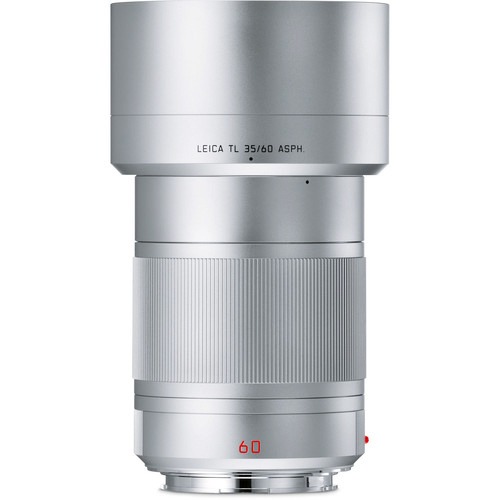 ---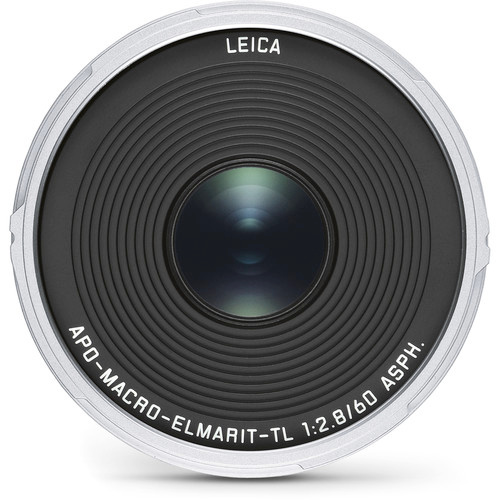 Our Take On Leica APO-Macro-Elmarit-TL 60mm f/2.8 ASPH. Lens (Silver)
The Leica APO-Macro-Elmarit-TL 60mm f/2.8 ASPH. Lens (Silver) is produced from materials of high quality so that there can optimum effectiveness. It has a maximum reproduction ratio of 1:1, hence, you won't have issues getting the best shots at all times. Its frontal part is threaded so that it won't have issues accepting 39mm screw-in filters. With its focal length standing at 60 millimeters, you can be sure of getting it right in terms of flawless capturing. It has a minimum aperture of f/32 making it perfect for all-round deployment no matter the lighting condition.
---
Also, this lens has an angle of view of 27° so that you can get maximum coverage of your subjects. Its lens mount type is Leica L while its dimensions stand at 2.68 inches in diameter and 3.5 inches in length. It weighs just 11.29 ounces, hence, you won't get tired quickly while holding it. You can easily manipulate it to get the most satisfactory outcome. There are four aspherical elements in its optical design so that distortion and spherical aberrations can be controlled. This will make it possible for you to take sharp and clear pictures that will delight your viewers. Its maximum aperture of f/2.8 makes working in poor lighting conditions easier so that there can be the achievement of satisfactory results. It is specially designed to reduce chromatic aberrations and color fringing to achieve clear, sharp image capturing.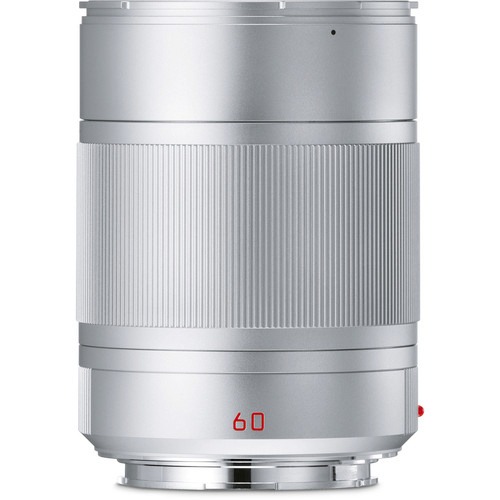 ---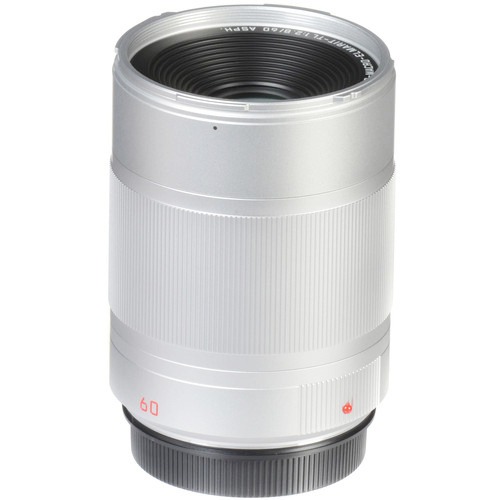 This lens is properly coated so that you can use it in different weather conditions. It is specifically designed for light photography, especially when high quality is at stake. It is made for APS-C-format T-series of mirrorless cameras with an equivalent focal length of 90 millimeters.
TOP 10 KEY FEATURES:
| | |
| --- | --- |
| Focal Length: | 60mm (35mm Equivalent Focal Length: 90mm) |
| Maximum Aperture: | f/2.8 |
| Minimum Aperture: | f/32 |
| Lens Mount: | Leica L |
| Format Compatibility: | APS-C |
| Angle of View: | 27° |
| Minimum Focus Distance: | 6.3" / 16 cm |
| Maximum Magnification: | 1x |
| Macro Reproduction Ratio: | 1:1 |
| Optical Design: | 10 Elements in 9 Groups |
Included in the box:
Leica APO-Macro-Elmarit-TL 60mm f/2.8 ASPH. Lens (Silver)
Front and Rear Lens Caps
Lens Hood
Payment & Security
Leica APO-Macro-Elmarit-TL 60 mm f/2.8 ASPH Lens - Silver