Description
The Nikon KeyMission 170 4K Action Camera provides you with incredible slow-motion and super-slow-motion videos and stunning stills. Its 170° angle of view captures a wide surrounding without missing a detail!
The Nikon KeyMission 170 4K Action Camera is a rugged device that can be used for your action-packed adventures and in challenging environments. It can provide up to Ultra HD 4K clarity at a 30/ 25 fps frame rate. You can capture a large view of your environment details with this ultra-wide-angle camera that provides a 170° view. It provides high-resolution photography, besides 1080p Full HD videos in 120 fps slow-motion. It also offers 720p super-slow-motion videos at 200 and 240 fps rates.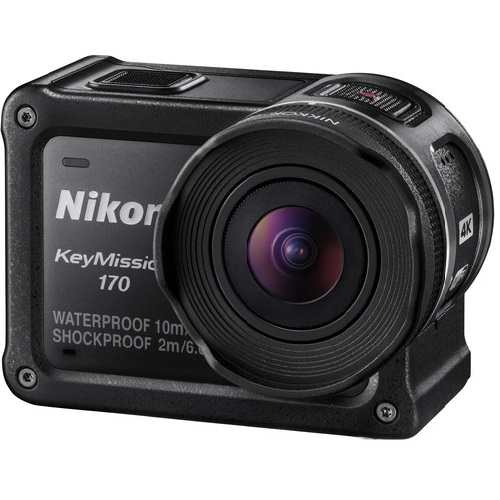 ---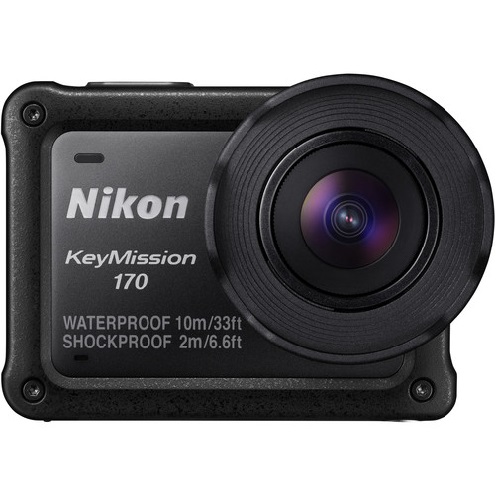 Our Take on the the Nikon KeyMission 170 4K Action Camera :
The Nikon KeyMission 170 4K Action Camera is built to withstand challenging environments and hence is waterproof up to 33 ft. under the water and shockproof from 6.6 ft. It is also dustproof and freezeproof. And unlike many other similar cameras, it doesn't need a separate housing or enclosure for all the aforementioned protection. By avoiding extra housing, it also delivers clear images as there is no additional layer coming in between the subject and the lens or the microphone. Nikon has included a glass Nikon Nikkor lens for the camera like in all other models in the KeyMission series.
---
The Nikon KeyMission 170 4K Action Camera incorporates the Vibration Reduction (VR) technology to eliminate any effects of shakes or jitters in the images, thus increasing its sharpness. A Nikon app for controlling and playback functions is also included with the camera, which is also freely available to download. The app is compatible with both Android and iOS devices. A microSD card slot, HDMI output, and a USB 2.0 connection port are integrated into the unit for advanced connectivity. Moreover, there is built-in Wi-Fi and Bluetooth facility to wirelessly share all the files.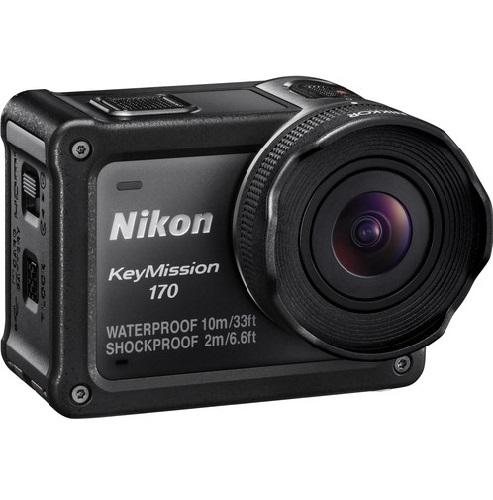 ---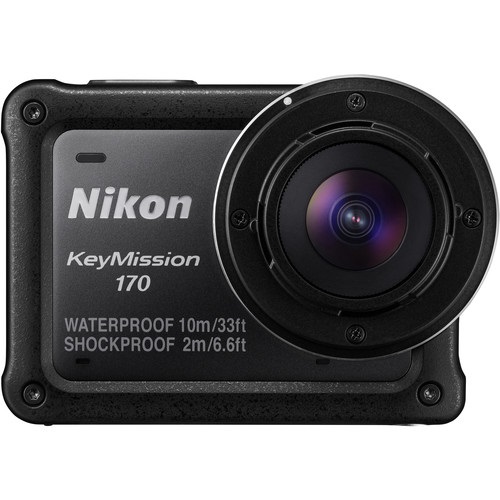 The Nikon KeyMission 170 4K Action Camera includes a 1.5" display at the rear which can be used for both setting up or monitoring your recording. It can also act as feedback by playing back what you captured. The battery will let you make 250 still shots, 110 minutes of video, or one hour of underwater use with a full charge. The accessories that come with the camera include a lens protector to avoid scratches, an underwater lens protector that gives you proper focus when used in water, and remote control. Besides, it also supports a wide range of other accessories that come in handy in your various outdoor and underwater adventures.
TOP 10 KEY FEATURES:
| | |
| --- | --- |
| Video Format: | 3840 x 2160p; 1920 x 1080p; 1280 x 720p |
| Angle of view: | 170° |
| Waterproof limit: | Up to 33 ft |
| Shockproof limit: | From 6.6 ft. |
| Image stabilization: | Built-in electronic Vibration Reduction (VR) |
| Display size: | 1.5 inches |
| Battery capacity: | 250 still images or 110-minute video recording |
| Focusing distance: | 16 inches |
| Wireless connectivity: | Built-in Wi-Fi and Bluetooth |
| Wired ports: | HDMI output, USB 2.0 |
Included in the box:
Nikon KeyMission 170 4K Action Camera
Nikon Rechargeable Lithium-Ion Battery
Nikon Charging AC Adapter
Nikon Male Type-A to Micro Male Type-B Cable (Black)
Base Adapter
Base Mount F
Base Mount C
Lens Protector
Underwater Lens Protector
Remote Control
Payment & Security
Nikon KeyMission 170