Description
Steiner's Wildlife binoculars series is a perfect representation of everything Steiner believes in - innovation, durability, functionality, and optic excellence. Steiner Wildlife 10x42 binoculars' 10x magnification is one of the best for observing every little detail at very long distances.
To start with, the binoculars offer outstanding ruggedness. Made from durable polycarbonate Makrolon, their housing is sturdy and waterproof up to 3 meters.
On top of that, the Nitrogen-Pressure-Filling in the optics prevents fogging up to provide a clean and clear view within a temperature range of -20°C to +80°C.
Additionally, the binoculars come with Non-slip NBR-Longlife rubber armor that not only resists oil, acid, and harsh weather but also prevents accidental damage by preventing falls during outdoor viewing sessions.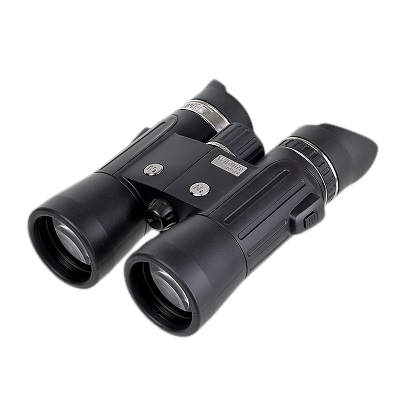 ---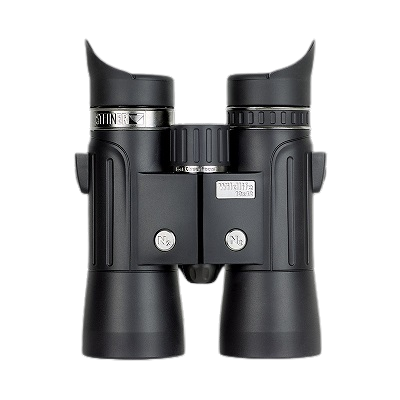 Our Take on the Steiner Wildlife 10x42 Binoculars:
These binoculars come with a fantastic Distance-Control-System that enables observation distance pre-setting and sharp focusing with just one simple turn of the XL-focusing wheel. This is a highly intuitive mechanism, which makes viewing more interesting when the user is observing a fast-moving subject.
The viewing experience is enhanced multifold because of the High-Definition-Optics that ensure you receive a clear, razor-sharp view, maximizing contrast and resolution settings. Further, the highly specialized coating on the optics ensures the "just right" light transmission, reducing diffused light to a minimum. With such optical excellence, you can rest assured that the contours are always sharp and distinct.
---
Another striking feature of these binoculars is their Fast-Close-Focus. First of all, the central focusing wheel is very sensitive, and therefore only a minimal, step-less rotation is required to achieve sharpness and close-up view easily and quickly.
Further, their lightweight & ergonomic design comprises rubberized elements that ensure comfortable extended observation and effective noise reduction. You also get a highly reliable grip through the finger recesses even while wearing gloves.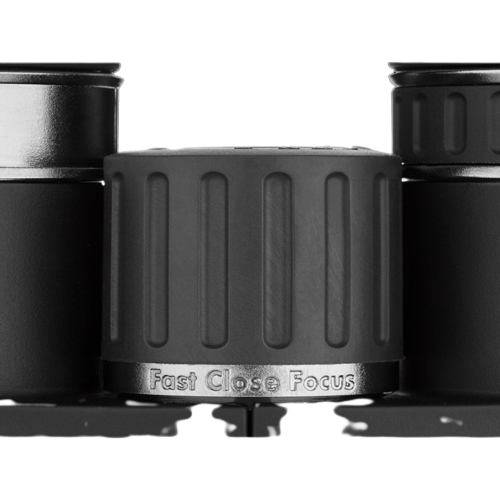 ---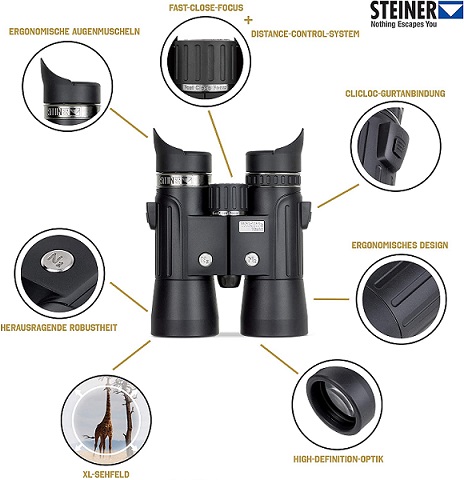 To add to the overall Ergonomics, binoculars come with ergonomic rotation eyecups made from silicone that's soft, skin-friendly, and non-aging. It ensures that incident light and draught are reduced to a minimum, making viewing much more comfortable. Further, the construction ensures that you can use the binoculars even with eyeglasses.
The included strap offers a ClicLoc System that can be easily activated to prevent the binoculars from falling as you hang them around your neck. This makes you action-ready instantaneously when you spot a perfect viewing moment.
TOP 10 KEY FEATURES:
| | |
| --- | --- |
| Objective Lens Diameter: | 42 mm |
| Magnification: | 10 x |
| Weight: | 716 g |
| Exit Pupil: | 4.2 mm |
| Luminosity: | 17.64 |
| Twilight Factor: | 20.49 |
| Field of View at 1000 m: | 108 m |
| XP-Distance: | 16 mm |
| Focusing System: | Fast-Close-Focus / Presicion-Setting |
| Close Focus Range: | 2 m |
Included in the box:
Steiner Wildlife 10x42 Binoculars
Payment & Security
Steiner Wildlife 10x42 Binocular