---
✔ Get FREE Shipping. Confirmed orders might take 1-2 days for processing.
Description
Apple HomePod Mini (White) is a 3-in-1 device - music speaker, smart home hub, and Siri-enabled intelligent assistant. Some of its rich attributes are Apple-designed Woofer, Array of Seven Beamforming Tweeters, Four-Microphone Array for Far-Field Voice, Siri-enabled Intelligent Assistant, Apple S5 Chip, Automatic Room-Sensing Technology, 802.11ac Wi-Fi, Bluetooth 5.0, Touch Surface, Apple Music, iTunes, AirPlay, iOS Compatible, among others.
It makes use of advanced Apple-engineered audio technology, including upgraded software for real-time acoustic modeling, echo cancellation, audio beamforming, just to mention a few. Supercharged by the Apple S5 chip, it is an ideal device for optimum sound delivery. With the aid of spatial awareness, it senses where it is placed in the room and embarks on automatic audio adjustment for maximum sound effectiveness. Its high-excursion woofer with a custom amplifier guarantees flawless delivery of rich, deep bass. There is a strong motor that drives the diaphragm, and it makes use of an advanced algorithm for immersive, smooth sound at all times.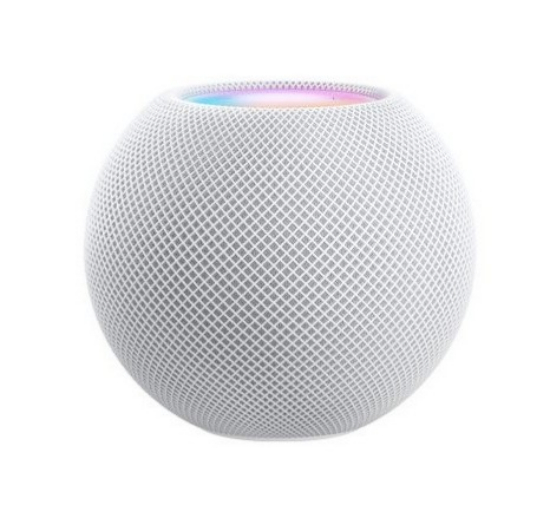 ---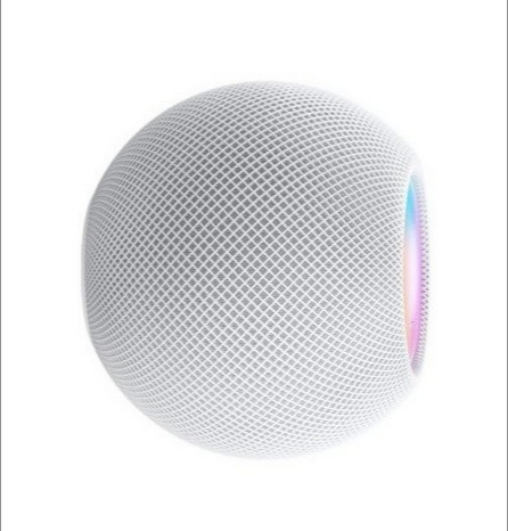 Our Take on the Apple HomePod Mini (White):
The white Apple HomePod Mini comes with seven beamforming tweeters, and each of them has a distinct amplifier, transducer, and precision acoustic horn so that high-quality sound will be produced. With the seven tweeters, you can be confident of high-fidelity audio that will not disappoint you when it matters most. You will like its stylish design, which guarantees both aesthetics as well as acoustic effectiveness. It is just 3.3 inches tall meaning that no one can dispute its compactness. It is easy and quick to set up, you only need to plug in and your iOS will find it.
---
When you subscribe to Apple Music, you will get seamless access to more than 45 million songs. Apple Music learns your favorite songs and it can help in picking them for you later. If you open Apple Music on any other device, your preferences and playlists will stay intact. Friends linked to your Wi-Fi network can stream their music to your HomePod for maximum enjoyment. You can ask Siri to help you find songs, including the latest songs in different categories. Also, Siri can help you add songs to your party playlist, you only need to say "Hey Siri, add this to my party playlist."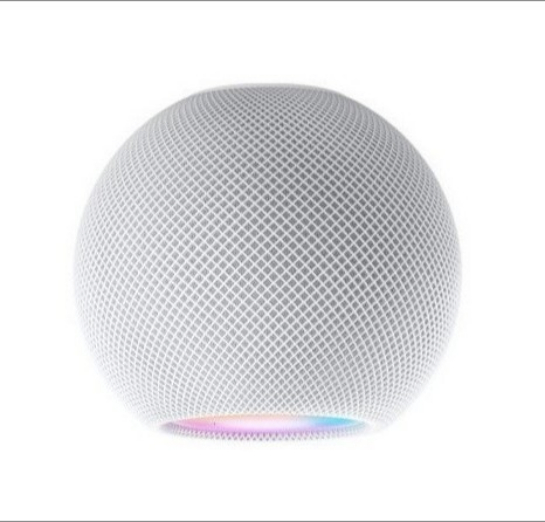 ---
Also, its touch surface is a plus making it possible for you to tap the top to play, skip a song, pause, or adjust the volume. You can send messages with your voice, thanks to Siri, which can also read your received messages for you. Up to four microphones can pick up your command to Siri, even if the music is playing loud. You can stay updated with the latest headlines, business news, sports news, and so on through direct streaming from CNN, ESPN, NPR, and so on.
TOP 10 KEY FEATURES:
| | |
| --- | --- |
| Virtual Assistant Support: | Apple Siri |
| OS Compatibility: | iOS |
| Processor: | Apple S5 |
| Supported Audio Formats: | AAC, AIFF, Apple Lossless, FLAC, HE-AAC, MP3, Protected AAC (M4P), WAV (LPCM) |
| Number of Microphones: | 4 |
| Bluetooth: | 5.0 |
| Wi-Fi Standards: | Wi-Fi 5 (802.11ac) |
| AC Input Power: | 100 to 240 VAC, 50 / 60 Hz |
| Dimensions (W x H): | 3.9" x 3.3" |
| Weight: | 0.76 pounds |
Included in the box:
Apple HomePod Mini (White)
20W Power Adapter
Payment & Security
Apple HomePod mini MY5H2LL/A (White)