Description
Apple 21.5" iMac with Retina 4K Display (Early 2019) is your perfect choice for taking your ideas to the next level. Its highlights include a 3.6 GHz Intel Core i3 Quad-Core (8th Gen), 8GB DDR4 RAM, 1TB 5400 rpm HDD, 21.5" 4096 x 2304 IPS Retina 4K Display, AMD Radeon Pro 555X (2GB GDDR5), SD/SDHC/SDXC Card Reader, Thunderbolt 3, USB 3.0 Type-A, Wi-Fi 5 (802.11ac), Bluetooth 4.2, Gigabit Ethernet, Magic Keyboard & Magic Mouse 2, etc.
It is powered by an 8th-gen Intel Core i3 Quad-Core processor, which boasts a speed of 3.6 GHz. The processor makes use of low voltage so that there can be enhanced energy efficiency during operations. With the combination of 8GB of 2400 MHz DDR4 RAM, you can perform various tasks simultaneously swiftly, and efficiently.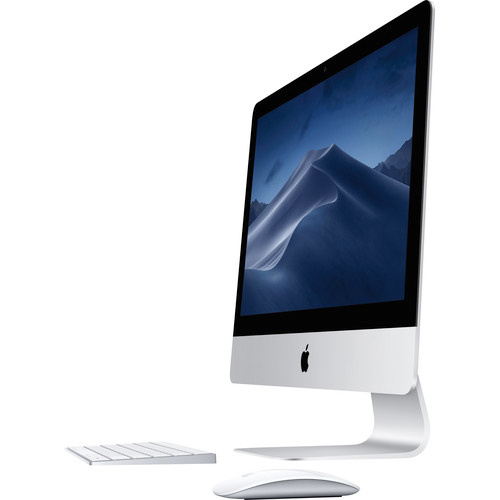 ---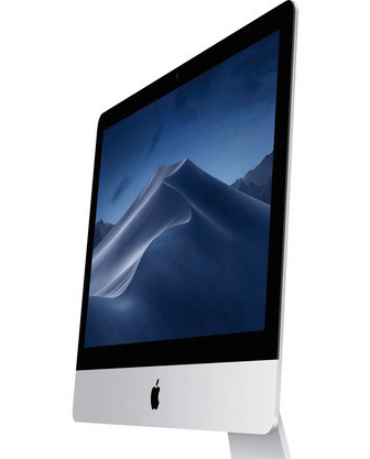 Our Take On Apple 21.5" iMac with Retina 4K Display (Early 2019)
The Apple 21.5" iMac with Retina 4K Display (Early 2019) is fortified with a 21.5-inch IPS display with a 4096 x 2304 screen resolution and a 16:9 aspect ratio. That is why you won't have issues playing back Full HD 1080p content natively. Its IPS panel guarantees wider viewing angles, hence, many people can view it without overcrowding. There is an in-built AMD Radeon Pro 555X graphics card, which helps with the delivery of Full HD visual effects as well as 3D graphics. You can also create 3D VR content and edit 360° videos without much hassle.
---
Also, this iMac comes with two Thunderbolt 3 ports for perfect utilization of the reversible USB Type-C connector. The Thunderbolt 3 boasts of an upper limit throughput of 40 Gb/s for swift data transfer. Hence, you won't have issues connecting cameras as well as external drives. There are four 5 Gb/s USB 3.0 Type-A ports that help with the seamless connection of your printer, thumb drive, iPhone, and so on.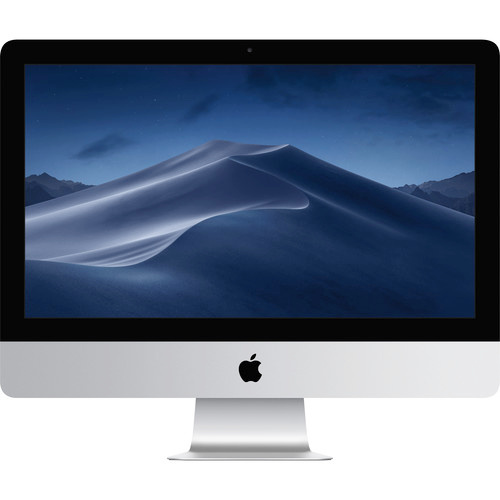 ---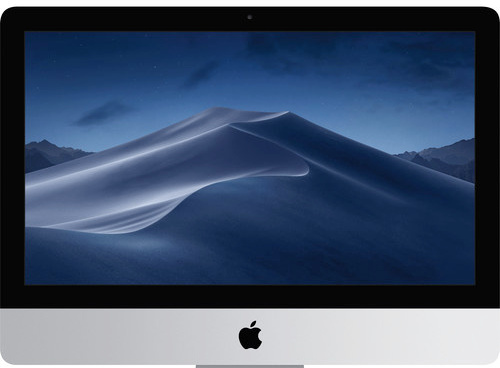 When shopping online, you don't need to enter your shipping or billing information, you can make use of Apple Pay for secured checkout. You will like its slim 5mm profile made possible by the use of an upgraded welding method known as friction-stir welding, to join the front and the rear of the iMac together directly. That is why no one can dispute its compactness for optimum ease of use. It has three-stream Wi-Fi 5 (802.11ac) technology so that you won't have issues connecting best-loved content. With its in-built Bluetooth 4.2 wireless technology, connecting vital accessories like a wireless mouse and keyboard is a piece of cake. It is preloaded with macOS, and you can update for free on the Mac App Store.
TOP 10 KEY FEATURES:
| | |
| --- | --- |
| CPU: | 3.6 GHz Intel Core i3 Quad-Core |
| Memory Type: | 2400 MHz DDR4 |
| Total Installed Memory: | 8 GB |
| Memory Slot Type: | 260-Pin SO-DIMM |
| Graphics Type: | Dedicated |
| GPU: | AMD Radeon Pro 555 X with 2 GB GDDR5 VRAM |
| Display Size: | 21.5" |
| Aspect Ratio: | 16:9 |
| Resolution: | 4096 x 2304 |
| Total Installed Capacity: | 1 TB |
Included in the box:
Apple 21.5" iMac with Retina 4K Display (Early 2019)
Magic Keyboard
Magic Mouse 2 (Silver)
USB Type-A to Lightning Cable (3.3')
Power Cable
Payment & Security
Apple iMac (21.5-inch Retina 4K display, 3.6GHz quad-core 8th-generation Intel Core i3 processor, 1TB) (Latest Model)