Description
Audio-Technica AT2020USB+ Cardioid Condenser USB Microphone is specially designed to give you sound of high quality and optimum performance. Its attributes include a 3.5mm Jack with Low-Latency Monitoring, Cardioid Polar Pattern, Headphone Volume Control, Broadcast-Quality 48 kHz/16-Bit Capture, Bus-Powered from Computer or Tablet, Inclusion of Stand & Mic Mount, Inclusion of USB Cable & Pouch, Compatibility with Computers and Tablets, just to mention a few.
It is designed for multipurpose use as you can use it for VoIP conference calls, streaming game-play over Twitch, singing over productions, and so on. It is compatible with both Mac and Windows computers. Also, you can use it on your tablets once there is a compatible adapter for mobile devices. The good news here is that you don't need a preamp, interface, converter, or mixer before recording your voice.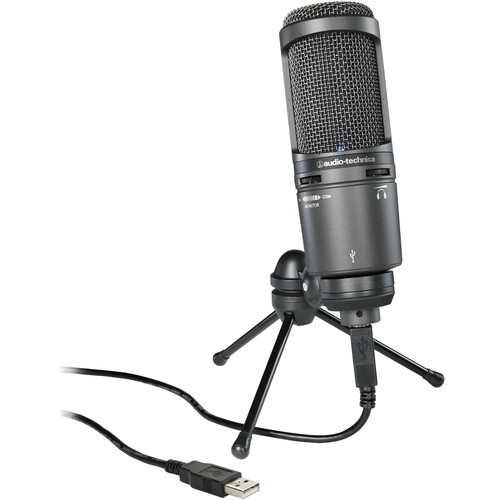 ---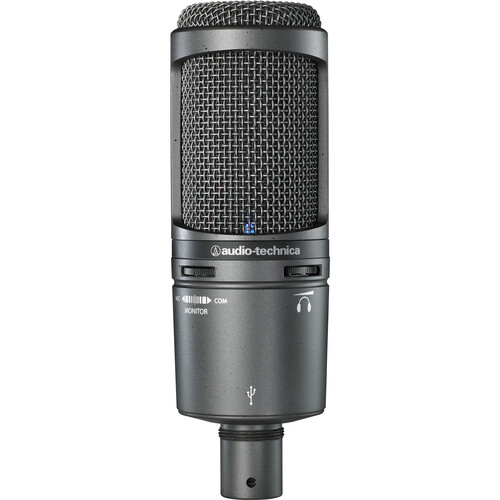 Our Take on the Audio-Technica AT2020USB+ Cardioid Condenser USB Microphone:
The Audio-Technica AT2020USB+ Cardioid Condenser USB Microphone utilizes the directional cardioid polar pattern so that there will be an optimum reduction of off-axis sound. This polar pattern works by reducing room tone and focusing the audio capture on what's directly in front of the mic. Hence, your voice will come out clearly for everyone to hear.
---
Also, there is a headphone jack for effective monitoring of your productions. You only need to plug a pair of headphones into the 3.5mm jack so that you will be able to listen live to your production. There is an undemanding volume dial, which makes it possible for you to increase or decrease the headphone volume. Hence, you don't need to alter the volume on your system or your recording software. With its blend knob, which comes in handy for recording music, you can alter the balance between the pickup of your mic and any pre-recorded audio. This knob can be adjusted to your choice to eliminate any latency that may want to reduce the quality of your recording.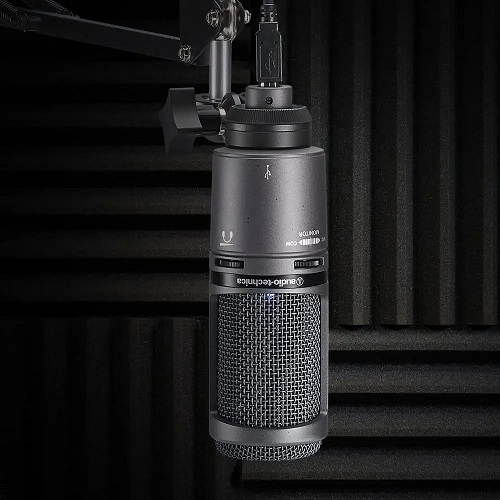 ---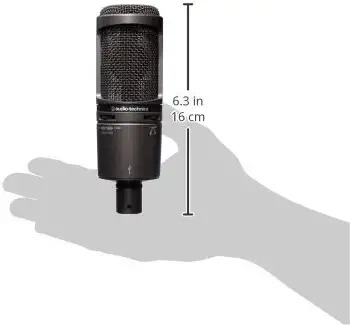 What's more, the Audio-Technica AT2020USB+ Cardioid Condenser USB Microphone records audio at sample rates and resolutions up to 16-bit / 48 kHz, hence, you can be sure of broadcast standard for media playback. You can rely on its digital technology for recording high-standard sound at all times. With an included tripod stand, USB cable, and mic mount, nothing can stop you from starting your production instantly. You only need to fix the mic in the mount, connect the mount to the stand, and link the USB cable to your computer. A pouch is included in the package so that you will be able to effectively keep the mic after recording.
TOP 10 KEY FEATURES:
| | |
| --- | --- |
| Form Factor: | Stand/Boom Mount |
| Sound Field: | Mono |
| Capsule: | Condenser |
| Polar Pattern: | Cardioid |
| Orientation: | Side Address |
| Circuitry: | Solid-State |
| On-Board Controls: | Headphone Volume |
| Frequency Range: | 20 Hz to 20 kHz |
| Operating Voltage: | 5 V |
| Weight: | 13.6 oz / 385.56 g |
Included in the box:
Audio-Technica AT2020USB+ Cardioid Condenser USB Microphone
Pivoting Stand Mount for 5/8"-27 Threaded Stands
5/8"-27 to 3/8"-16 Threaded Adapter
Tripod Desk Stand
Soft Protective Pouch
10' USB Cable
Payment & Security
Audio-Technica AT2020USB+ Cardioid Condenser USB Microphone, Black