Description
Grab the Canon DM-100 Directional Stereo Microphone and watch your dream videos come true with enthralling sound quality. With it, you can take your creativity to the next level!
While shooting motion videos with a high-performance camera, you'll need to couple it with a good-quality microphone for clear and distortion-free sound. The compact and lightweight Canon DM-100 Directional Stereo Microphone lets you capture movies and still photos dynamically with your camera or camcorder. It provides professionals with high-quality video and image content while granting better creativity and versatility when shooting pictures. It is compatible with a wide range of Vixia camcorder models. What's more, the stereo microphone doesn't require batteries to operate. Instead, it works using power directly coming from the 35mm audio jack. This microphone is compatible with any camera that includes mic input and lots of other cameras available out there. This practical and compact microphone offers low-noise and enhanced sound speakers to produce audio & video content free of distortion.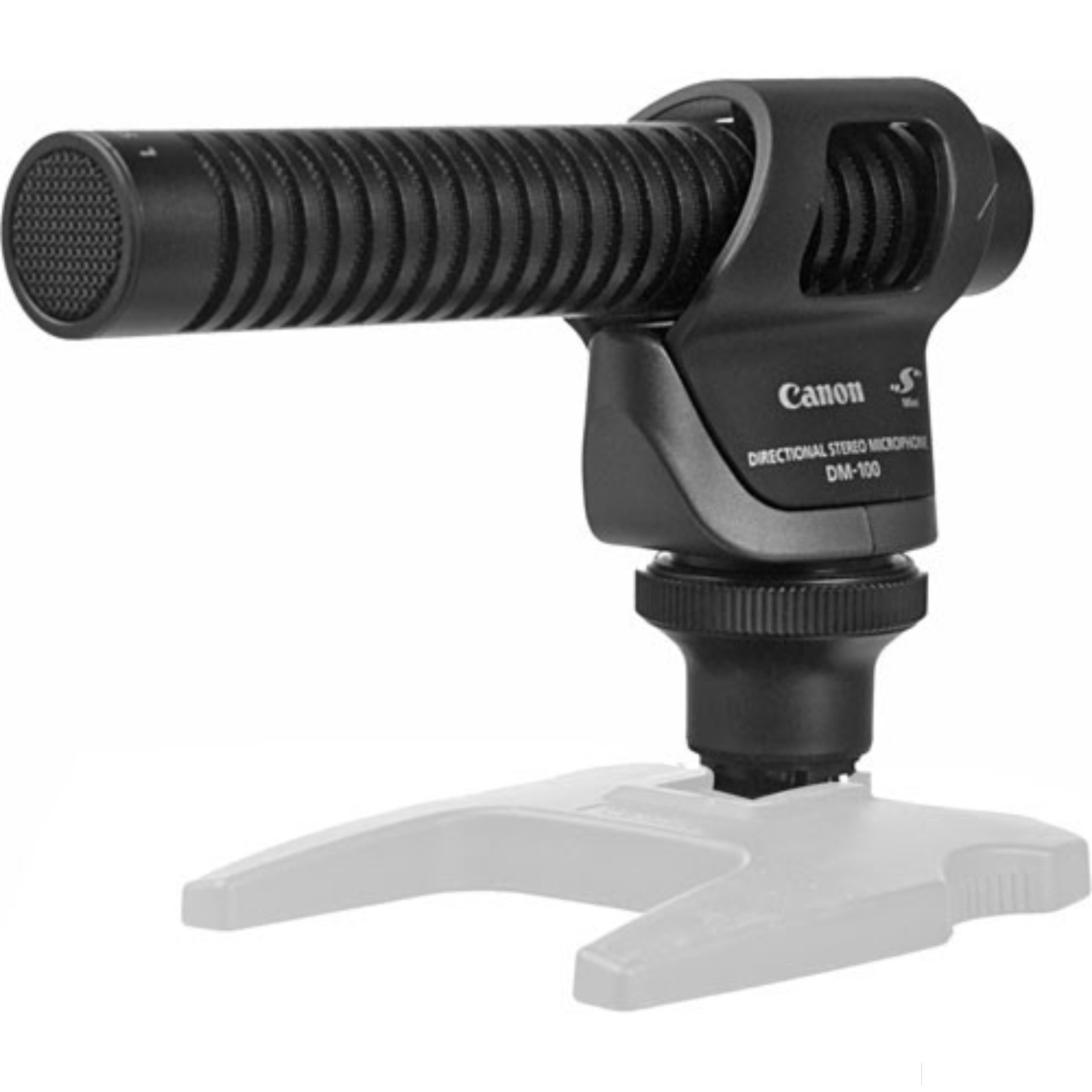 ---
Our Take on the Canon DM-100 Directional Stereo Microphone:
Canon, the well-known Japanese company, unveiled Canon DM-100 Directional Stereo Microphone in December 2019. It is a versatile, lightweight, and ergonomic device designed especially for professional videographers and vloggers. As of now, Canon DM-100 is the lightest microphone in the accessory range. Videographers and vloggers can use this microscope side-by-side with other lightweight Canon line-up cameras like the Powershot G7 X Mark III. That's how they can improve the audio quality of the soundtrack on the go. Canon DM-100 has a plug-and-play feature that offers ease-of-use. As mentioned before, it has a sleek, light, and compact design that hardly adds any weight to the camera. It easily slips into your pocket or bag.
---
Canon DM-100 Directional Stereo Microphone flaunts an electret condenser design with 120 degrees unidirectional sound down to -40 Decibel sensitivity. It ensures more realistic sound while shooting videos. Canon DM-100 has a signal-to-noise ratio of 66 dB, a sound pick-up of 100Hz to 10kHz, and a windscreen that protects it from external background sound. Thus it allows users a clear, broad sound scope with a minimum noise ratio. Canon DM100 is compatible with camera models like EOS 77D, EOS 80D, EOS 90D, EOS 200D, EOS 250D, EOS 800D, EOS M50, PowerShot G7 X Mark III, and EOS M6 Mark II. Hence it's a versatile product. Before using one, check whether your camera is compatible with this microphone.
---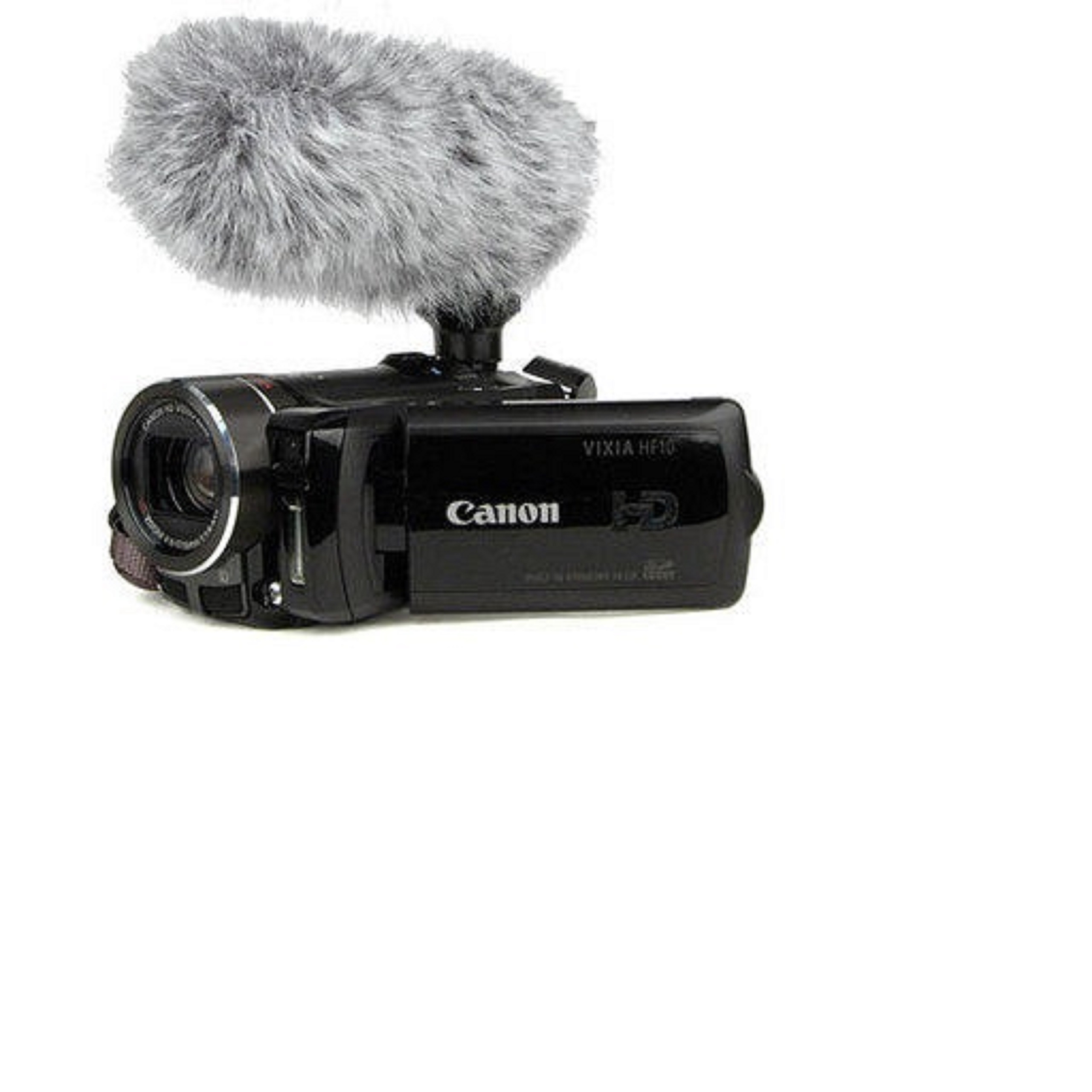 Canon DM-100 Directional Stereo Microphone offers high-quality recording for multiple Vixia series camcorders, such as Vixia G20, Vixia G30 Vixia G40, and Vixia HF M52. Thanks to the microphone's cable-free design, there is no requirement for unwanted wires tangling in your hand. If you are a videographer, you can add the Canon DM-100 directional microphone to your YouTube kit. This mic is also ideal for recording tutorial videos, hosting interviews, and conducting gadget or appliance reviews. It's recommendable not to use cameras exceeding 1 Kg or 35.3 oz with this Canon Microphone as the grip becomes unstable in handheld shooting. Canon DM-100 allows you to shoot in a noisy environment without the interference of too much ambient noise. You want to record sharp and crisp sounds.
TOP 10 KEY FEATURES:
| | |
| --- | --- |
| Microphone Operation Mode: | Stereo, super-directional |
| Sound Mode: | Stereo |
| Microphone Type: | Detachable |
| Compatible with: | Vixia HF10, HF100 Camcorders |
| Batteries Included: | No |
| Sound Frequency range: | 100Hz to 10kHz |
| Product Line: | Canon DM. |
| Mounting type: | Camera Mount |
| Recommended Use: | Camcorder |
| Singal-to-noise ratio: | 66 dB |
Included in the box:
Stereo Microphone DM-E100
Windshield for Stereo Microphone DM-E100
Payment & Security
Canon DM-100 Directional Stereo Microphone