Description
Insta360 Go 2 - The tiny mighty action cam!
What is GO 2?
Insta360 GO 2 is a thumb-sized action camera that offers power and performance without bulk or hassle. It captures the moments other cameras miss and never gets in the way of the action.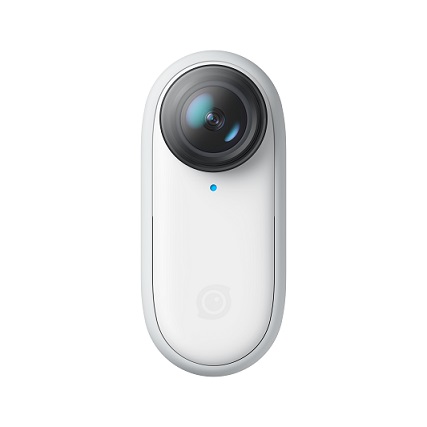 Product Highlights:
Waterproof to 4m (13ft)
AI auto editing
Charge Case: charge & control on the go
Wi-Fi preview
Easy POV capture
Up to 120fps
32 GB storage
Rugged lens protection
Three unique benefits.
Like its predecessor, Insta360 GO 2 brings together a trifecta of unique benefits that no other camera offers.
Size
Stabilization
Mount-ability
Tiny and mighty.
At less than an ounce, GO 2 really can go anywhere. Zero hesitation about whether to bring it as you walk out the door.
Despite its size, GO 2 doesn't skimp on power. GO 2 has been upgraded with a 1/2.3" sensor — the same size used in current GoPro flagships. GO 2 natively captures at 3K and then scales down to an incredibly crisp, smooth 1440p.
FlowState Stabilization
You gotta see it to believe it. FlowState Stabilization keeps your shot and the horizon perfectly steady. Shake, bump and roll ready.
Mount Anywhere
GO 2 is so small, it fits anywhere. Like literally anywhere. Guitar? Easy. Cat? Well... as long as your cat actually listens to you. Just use the in-the-box accessories to mount up anywhere.
POV Capture
No more fiddling to get the shot. Pop GO 2 on your shirt with the Magnet Pendant, press to record and shoot. Even a toddler could figure it out.
Hyperlapse
Wooaahhh that's fast!
Jam pack all the action into a speedy hyperlapse with TimeShift mode. Up to 6x faster than real life.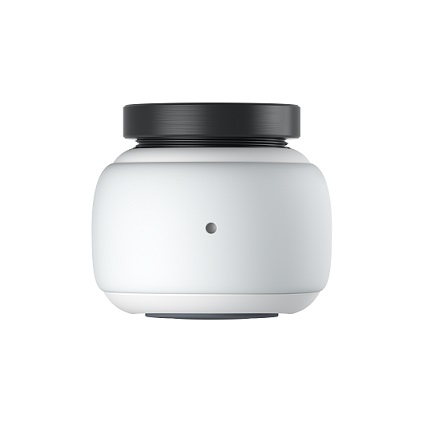 Timelapse
Make time fly by. Pick a spot and record a timelapse from any angle. At night, turn on Nightlapse mode and GO 2 will use its brains (and AI) to adjust the exposure and intervals. It'll blow your socks off.
Slow Motion
Oooooh slow-mo!
Couldn't handle the speed? Slow a key moment down to 4x slow-mo in butter-smooth 120fps.
HDR Video
Pump up the colors with HDR mode. Get shots in a tap that look like they were edited by a pro.
AquaVision
Ugly blue haze in your underwater footage? Turn on AquaVision in the app. Upgraded from the bottom up, the algorithm now produces even more realistic and vivid colors than before.
Preview on the go.
Tap open the Insta360 app to preview your shot in real time over Wi-Fi, adjust settings and shoot on the fly.
Auto Editing
Your edit with FlashCut 2.0. AI takes your favorite clips, puts 'em in a story and edits them together on beat to music. Choose from themed templates or let AI freestyle. Don't worry, it's not coming for your job… yet.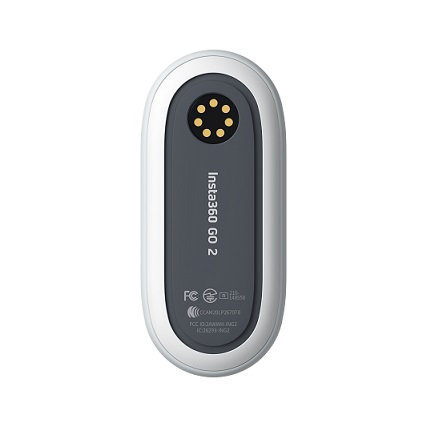 Fits in your feed.
Choose from 16:9, 9:16 or 1:1 aspect ratios to make sure your shot looks good no matter where you post it.
Better battery. Longer clip length. More storage.
With the Charge Case, GO 2 is ready for 150 minutes of shooting. The best part: Max clip length is now 15 minutes — three times longer than its predecessor — and onboard storage has been quadrupled to 32 GB.
The added recording time and storage radically expand GO 2's utility.
IPX8 Waterproof
Dunk it to 13ft!
Surfing, pool party and skinny dipping ready. A bit like your spring break… only it's an action cam.
*Included Lens Guard must be installed on the camera for underwater use.
Next up...The Charge Case
GO 2's Charge Case does more than you'd think. It's a case, charger, controller and tripod all in one.
Super charged.
Control from afar.
Stand and deliver.
Snap a selfie.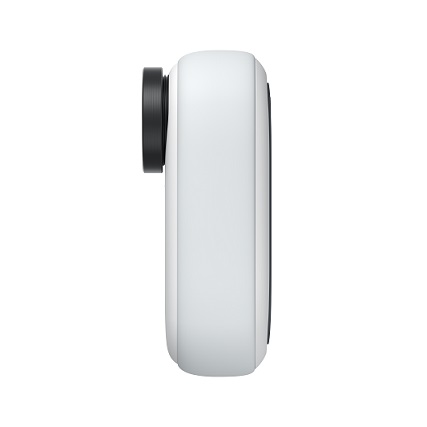 In-the-Box Accessories
Pivot Stand
Mount GO 2 to anything with the Pivot Stand's sticky base. A new foldable design makes it easier to store in between shots.
Magnet Pendant
Slip the Magnet Pendant around your neck and GO 2 magnetically snaps right on. POV shots have never been so easy.
Easy Clip
Clip GO 2 to your hat or headband with the Easy Clip. Now with an adjustable design so you can get the angle just right.
Lens Guard
Protect GO 2's lens with wipeout-proof hardened glass. It's easy to replace too.
ND Filter Set
Swap out the Lens Guard for an ND filter to get balanced colors and contrast on even the brightest days (sold separately).
Action ready.
Gear up for action with the Mount Adapter Bundle (sold separately or in select kits).
Specifications:
Dimensions(WxHxD): 52.9 x 23.6 x 20.7mm (2.08 x 0.93 x 0.81in)
Weight: 26.5g (0.93oz)
Aperture: F/2.2
35mm Equivalent Focal Length: 11.24mm
ISO: Auto, 100-3200
Photo Modes: Standard, Interval, Starlapse, PureShot
Photo Resolution:

16:9, 2560x1440
1:1, 2560x2560
9:16, 1440X2560
Film Panorama, 2938x1088

Video Modes: Video (Basic stabilization), Pro Video (FlowState stabilization), HDR, Timelapse, TimeShift (Hyperlapse), Slow Motion
Bluetooth: BLE 5.0
Wi-Fi: 802.11a/b/g/n/ac
USB: Type-C
Storage: 32GB
Battery Capacity: Camera: 210mAh Case: 1100mAh
Run Time: Standalone: 30 mins (Video mode) 20 mins (Pro Video mode) In Case: 150 mins (Video mode) 110 mins (Pro Video mode)
Charging Method: GO 2: Charge Case Charge Case: Type-C
Charging Time: GO 2: 23 mins - 80% / 35 mins - 100% Charge Case: 47 mins - 80% / 65 mins - 100%
Payment & Security
Insta360 GO 2 - Small Action Camera, Weighs 1 oz, Waterproof, Stabilization, POV Capture, 1/2.3" Sensor, with Charge Case and Wearable Camera Accessories for Travel, Sports, Vlog