Description
iRobot Roomba i4+ Robot Vacuum is one of the best cleaners for your home because of its Easy To Use App Interface, 60 Days Debris Storage Capacity, & Cleaning Scheduling And Hope Mapping Functionalities!
iRobot Roomba i4+ Robot Vacuum is one of the best vacuums for busy individuals. You don't have to worry about vacuuming for 60 days as its self-emptying Clean Base Automatic Dirt Disposal will empty the debris into the bagel container. The container has the capacity to hold the debris for up to 60 days. So all you need to do is schedule the cleaning and forget about it for the upcoming 60 days. When it comes to performance, the robot cleaner ensures you receive a spotless home. It can suck in stubborn dirt because of its Premium 3-Stage Cleaning System and 10X the Power-Lifting Suction.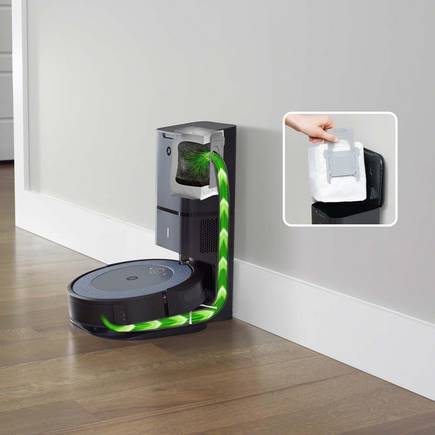 ---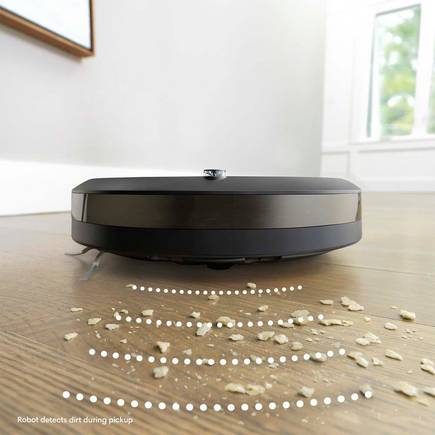 Our Take on the iRobot Roomba i4+ Robot Vacuum :
One of the most striking features of the iRobot Roomba i4+ Robot Vacuum is that you can map your entire home into it. It will clean the place methodically row by row and move from one room to another only after completing the first room. You don't have to worry about it appearing randomly from anywhere. All this is made possible because of its state-of-the-art floor tracking sensors that can also differentiate between hardwood and carpet flooring and adapt.
---
You get to schedule the cleanings via an easy app interface. You can either schedule the whole-home clean or specify which rooms you want to be cleaned immediately. The Roomba i4+ will follow the cleaning schedule obediently and deliver unmatchable quality. However, being obedient doesn't mean it will get stuck because of an en-route obstacle. The Roomba i4+ comes with Reactive Sensor Technology that assists the robot in assessing where it can't reach, therefore, you don't have to worry about it getting stuck under furniture. Also, its Dirt Detect™ sensors, help it in focusing cleaning more thoroughly at high-traffic points, optimizing the cleaning schedule.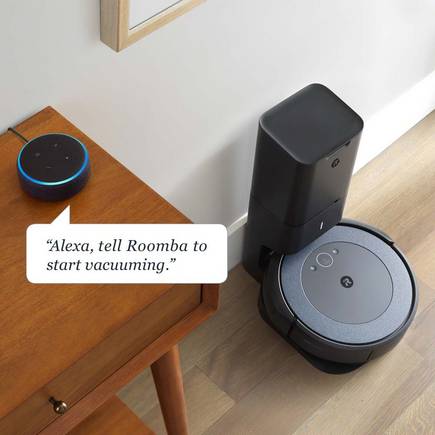 ---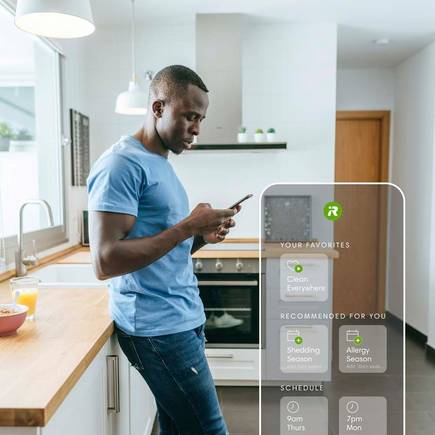 Although it is an obedient cleaner, it also learns and adapts to your cleaning habits. Once aware of your needs, it will offer you personalized schedules. Also, the cleaner is compatible with Google Assistant and Alexa so all you've got to do is call, and it will come running at your command to start cleaning. Also, if you miss out on something, the cleaner's got your back. It will suggest extra cleaning when your area's pollen count increases to prevent pollen allergies.
TOP 10 KEY FEATURES:
| | |
| --- | --- |
| Product Dimensions: | 13.4 x 13.4 x 3.54 inches |
| Item Weight: | 7.44 lbs. |
| Suction Power: | 10x |
| Cleaning Pattern: | Neat Rows |
| Run Time: | Recharge and resume |
| Surfaces: | Hard floor and Carpet |
| Intelligent Navigation: | +Mapping |
| Voice Command: | Google Assistant & Alexa Compatible |
| User-friendly Features: | Extra cleaning suggestions |
| Safety features: | Reactive Sensor Technology |
Included in the box:
1 Roomba i4+ Robot Vacuum
1 Clean Base Automatic Dirt Disposal
2 Extra High-Efficiency Filter
2 Dirt Disposal Bags
1 Virtual Wall and 2 AA batteries
Payment & Security
iRobot Roomba i4+ (4552) Robot Vacuum with Automatic Dirt Disposal - Empties Itself for up to 60 Days, Wi-Fi Connected Mapping, Compatible with Alexa, Ideal for Pet Hair, Carpets