Description
The Leica 8x40 Trinovid Classic Binoculars unit is a blend of the 1960s' classic look and durability of the modern materials. The wide field of view and attractive features make it a successful general-purpose binoculars unit!
The Leica 8x40 Trinovid Classic has borrowed its vintage look from their 1960s' models but is constructed of high durability materials of today. The binoculars provide a vast 370.5 ft. field of view at 1000 yards. It has a textured leather outer surface for adequate grip as a part of its classic appearance. The housing is of durable and corrosion-resistant aluminum material that makes it lightweight at 22.6 oz. Thus it becomes a suitable unit that you can carry anywhere for daily general purpose use. It is also compact with a length of 5.8 inches.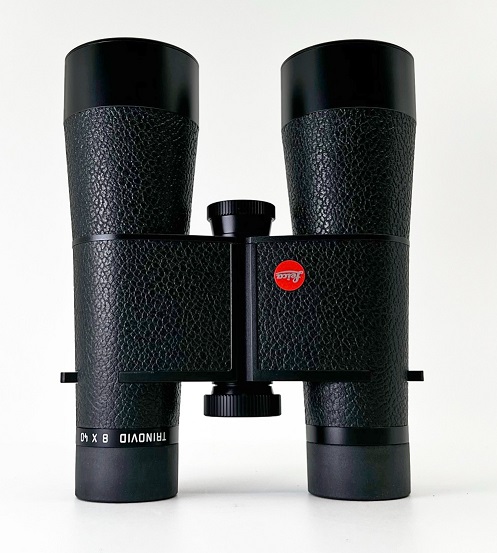 ---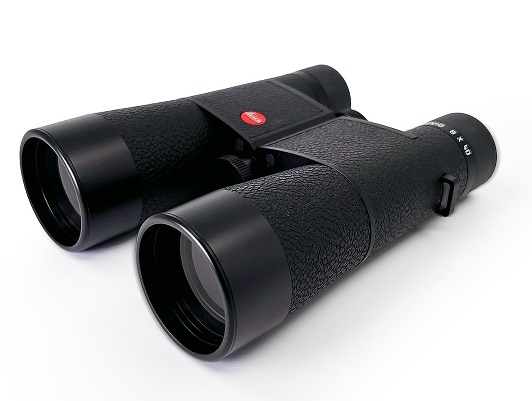 Our Take on the Leica 8x40 Trinovid Classic Binoculars :
The medium 8X power of the Leica 8x40 Trinovid Classic Binoculars enlarges the view without affecting other related parameters, thus providing convenience to use in all sorts of lighting conditions. The 40 mm objective lens further enhances the view's clarity and brightness even in dim light conditions without adding more weight and making it uncomfortable to use. Also, the prism light path at the roof renders a compact form factor with valuable performance. The interpupillary distance is variable between 55 mm and 75 mm to accommodate various sizes of different users. The 5 mm exit pupil feature prevents any distortion, such as vignetting, even when one uses it in low light conditions.
---
The surfaces of all outer lenses of the Leica 8x40 Trinovid Classic Binoculars have a High Durable Coating (HDC) that prevents the lenses from scratches and abrasions. Further, there is also an AquaDura coating on them that is hydrophobic and hence doesn't allow water or oil sticking on them. Instead, the liquid touching the surfaces transforms into beads and flows off. Such features enhance the clarity of the view even in unfavorable weather conditions and also protect the lens surfaces. Also, the binoculars' tubes are resistant to splashing water or a drizzle, making it convenient for all-purpose outdoor use.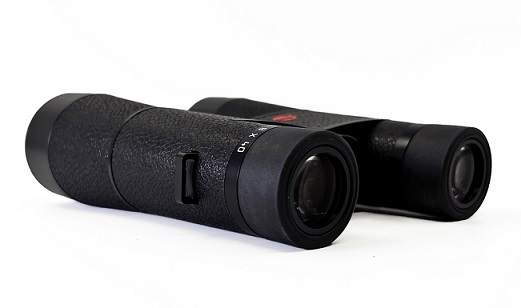 ---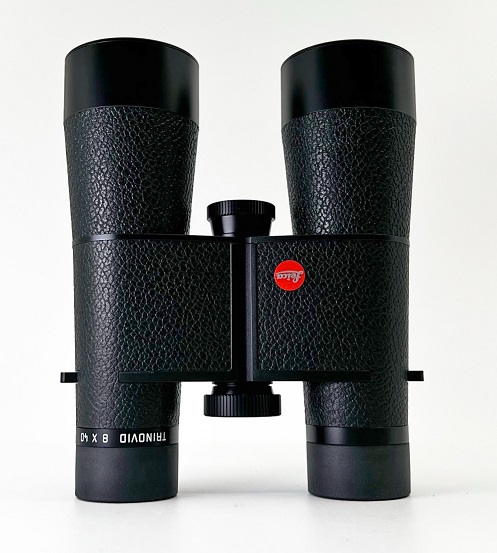 The cross-bridge structure of the Leica 8x40 Trinovid Classic Binoculars provides a firm and stable framework for the internal focusing mechanism. Easy and precise focusing is possible with the rough texture marked for friction on the focus wheel. Furthermore, the +/- 3 dioptric correction manages the focus even if there is some imperfection in the vision of the user. One can use it with or without any eyewear as it has a click-stop twist-up eyecup adjustment. You can set it at four different positions. There is also a 16 mm eye relief for comfortable viewing that reduces any strain to the eyes. All such features add up to the convenience of a user that uses it for their outdoor adventures.
TOP 10 KEY FEATURES:
| | |
| --- | --- |
| Magnification: | 8x |
| Objective Lens Diameter: | 40 mm |
| Angle of View: | 7.1° (Actual) |
| Field of View: | 370.48 ft. @ 1000 yd. / 123 m @ 1000 m |
| Minimum Focus Distance: | 18.04 ft. / 5.5 meters |
| Exit Pupil Diameter: | 5 mm |
| Eye Relief: | 16 mm |
| Interpupillary Adjustment: | 55 to 75 mm / 2.2 to 3 inches |
| Diopter Adjustment: | -3 to +3 |
| Focus Type: | Center |
Included in the box:
Binoculars - Leica 8x40 Trinovid Classic
Lens Cloth
Carry Case
Carrying Strap made of Neoprene
Eyepiece Caps
Payment & Security
Leica Trinovid 8x40 Leathered Black Binocular 40717