Description
Over-the-ear Plantronics Savi W730 Wireless headphone system integrates your PC, smartphone, and desk phone in a single entity. With Savi W730, You can seamlessly switch from phones to your laptop for receiving VoIP calls.
Plantronics Savi W730 Multi-Device Wireless Headset System finds its application in the conference and personal phone calls, videoconferencing and audio, webinars, and much more. The 3-way connectivity of the headphone system lets you easily switch among your computer, mobile, and desk phones. The state-of-the-art headphone comes in a black and silver matte finish. It can consistently transfer audio data between your smartphone and headphone. It makes it applicable for professional and personal uses. This versatile headset adds multiple wearing options. It empowers you to make conference calls over three headsets for enhanced performance.
---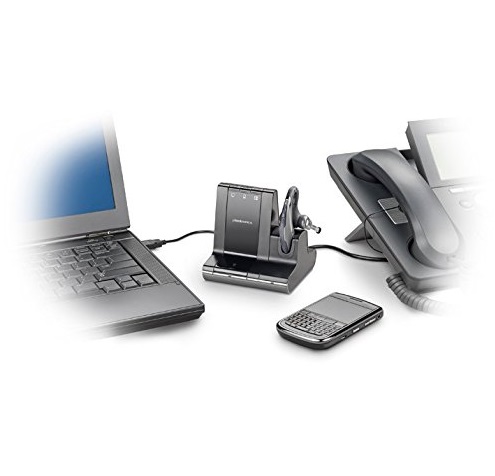 Our Take on the Plantronics Savi W730 Wireless headphone system:
As mentioned above, Savi W730 headphones work with both landline and VoIP-based software solutions like Skype. Savi W730 Multi-Device Wireless Headset System combines quality sound, seamless mobility, cordless communication, and six hours of continuous talk time. It comes with a base unit and offers multiple choices of cordless headsets. The right part of the unit includes a replaceable charging module. You can change it depending on your choice of headset. Weighing 0.8 ounces, it is a lightweight on-ear headset module that comes with a microphone and LED indicator light. It gives you the freedom to receive calls at the touch of a button. What's more, the W730 wireless headset comes with aural safety features like SoundGuard Technology, which protects against sound volumes exceeding 118 bBA.
---
Savi W730 Multi-device headset system comes with the Anti-startle technology that detects and removes sudden changes in sound levels. Savi W730 Multi-device headset system also includes a power switch, telephone interface jack, USB port, and handset lifter jack. There is a small panel to the left of the unit for volume up/down switches. The configuration switch ensures that the base unit gets connected to the phone. The base unit houses two dedicated buttons on the top. They are the PC Talk button and Desk Phone Talk Button. The rear portion of the base unit of the headset includes two indicator lights for the headset charger and the base unit. Savi Office system lets you choose from two headsets, which employ DECT 6.0 wireless technology to work with the base unit. The voice-dedicated DECT system eliminates Wi-Fi interference.
---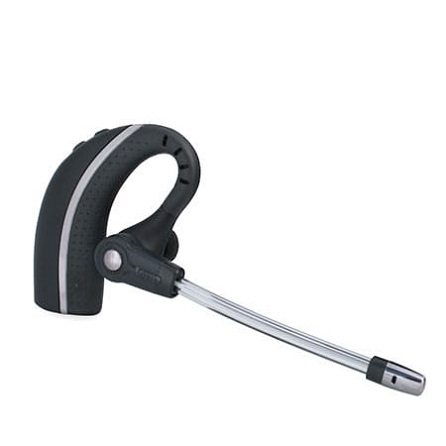 The base unit of the Savi W730 Multi-device headset system occupies a comparatively small footprint. The cordless headphone integrates a noise-canceling microphone that reduces background ambiance. Thus, it ensures exceptional sound quality and eases fatigue. Likewise, it delivers high voice quality with enhanced digital signal processing. Thus, it makes speech distinct and free of distortion. This cordless headset system comes optimized for unified conferencing like video conferencing and instant messaging. It updates your status to mobiles, desk phones, and even PCs so that your colleagues can track your availability. It includes an energy-optimized adaptive system that optimizes both talk time and communication range. Savi W730 is available in the Microsoft and Standard versions.
TOP 10 KEY FEATURES:
| | |
| --- | --- |
| Encryption Bit Depth: | 64-Bit |
| Frequency Mode: | Wideband |
| Talk Time: | 6 Hours |
| Wireless Technology: | DECT 6.0, Bluetooth 2.1 |
| Wireless Range: | 350' / 107 m |
| Speaker Frequency Response: | 100 Hz to 6800 Hz |
| Listening Mode: | Monaural |
| Earpiece Design: | In-Ear |
| Weight: | 0.8 oz. |
| Host connection: | RJ11, USB Type-A |
Included in the box:
Plantronics Savi W730 Multi Device Wireless Headset System
Headset
Base and Charge Cradle
Telephone Interface Cable
USB Cable
Power supply
Deluxe Charging Cradle and Spare Battery
Over-the-head Headband
Headset Fit Kit with Earloops, Eartips and Foam Sleeve
Eartips
Behind-the-head Headband
Payment & Security
Plantronics Savi W730-M Multi Device Wireless Over-the-Ear Headset System