Description
PROPEL Star Wars TIE Advanced X1 Quadcopter with Speeds up to 35 mph, Bluetooth Technology, Display Box Music, Battery Life 5 to 7 Minutes, iOS and Android Mobile Devices Compatibility, Multiple Flight Modes, and Speed Settings
PROPEL Star Wars TIE Advanced X1 Quadcopter is for those who want to relive their favorite Star Wars moments. This is a special-edition quad from Propel and aimed at providing excellent performance along with giving Star Wars lovers a way to cheer up. The Quadcopter is capable of attaining a maximum speed of up to 35 mph, which is quite impressive. Whether you are a beginner or you have obtained a great proficiency in flight operations, you will get to explore multiple flight modes as well as speed settings.
---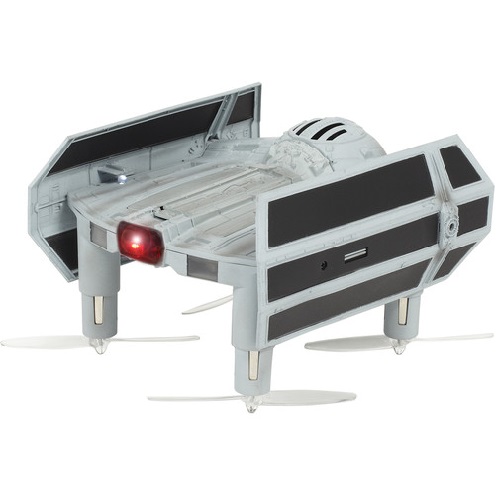 Our Take on PROPEL Star Wars TIE Advanced X1 Quadcopter:
PROPEL Star Wars TIE Advanced X1 Quadcopter comes with a training mode that helps beginners to hone their skills. The mode enables the learning process and also protects the device from collisions and crashes. To make it more interesting, Propel has provided features to connect this device with the free companion app. After connection, you can participate in simulated battles and go on for special missions and more. When you use the app and drone together, you get the feel of Star Wars that is immersive, unique, and over the top. So do not miss the point that the Quadcopter is much more than a flying device.
---
PROPEL Star Wars TIE Advanced X1 Quadcopter has Intelligent Awareness Technology (IAT) that enables you to participate in different games with over 10 pilots through the companion app. The drones are capable of communicating with each other in real-time. You can give instructions and Audio cues with headphones. The device has Altitude Stabilization mode providing better stability when in height. Additional features like an Empire-themed controller, Auto take-off and auto-landing, Embossed collector's display box, Trim control, and auto calibration make it a very good device. It has a Lithium-ion polymer battery that gives up to 7 minutes of life. The device supports Bluetooth and it is easy to connect with a compatible device.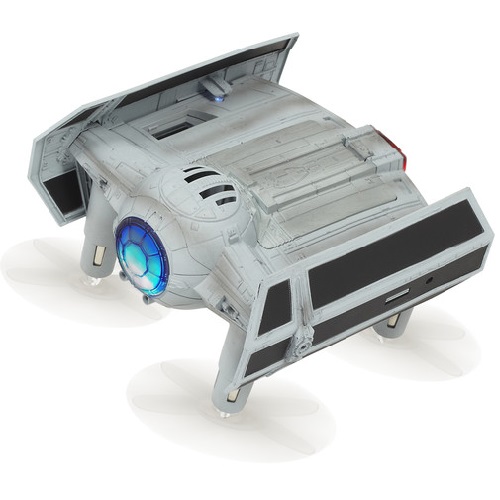 ---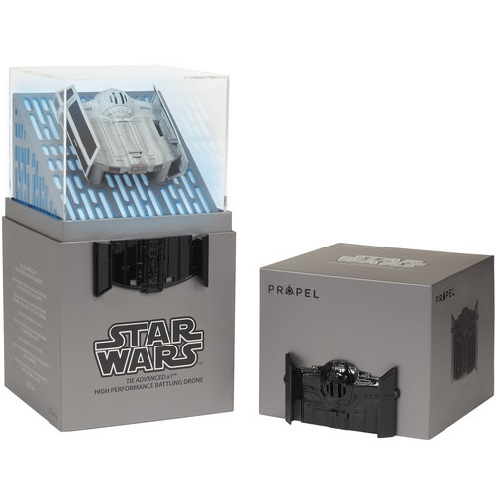 PROPEL Star Wars TIE Advanced X1 Quadcopter enables you to participate in Encoded Laser Battle. Here, the device uses light waves that are fast and accurate providing more challenging gameplay. The lasers are visible during battles and there are different color coding for different ships such as red for Rebel Ship, green for Imperial Ship, etc.
TOP 10 KEY FEATURES:
| | |
| --- | --- |
| Speed: | Up to 35 mph |
| Frequency: | 2.4 GHz |
| Voltage: | 3.7 V |
| Battery Capacity: | 800 mAh |
| Battery Charging Time: | 30 minutes |
| Chemistry: | Lithium-ion polymer (LiPo) |
| Battery Life: | Up to 7 minutes |
| Connectivity: | Bluetooth |
| Compatibility: | Companion App: iOS or Android |
| Weight (Aircraft): | 0.46 kg |
Included in the box:
PROPEL Star Wars TIE Advanced X1 Quadcopter
Special Edition Collector's Display Box
2.4 GHz Radio Controller (Transmitter)
Battery Charger
Lithium-Ion Polymer (LiPo) Batteries Pack
USB Charging Cable
Spare Blades
Spare Cannon
Payment & Security
Propel Star Wars Quadcopter: Tie Fighter Collectors Edition Box