Description
PTZOptics 12X-NDI Broadcast and Conference Camera (Gray) with Composite Output (576i/480i), 0.5 Lux Minimum Illumination, 12x Optical Zoom, PoE Support, Open-Source Design, WDR, 2D/3D Noise Reduction, RS-485 Serial Control, and Audio Line-In for HDMI and NDI/IP
PTZOptics 12X-NDI Broadcast and Conference Camera allows you to output the video signal simultaneously via HDMI, SDI, NDI, or IP. Please note you can either use NDI or IP streaming as the device has only one RJ45 port. You can use the camera on your network for various A/V applications as it provides low-latency access to audio and video devices. It has Innovative IP technology that does not restrict you from connecting the source directly to a single system. Added with NewTek NDI license, the device is made for people who are set to go right out of the box. You also get a composite output that you can use to deliver 576i/480i resolution without the use of any other outputs.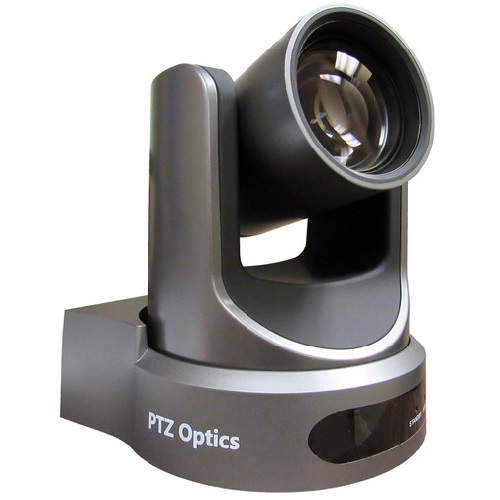 ---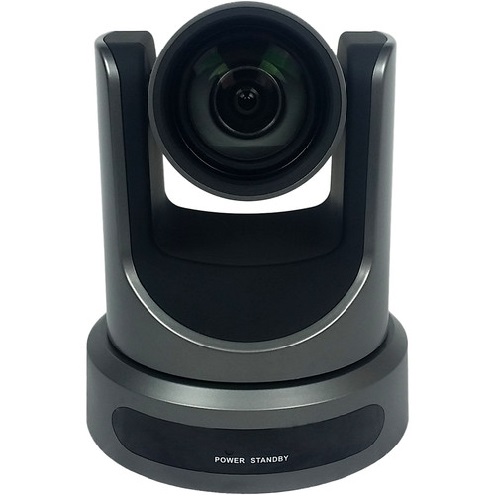 Our Take on PTZOptics 12X-NDI Broadcast and Conference Camera (Gray):
PTZOptics 12X-NDI Broadcast and Conference Camera has a 4.4 - 88.5mm lens that provides 12x zoom range. The camera is a great choice for classrooms and smaller meeting rooms such as streaming applications, sports streaming, houses of worship, live events, live productions, and others. The camera does well in low light working conditions thanks to the f/1.8 - 2.8 lens aperture and very low minimum illumination requirement. The camera requires only 0.5 lux illumination that could be considered a great feature. Additionally, PTZOptics has provided a wide dynamic range, 2D and 3D noise reduction that takes your broadcasting experience to a higher level.
---
PTZOptics 12X-NDI Broadcast and Conference Camera is completely open-source that defines that anyone can make changes based on their preference. All you have to do is to use simple HTML commands for that purpose. The camera gets power over PoE or through the provided power supply. The camera provides RS-232 and RS-485 serial control, 10 presets control through provided IR remote control and 255 presets control via serial or IP. It covers a wide area and you can adjust the views between 90° tilted up and 30° down.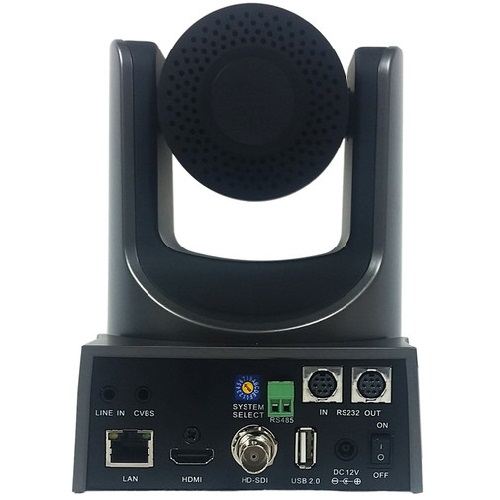 ---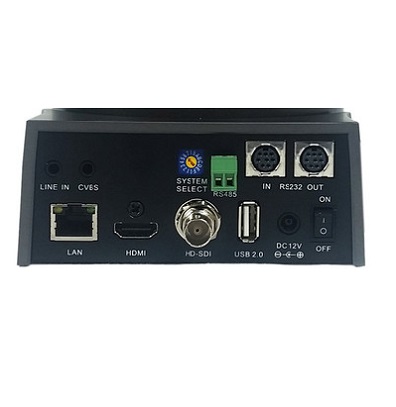 PTZOptics 12X-NDI Broadcast and Conference Camera is a best-in-class device for anyone who wants to live-stream anything of their choice. For mixing two or more camera signals, you need NDI camera software. To embed the audio in your video, you can insert a 1/8" male audio plug with a powered microphone into the camera. Alternatively, you can use an audio mixer for that purpose.
TOP 10 KEY FEATURES:
| | |
| --- | --- |
| Image Sensor: | 2.1 MP, 1/2.7" CMOS |
| Audio Line In: | Analog Audio: 1 x 3.5 mm (NDI/IP, HDMI) |
| Lens: | 4.42 - 88.5mm, f/1.8 - 2.8 |
| Zoom: | 12x optical |
| Mirror: | Vertical |
| Pan: | ±170° |
| Minimum Illumination: | 0.5 lux at f/1.8, AGC on |
| Baud Rate: | 2400 / 4800 / 9600 bits |
| Presets: | 10 via IR (255 via serial or IP) |
| SNR: | ≥55 dB |
Included in the box:
PTZOptics 12X-NDI Broadcast and Conference Camera (Gray)
Power Adapter and Cord
IR Remote Control
RS-232C Cable
Payment & Security
PTZOptics 12X-NDI-GY, 12x Lens NDI Camera, Gray