Description
The Ricoh Theta m15 is a new generation miniature camera with impressive capabilities.
The Ricoh Theta m15 Spherical VR digital camera with two lenses, sleek body and yellow finish is considered the best equipment for professionals. This model allows people to take great 360° panoramic photos. The same applies to video, the start of recording of which begins with one click. The main reasons for buying this particular model:
Highest sensitivity ISO 1600 or ISO 400 for video captures images in a wide range of lighting conditions
Built-In Wi-Fi connectivity
Electronic shutter
Manufacturer built in LED indicators
4GB internal memory allows you to store up to 4800 photos and a total of 40 minutes of video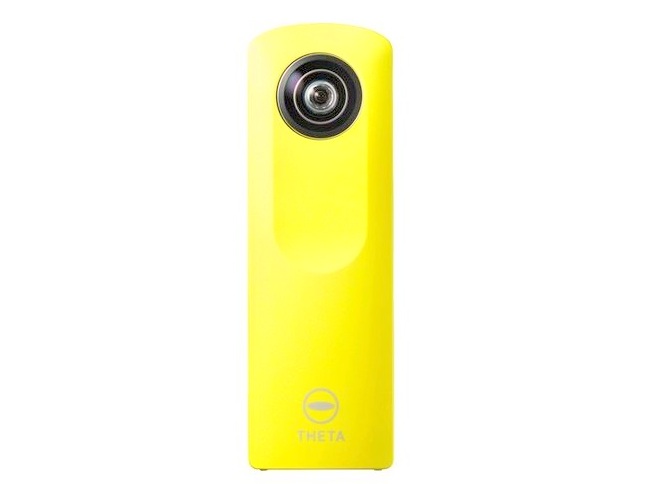 ---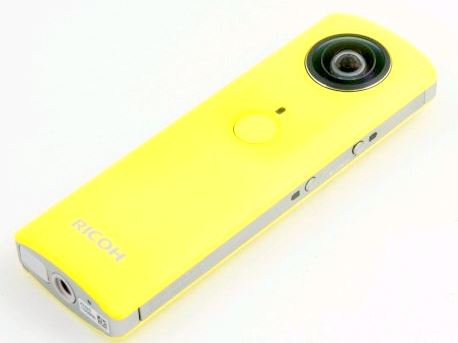 Our Take on the Ricoh Theta m15 Spherical VR Digital Camera (Yellow):
Built-in Wi-Fi connection allows sharing to Android or iOS mobile devices using a dedicated app. If you want to instantly post to social media, including Facebook, Twitter and Tumblr, this device is second to none. Lenses on the front and back of the camera produce a full spherical image at any exposure. Photographers can choose between Auto, Shutter Priority and ISO Priority. What's more, up to 3 minutes of 1080p video can also be captured at 15fps. This functionality is optimal for every tourist. In terms of development tools, there are also no problems. The manufacturer creates proprietary applications to further control the Theta m15.
---
RICOH's engineers have created this model with the basic needs of any aspiring photographer in mind. The camera controls allow people to do just two things: take photos and record videos. To start shooting, simply press the power button and this small device will take a picture each time you press the shutter button. Ease of use is considered to be the main advantage of this model. Both photos and videos can be stored in the 4GB internal memory, and image files up to 5MB can be wirelessly uploaded to social media using the built-in Wi-Fi connection. Of course, this is really what each of us needs today.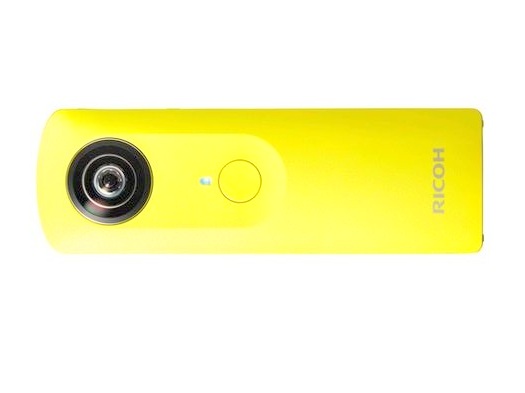 ---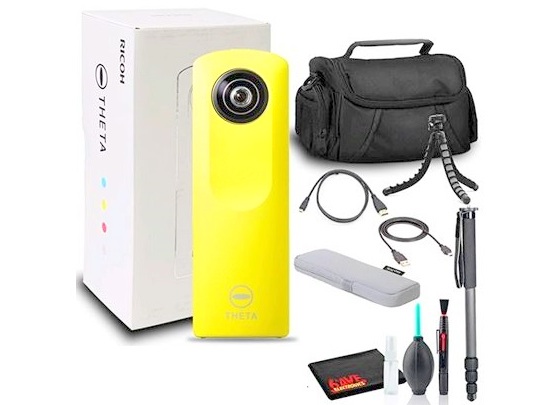 A fixed focusing range of 3.9 inches to infinity keeps almost all subjects sharp. The highest sensitivity of ISO 1600 or ISO 400 for video allows people to work in a wide range of lighting conditions. Moreover, the shutter speed is up to 1/8000 sec advantages when shooting in bright light. This means that each of your pictures will be as detailed as possible. Video files can be combined using dedicated software compatible with Mac and Windows operating systems. In addition, to process video files, you can use a special application with the ability to adjust the size, shape and composition of the image using the touch buttons.
TOP 10 KEY FEATURES:
| | |
| --- | --- |
| Manufacturer: | RICOH |
| Date First Available: | June 8, 2020 |
| Video Recording: | at 1080p/15 fps |
| Resolution: | 1920 x 1080p |
| Built-In Memory: | 4 GB |
| Still Images per GB: | JPEG: 4800 |
| Wi-Fi: | Yes |
| Built-In: | Yes |
| Product Dimensions: | 0.9 x 1.6 x 5 inches |
| Item Weight: | 2.43 pounds |
Included in the box:
Ricoh Theta m15 Spherical VR Digital Camera (Yellow)
Soft Case
USB Cable
Payment & Security
Ricoh Theta M15 360 Degree Spherical Panorama Camera (Yellow)