Description
SanDisk 128GB Extreme PRO CFast 2.0 Memory Card with Max Read Speed: 525 MB/s, Tested Under Extreme Temperatures, Max Write Speed: 450 MB/s, Min Write Speed: 130 MB/s (VPG-130), DCI 4K (4096 x 2160) Recording Capacity, and 3500x Speed (X-rating)
SanDisk 128GB Extreme PRO CFast 2.0 Memory Card is made to fulfill the high-performance demand of broadcast, photography, and cinema professionals. It provides capacity, speed, and performance so that you continue recording uninterrupted DCI 4K video. The video will have a 17:9 aspect ratio and 4096 x 2160 resolution. The memory card has a SATA III 6 Gb/s bus that enables it to deliver a maximum read speed of up to 525 MB/s (3500x). The writing speed is also impressive and ranges between 130 MB/s to 450 MB/s (2933x). The SanDisk gives a performance guarantee on the minimum writing speed. It has Video Performance Guarantee 130 standard (VPG-130); so you always remain sure that the writing speed will not decrease below 130 MB/s.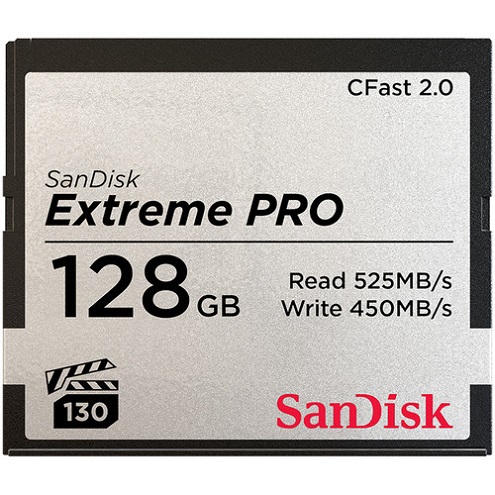 ---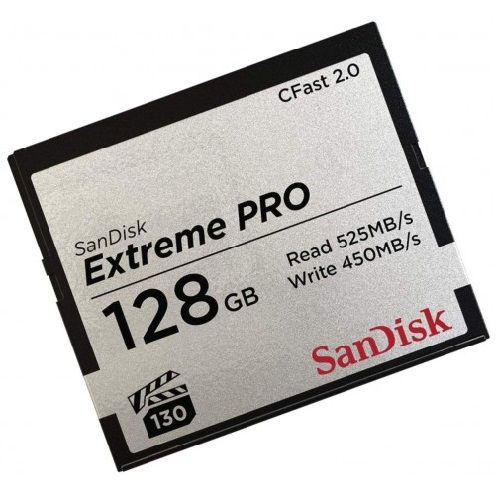 Our Take on the SanDisk 128GB Extreme PRO CFast 2.0 Memory Card:
SanDisk 128GB Extreme PRO CFast 2.0 Memory Card is tested for extreme temperature conditions. You need not worry about the use in the high or low temperature ranges. It is capable of giving you superior performance on working conditions ranging between -5 to 70°C. Take it to the mountains or the desert, it will not disappoint you with performance. No need to worry about accidental deletion when you have this card.
---
SanDisk 128GB Extreme PRO CFast 2.0 Memory Card gives you a new and high level of performance for your cameras and camcorders. It is designed in collaboration with leading-edge camera manufacturers. So you are sure that you will get an exceptional user experience from the first shot. Companies like Canon and Nikon use this Memory card in their digital still cameras. Canon even uses it for its professional high-definition tapeless video cameras. SanDisk is known for its quality and you get the high quality with this card. When you use it for 4K video recording it generally records 60 to 90 minutes of video that depends on the type of camera and other settings. Inserting and removing with the camera or camcorders is easy.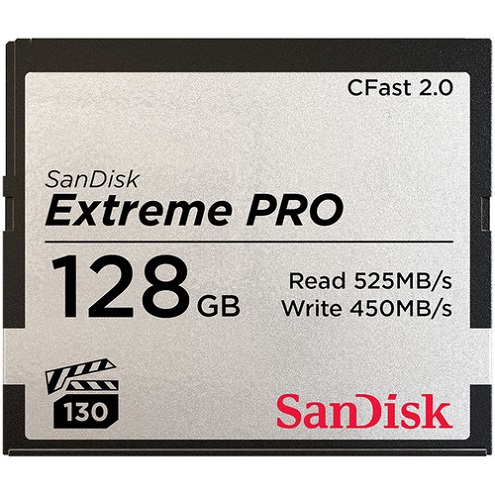 ---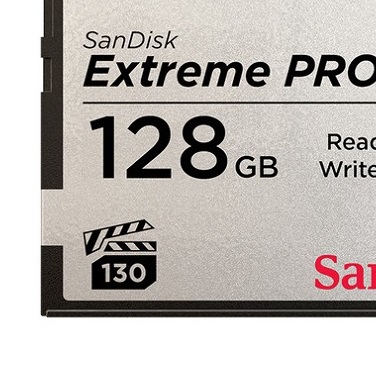 SanDisk 128GB Extreme PRO CFast 2.0 Memory Card is listed as one of the most recommended storage devices for the camera so you can imagine the level of utility and performance it provides. SanDisk gives you the offer to download RescuePRO Deluxe data recovery software. You can recover deleted files with the help of software in an easy manner. You can download this software into a compatible device for data storage.
TOP 10 KEY FEATURES:
| | |
| --- | --- |
| Storage Capacity: | 128 GB |
| Speed (X-rating): | 3500x |
| Bus Type: | SATA III |
| Durability: | Temperature Extremes |
| Read Speed: | 525 MB/s (Maximum) |
| Write Speed Range: | 130 MB/s- 450 MB/s |
| Storage Temperature: | -45 to 80°C |
| Operating Temperature: | 20 to 70°C |
| Ideal for: | Broadcast, Cinema, Photography, and others |
| ARRI digital cinema cameras compatibility: | Yes (With Selected Models) |
Included in the box:
SanDisk 128GB Extreme PRO CFast 2.0 Memory Card
Payment & Security
Sandisk Extreme Pro - Flash memory Card - 128 GB - CFast 2.0 - Silver (SDCFSP-128G-A46D)