Description
Want to clean smarter? Shark IQ Robot Vacuum AV970. This sleek robot cleaner comes with amazing cleaning abilities, Google Assistant and Alexa compatibility, and neat row-by-row navigation to fit your cleaning requirements!
At first glance, its sleek, premium design will go with the rest of your home décor; however, its most attractive aspect lies in its functionality. This is one of the best robot vacuums in the market if you are only beginning smart cleaning. It is very simple to set up. All you have to do is schedule it and it will clean up daily dirt, dust, and debris as a loyal and obedient cleaner. With its Incredible suction and Deep-cleaning power, it can suction in large and small debris, including pet hair, and can function well between hard floors and carpets.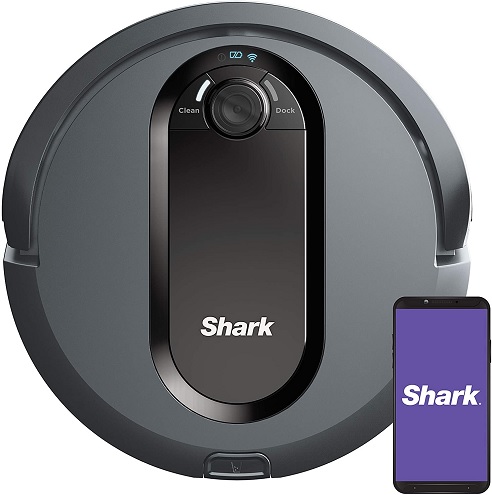 ---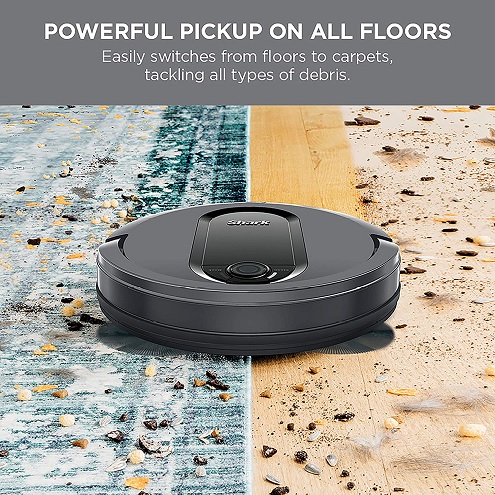 Our Take on the Shark IQ Robot Vacuum AV970:
One of the most striking features of the Shark IQ Robot Vacuum AV970 is that you can schedule cleaning of your entire home into it. It will clean the place methodically row by row and move from one room to another only after completing the first room. You don't have to worry about it appearing randomly from anywhere. All this is made possible because of its state-of-the-art floor tracking sensors that can also differentiate between hardwood and carpet flooring and adapt.
---
The Shar IQ Robo can distinguish between large and small debris and use its power suction to pull out dirt stuck on surfaces such as carpets. Further, its dual sucking side brushes pull out the dirt stuck into difficult to clean areas such as edges, crevices, and corners, where other vacuums can't reach. Also, even if it runs out of battery, it will return to the charging dock, recharge, and resume from where it had left off.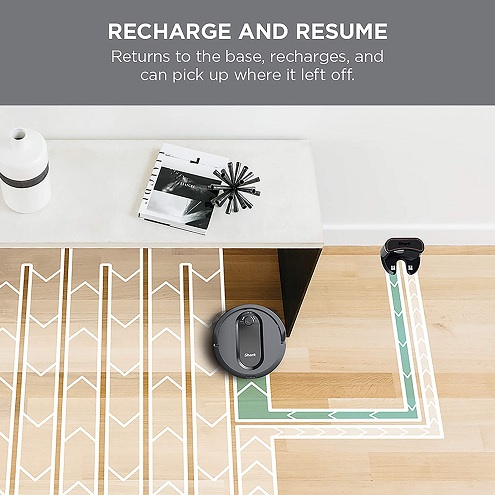 ---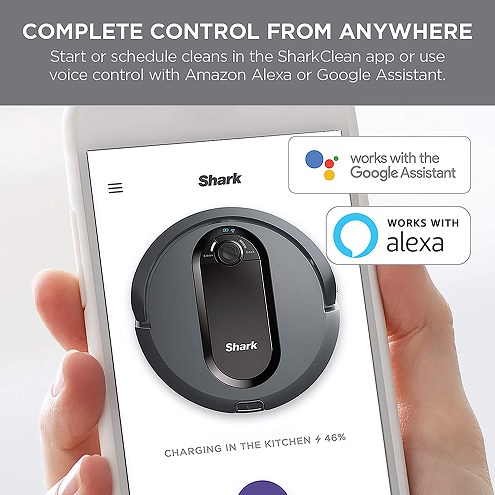 The vacuum is compatible with Google Assistant and Alexa so all you've got to do is call, and it will come running at your command to start cleaning. You can control it using the Shark Cleaning app too. The vacuum is specifically designed for homes with pets and you don't need a hair wrap. Its Self-cleaning brush roll works on removing the pet hair and long hair as part of the cleaning process.
TOP 10 KEY FEATURES:
| | |
| --- | --- |
| Product Dimensions: | 12.91 x 12.6 x 3.55 inches |
| Item Weight: | 6.22 pounds |
| Manufacturer: | SharkNinja |
| Item model number: | AV970 |
| IQ Navigation: | Yes |
| High-Efficiency Filters: | Yes |
| Run Time: | Recharge and resume |
| Surfaces: | Hard floor and Carpet |
| User-friendly Features: | No Hair-Wrap Needed |
| Pet Friendly: | Yes |
Included in the box:
Shark IQ Robot Vacuum AV970
Charging Dock
Side Brushes
Filter
Boundary Strips
Payment & Security
Shark IQ Robot Vacuum AV970, black with Self Cleaning Brushroll, Advanced Navigation, Alexa Compatible, Wi Fi Connected