Description
The Steiner Optics 10x26 is an advanced binocular that will make your hunting comfortable.
Compact and lightweight Steiner Optics 10x26 binoculars are indispensable for any hunter and tourist. The Safari Ultrasharp with its distinctive look is preferred by thousands of people around the world. Stylish design combined with its optical performance is considered to be the main reason for the high demand for equipment. But people prefer Steiner Optics 10x26 also because of the following:
The new Steiner 10x26 Safari has a 10x magnification for detailed observation of distant objects
The manufacturer chose optics with a full multi-layer coating with UV protection
Safari Ultrasharp's 58° visible angle approaching wide
---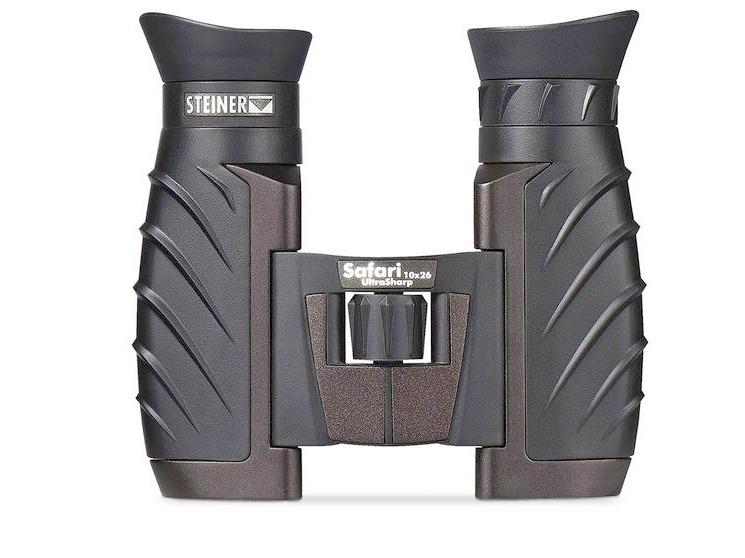 Our Take on the Steiner Optics 10x26:
Safari Ultrasharp Series binoculars are what you need. World-renowned Steiner image clarity, accurate color reproduction, low light performance and field-proven durability ensure your optics are as efficient as possible and more fun on your adventure.
The manufacturer has applied a technology that prevents harmful radiation from entering the user's eyes. By increasing the visible light transmission, the Steiner has been able to achieve high-contrast images with accurate colors and increased clarity. This company has done everything possible to minimize the distracting, visible hand-shake that is common with high power optics. The manufacturer offers a wide view of 304 feet at 1000 yards. This is the best pair of binoculars for everyday use. Thousands of border guards and experienced hunters are satisfied with the performance of this model.
---
New model from Steiner provides excellent image sharpness in an easy-to-use and easy-to-carry form factor. This is what many of our customers confirm in their reviews. With Steiner Optics 10x26 binoculars, people are unlikely to be disappointed. This is due to the following advantages:
Steiner High Contrast coating on each lens for high performance
This model maintains sharpness and clarity up to 11 feet away
Waterproof construction and durable armor absorb shock
The manufacturer has included foldable ergonomic eyecups for use with glasses
The specific eyecup adapts to the user's face and eye sockets, enhancing the contrast of the image. The manufacturer has done everything possible to block out ambient stray light and prevent distractions.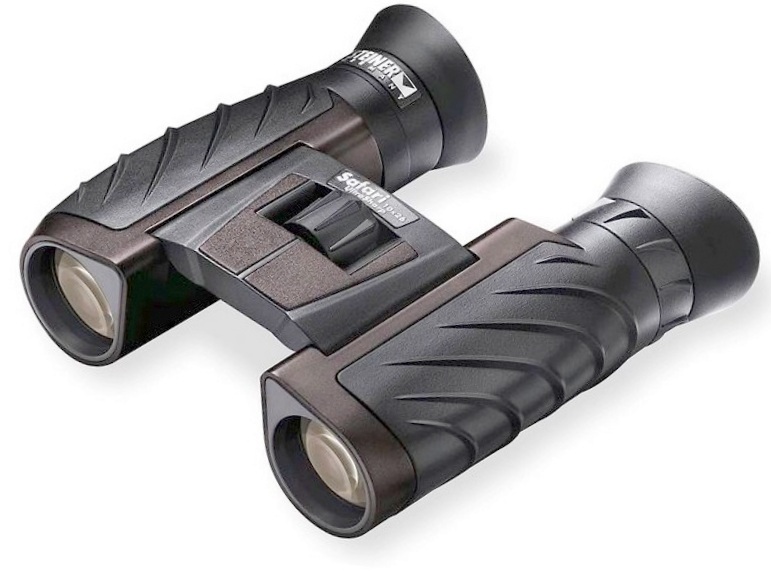 ---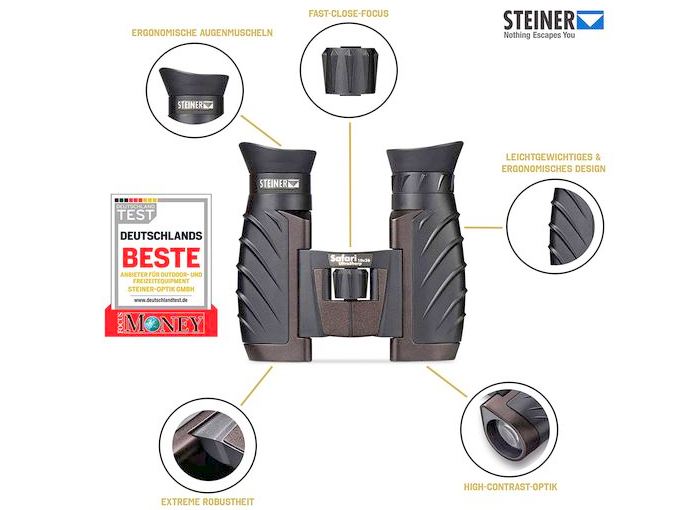 The patented lens coating system is used not only to maximize light transmission, improve contrast and obtain accurate color reproduction, but also to protect the eyes from harmful ultraviolet (UV) radiation. With powerful magnification and a field of view approaching wide-angle, people will always see bright and clear images. The manufacturer will guarantee that the advanced optics will enable you to watch with sharpness and an immersive viewing experience. You can order this model today to check the declared functionality in just a few days.
TOP 10 KEY FEATURES:
Brand:
Steiner
Color:
black
Material:
blend
Prism Type:
roof
Magnification:
10x
Objective Lens Diameter:
26 mm
Minimum Focus Distance:
4 m
Exit Pupil Diameter:
2.6 mm
Eye Relief:
12.4 mm
Weight:
297.0 g
Included in the box:
Steiner 10x26 Safari Ultrasharp Binocular
Neck Strap
Carrying Case
Payment & Security
Steiner Safari UltraSharp 10x26 Binoculars