Description
The new T.Flight HOTAS 4 is the equipment every gamer dreams of.
Are you looking for an ergonomic joystick with which you can keep the realism in any game? Then the Thrustmaster T.Flight HOTAS 4 is perfect for you. This is the best gear for virtual travel lovers. The new model is a complete simulation environment for addicting games.
In real life, pilots use joysticks and throttle to control the flight. The equipment is as efficient as possible in terms of performance and the ability to fully immerse yourself in the developer's atmosphere. This new T. Flight Hotas 4 offers that level of realism. This is confirmed by hundreds of reviews from our customers.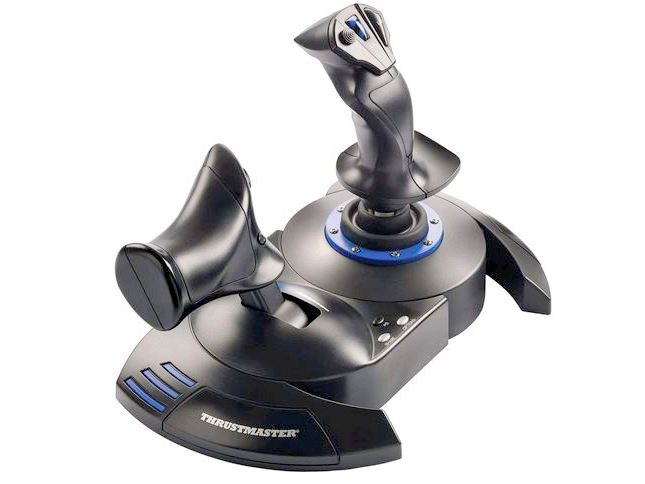 ---
Our Take on the Thrustmaster T.Flight HOTAS 4 for PS4 and PC:
Easy set-up, detachable throttle and advanced technology allow more precise control of powerful fighters and passenger aircraft. The controller is optimized for the PlayStation 4 console and PC. Just plug in your hardware and start playing.
The design of the unique ergonomic model adapts to all genres. The large wrist rest provided by the manufacturer helps people keep their hands in a very balanced and comfortable position. This is an effective solution in terms of ease of reaction to the slightest movement.
You can adjust the resistance of the handle to suit your preferences. Base weights have been reduced for better balance in any workout. Even if people sit on the PlayStation for hours, they are unlikely to get tired.
---
The dual steering system is excellent. The joystick has a function corresponding to the toools used by the player to turn the rudder in an airplane. This is what adds realism to any gaming session. Players can use such a tool to rotate the plane around its vertical axis. It will not be difficult to turn the plane left or right.
This steering function is accessible by turning the knob and joystick with an integrated locking system. The manufacturer also added the ability to maintain balance using a progressive tilt lever.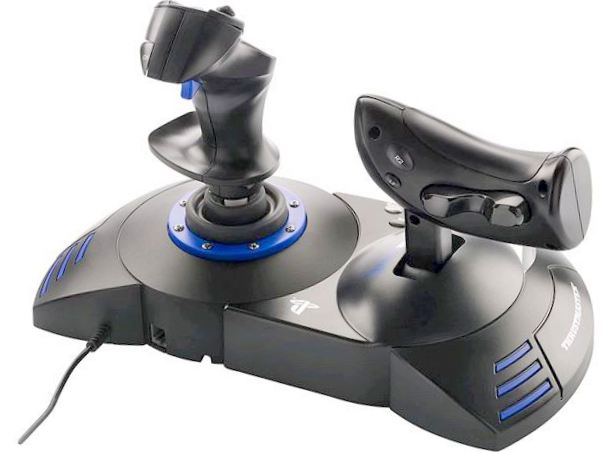 ---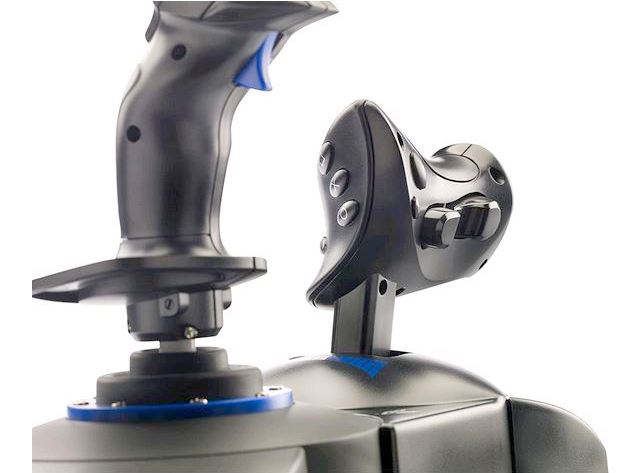 A removable shock absorber is what sets this manufacturer apart from others. The new joystick is equipped with a full-size throttle with which you can easily control all parameters of the game. The new T.Flight HOTAS 4 is the ideal controller for those looking for skill and precision.
The register can be removed and installed in two ways. Players can use these items individually to recreate authentic flight conditions. However, for greater stability, the shock absorber is reconnected to the common base. In this case, your equipment takes up less space.
TOP 10 KEY FEATURES:
| | |
| --- | --- |
| Manufacturer: | Thrustmaster VG |
| Date First Available: | June 1, 2018 |
| Colour: | Black and blue |
| Interface: | USB |
| Number of buttons: | 15 |
| Throttle: | Removable, realistic size |
| Product Dimensions: | 10 x 11 x 11 inches; 3.92 Pounds |
| Binding : | Video Game |
| Language: | French, English |
| Item Weight: | 3.92 pounds |
Included in the box:
Thrustmaster T.Flight HOTAS 4 for PS4 and PC
Payment & Security
Thrustmaster T.Flight HOTAS 4 for PS4 and PC - PlayStation 4