Description
Rode VideoMic GO Camera-Mount Shotgun Microphone with Simple Operation, 3.5mm TRS Output Jack, Integrated Shoe/Pole Shockmount, Lightweight, Compact Body, Detachable Coiled 3.5mm Cable, and ideal accessories for Cameras and Portable Recorders
Rode VideoMic GO Camera-Mount Shotgun Microphone offers enhanced off-axis rejection so that you always get tighter directionality. The length of the microphone is longer than Rode's VideoMicro but the pickup pattern is narrower as compared to that model. The product comes with the same plug-in power and does not have any controls or switches just like VideoMicro. The absence of controls or switches makes it ideal for people who have just started their work in the video and audio recording genre. It is a good product for beginners as well as professional journalists, vloggers, run-and-gun shooters, or others. While making the Microphone, Rode has given great emphasis to simplicity and made the product that is easy to set up in just a few minutes.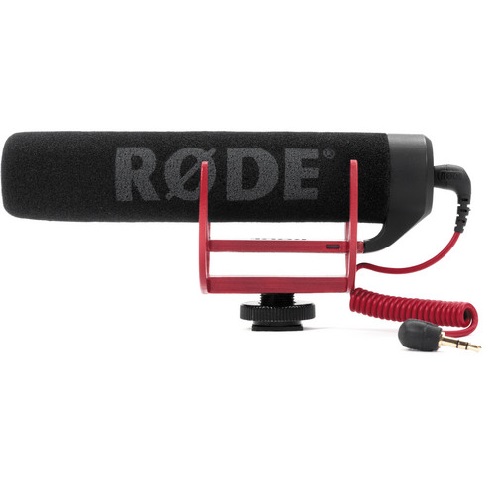 ---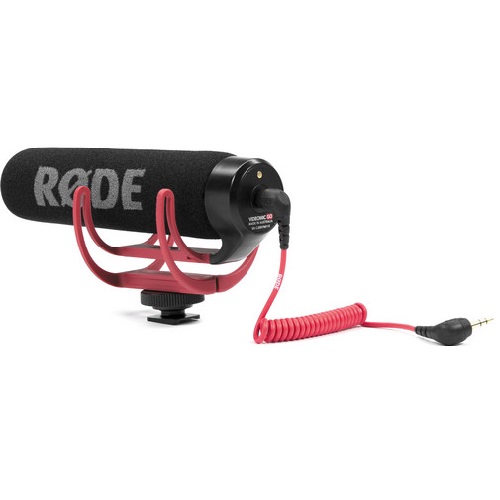 Our Take on Rode VideoMic GO Camera-Mount Shotgun Microphone:
Rode VideoMic GO Camera-Mount Shotgun Microphone is compact and very lightweight as compared to the other products available in the market. It has an integrated shock mount that you may use to mount the device directly on your DSLR, video camera, mirrorless camera, etc. This feature reduces the noise from vibrations and offers great camera handling. The Microphone has a windscreen design that reduces wind noise. You can use it for indoor or outdoor shooting with the same expectations of good sound quality.
---
Rode VideoMic GO Camera-Mount Shotgun Microphone has a detachable coiled 3.5mm TRS cable that enables you to hook up it with your camera. You do not need to do channel selection as it features dual-mono output. Unlike other low-grade microphones, this product has Directional Sound Pickup. So if you point out it towards the speaker, it will only pick the sound from that person by eliminating the sound coming from other directions. The feature is useful in recording at crowded places and you get detailed audio through active electronics and directional condenser elements.
---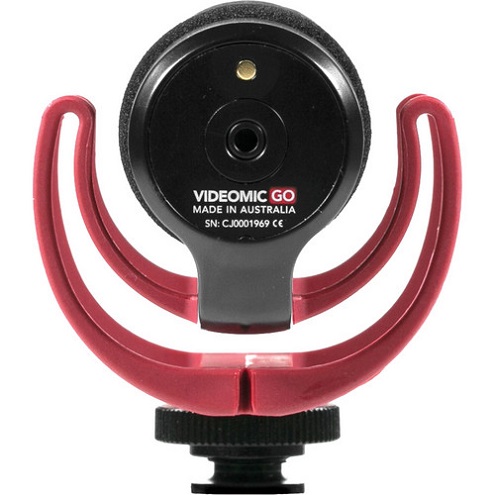 Rode VideoMic GO Camera-Mount Shotgun Microphone does not require any batteries to run. It runs on plug-in power; so you need to connect the microphone with your camcorder or camera that ensures power to record the audio. The microphone gives you multiple connectivity options such as with other Rode accessories (SC4, SC7, and VXLR+), smartphones, tablets, and others. In case of connectivity with smartphones, tablets, or other digital devices, you require to purchase Rode SC4 or SC7. By purchasing a VXLR+ adapter optionally, you can use this Microphone with the camera or camcorder that has XLR inputs. The Microphone looks elegant and adds another dimension to your personality.
TOP 10 KEY FEATURES:
| | |
| --- | --- |
| Sound Field: | Mono |
| Operating Principle: | Line Gradient |
| Polar Pattern: | Supercardioid |
| Orientation: | End Address |
| Circuitry: | Solid-State (JFET) |
| Diaphragm: | 12.70 mm |
| Capsule: | Electret Condenser |
| Form Factor: | Stand/Boom Mount |
| Cable Length: | 20 to 35 cm |
| Frequency Range: | 100 Hz to 16 kHz |
Included in the box:
Rode VideoMic GO Camera-Mount Shotgun Microphone
Coiled 3.5mm TRS Cable
Payment & Security
Rode VideoMic GO Lightweight On-Camera Microphone