No result found for your search.
No result found for your search.
Apple Silicone Case (for iPhone Xs Max) - Midnight Blue
Apple
| Brand New
| 6AV# APPCASEMRWG2ZMA
| MFR#

MRWG2ZM/A
✔ Get FREE Shipping. Confirmed orders might take 1-2 days for processing.
Description
Shipping
Refund 
Reviews
Recommendation
Apple Silicone Case for iPhone Xs Max (Midnight Blue) safeguards your iPhone Xs Max for optimum lastingness. It's an ideal product for those that desire long life for their iPhone Xz Max.
Its lightweight design ensures that you don't carry too much weight from one place to another. With its sleek design, it fits perfectly into your device, leaving space for volume buttons as well as side buttons.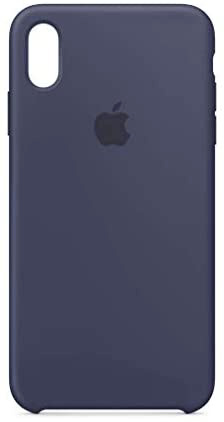 ---

Our Take On Apple Silicone Case for iPhone Xs Max (Midnight Blue)
The Apple Silicone Case for iPhone Xs Max (Midnight Blue) boasts an internal soft microfiber lining, which helps in protecting your phone. It stays fit with your smart device for maximum effectiveness at all times.
---
You will like its exterior, silky, soft-touch finish that has a unique aesthetic appeal. It protects your device from scratches, dust, etc., that may want to hamper its long life.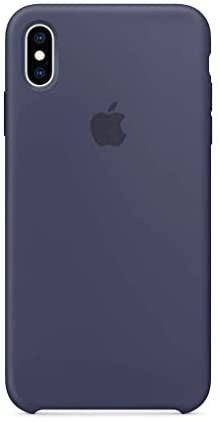 ---

With its production from materials of high quality, you can be confident of getting value for your money. It passes through strict quality checks so that you can get value for your money.
TOP 5 KEY FEATURES:
| | |
| --- | --- |
| Compatible Devices: | Apple iPhone Xs Max |
| Material: | Silicone |
| Special Feature: | Slim Fit |
| Weight: | 1.76 ounces |
| Dimensions: | 62.02 x 30.48 x 3.03 inches |
Included in the box:
Apple Silicone Case for iPhone Xs Max (Midnight Blue)
Shipping policy
Pricing
Pricing is subject to change at any time, at our sole discretion. Please be aware that prices both rise and fall due to fluctuations, and we are offering you the best price we can at the time.
Due to the nature of the electronics industry, we cannot offer price protection credits once the item has been purchased.
Taxes & Duties
6th Ave collects sales tax on orders shipping to the state of New Jersey.
Customers who have their orders shipped internationally are responsible for all duties, taxes, and shipper brokerage fees.
Payments Methods
6th Ave accepts all Visa/MasterCard, American Express and DiscoverCard through Paypal payment processing. You do not need a PayPal account to process an order during checkout. We also accept Purchase Orders from Government Agencies, Schools and major corporations.
We do not charge your credit card until your order has shipped. We may pre-authorize the amount on your card for the purposes of verification and confirmation of funds. This is not a charge. If you cancel before it ships, the pre-authorization will "fall off" in 2-3 business days.
We currently cannot accept international credit cards which are issued outside the United States.
Shipping
6th Ave accepts orders within the USA. We do not ship to PO Boxes.
Order Verification
All orders are subject to our verification process. We may contact you via telephone or email in order to request additional information.
When entering your shipping information, please provide your exact billing information and billing phone number. These should match the information that your credit card's issuing bank has for you on file.
Adding an alternate shipping address may delay your package. If you are to do so, please call your credit card's issuing bank (the number is on the back of your card), and inform them to add a temporary shipping address to your account. This is temporary and will be eligible for about 7-10 days.
We can only ship to the address that PayPal confirms and approves as your shipping address.
If we receive an ineligible payment from you via PayPal, we will refund it immediately, and contact you via email.
Refund policy
Our goal is to make sure you are completely satisfied with your transaction. We offer the below return and refund terms to assure you the best services.
30-Day Return Policy
If dissatisfied with your purchase, you may return the products to 6th Ave Electronics (6ave.com) within 30 days of the delivery date. The products you want to return or exchange should meet the below conditions.
Eligibility Conditions
If all conditions mentioned below are not met, 6th Ave Electronics reserves the right to refuse the return.
UPC codes and serial numbers must be intact or the return will be automatically refused.

We reserve the right to refuse the return based on the condition of the returned merchandise.

The products should be returned in their original unaltered box
Returned products should include all items originally received by you, including free items and accessories, to obtain a full refund; In case you wish to keep any free items or accessories, their retail value will be deducted from the reimbursement total.
Product to be returned should include all packing material, original box materials, inserts, manuals, cables, unfilled warranty, and rebate cards.
Shipping and handling fees are non-refundable
The refund amount is limited to the original purchase price
Nonreturnable Items
Unboxed TVs, combos and monitors 37" or larger with unsealed original packaging
Unboxed computers and computer software with unsealed original packaging
Electronic software or downloads
Unboxed consumable items such as CD, DVDs, ink cartridges, film, bulbs, etc.
Any computers built, customized, or modified as per customer specifications
Select special-order merchandise
Nonreturnable items specifically mentioned on the website
Submerged underwater equipment
Unboxed or unwrapped educational tapes or books
Return Address
Attn: Return Department
6th Ave Electronics
50 Atrium Dr.
Somerset, NJ 08873
Defective or Damaged Items
In case you receive a defective or damaged item, we will exchange for a replacement or refund.
In case of items missing or damaged in transit, you must claim them within three business days of receipt of merchandise.
How to Initiate Returns
In order to arrange a return/exchange, please contact us via phone 1-800-414-4012 or email us at customercare@6ave.com to obtain an RMA (Return Merchandise Authorization) number.
Shipping Products for Returns or Exchange
Please make sure you repack the product carefully. Place the factory box into a separate shipping box and include the RMA number underneath the return address.
Please do not affix shipping labels or write on the manufacturer's package.
Limited Liability
Please ship returns back to us with insured ground delivery. We are not responsible for lost or damaged returned packages.
We are not responsible for any consequential or incidental damage occurring due to the purchase or use of any merchandise.
Kindly factory reset or password unlock the electronics with user information before sending them back for return.
Refund Timeframe
Refunds are applied to the payment method used at time of purchase 3-7 days after merchandise is received and inspected.
Refund amount is limited to the original purchase price and does not include shipping and handling fees, which are non-refundable.












Customer Assurance
Simple 30 Day Return Policy
Encrypted SSL Secure Shopping
Top-notch Service
Questions? We are here to help!
Sales & Support: 800-414-4012
Accepted Payments
Visa, MasterCard, American Express, DiscoverCard powered by Paypal