Description
The Beats Pill+ Standard Collection Portable Speaker (White) from Beats by Dr. Dre provides you with a dynamic range and an enhanced sound field, thanks to its 2-way crossover system. Pair with your mobile or laptop using Bluetooth and turn your leisure trip or party much more vibrant instantly!
The Beats Pill+ (White) from Beats by Dr. Dre is a Bluetooth portable speaker that can make your times far more enjoyable with music when you need it on-the-go. Whether you are enjoying an instant party or on a leisure trip, just pair the speaker with any Bluetooth device, such as your mobile phone or the laptop, and start enjoying music with enhanced clarity. Its 2-way crossover system offers you a dynamic range for your music and an enhanced sound field. If you have two such speaker units, you can pair both together, and you have a stereo system already!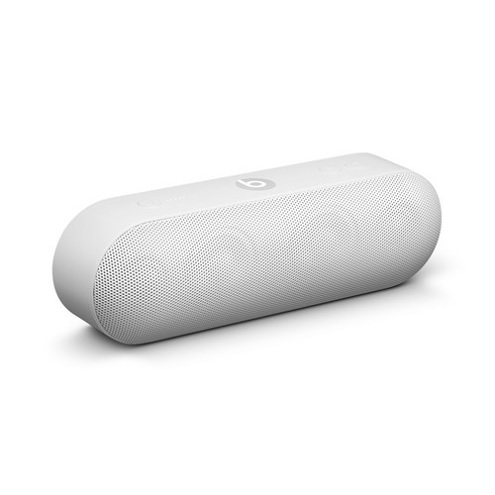 ---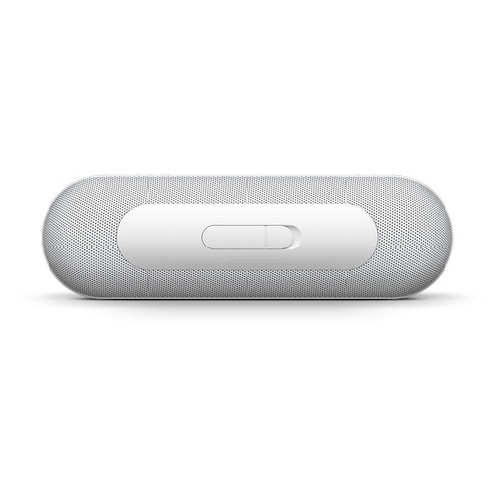 Our Take on The Beats Pill+ Portable Speaker (White) from Beats by Dr. Dre:
The battery of the Beats Pill+ Bluetooth portable speaker gives you a long life of 12 hours, which is ample power for you to enjoy music uninterruptedly for most of your purposes. And the unit can be charged using a Lightning charging cable in mere 3 hours for a full battery. Furthermore, you can use it as a power source to charge another device by connecting to it. You can get feedback on how much power is left on the battery by looking at the fuel gauge incorporated into the unit.
---
Other than using the Beats Pill+ Bluetooth portable speaker for listening to music or playing videos or games, you can also use it as a phone to make and receive calls. The built-in microphone helps you speak into it. When you want to make a call or switch the functions of the music like Play, Pause, Skip, etc., you have the multifunction 'b' button as a part of the intuitive user interface to do it easily. The other buttons are the volume 'increase' and 'decrease' dual switches and the power button.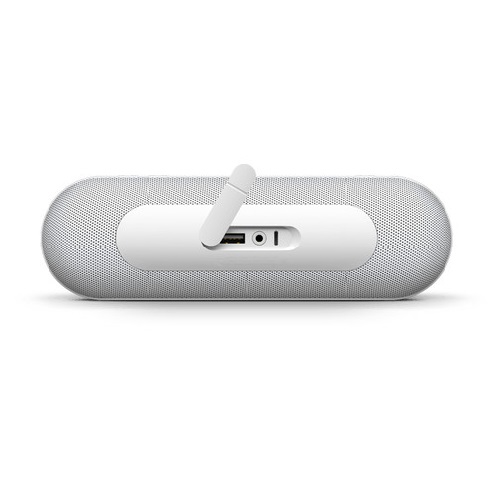 ---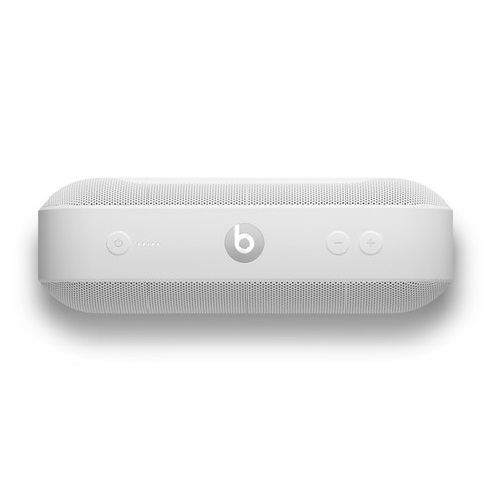 The USB charging connector and the stereo jack of the Beats Pill+ Bluetooth portable speaker are at the back and in a concealed form. You can lift the covering flap to expose them so that you only need to open it when you need to use the connectors. All other times, it can remain covered to protect it from dust. The unit comes with the necessary accessories in the pack, which are the Lightning-to-USB Type-A cable and an AC power adapter. It has dimensions of 8.3 x 2.5 x 2.7 inches (21.08 x 6.35 x 6.85 cm) and weighs 2.98 lb when packed.
TOP 10 KEY FEATURES:
| | |
| --- | --- |
| Connectivity: | Bluetooth |
| Connectivity Range: | 32.8' (10 meters) |
| Wired Input Audio Connector: | 1/8" (3.5 mm) Stereo |
| Built-in microphone: | Yes |
| Battery Life: | 12 hours |
| Charging Time: | 3 hours |
| Charging Connector: | Lightning |
| Sound system: | 2-Way Crossover System |
| Speakerphone Function: | Yes |
| Color: | White |
Included in the box:
Beats by Dr. Dre Beats Pill+ Standard Collection Portable Speaker (White)
Lightning to USB-A Charging Cable
AC Power Supply Adapter
Payment & Security
Beats Pill+ Portable Speaker - White