---
✔ Get FREE Shipping. Confirmed orders might take 1-2 days for processing.
Description
Canon 12x32 IS Image Stabilized Binoculars with Field-Flattener Lens System, Lens-Shift Image Stabilization, Super Spectra Multi-Coated Optics, Fold-Down Rubber Eyecups, Simple User Interface, and Large Center Focusing Wheel
Canon 12x32 IS Image Stabilized Binoculars has IS system adopted from EF type of lenses. It is a superior quality binocular that gives steady, clear, and immersive views. It has a lens-shift system combined with vibration gyro-mechanism and microprocessors that make it different from other binoculars available in the market. The processors detect and counter the hand-shake appearance by making adjustments in the internal lens assembly. This functionality makes these binoculars good in case of user's movement. You can use it by sitting in the car, bus, train, or any other moving vehicle. Your vehicle movement or your hand movement will not affect the viewing quality much. You get to enjoy high-power observations steadily without the need for any tripods or support system.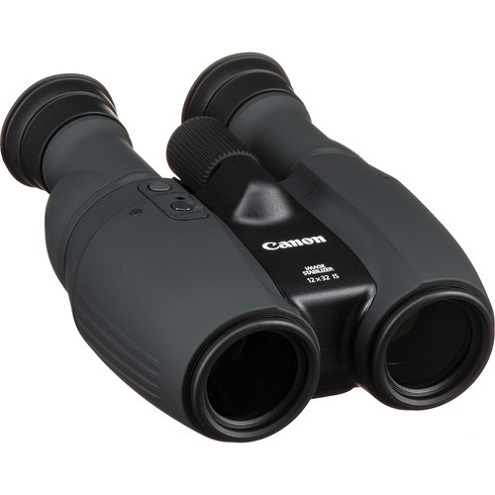 ---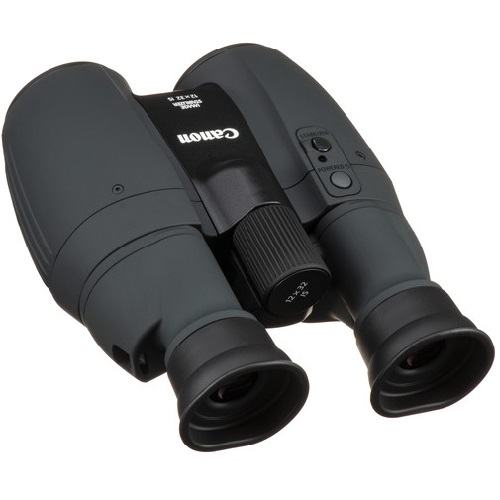 Our Take on the Canon 12x32 IS Image Stabilized Binoculars:
Canon 12x32 IS Image Stabilized Binoculars have two IS methods: Normal and Powered. The Normal IS provides tailored performance and great for moving or multiple subjects. Whereas, Powered IS is better for stationary subjects. You get two intuitive button user interface for changing the modes making the binoculars easy to use. To run the device, you require two AA batteries and the company provides one pair of batteries with the product. When you are not using image stabilization, it will work as conventional binoculars.
---
Canon 12x32 IS Image Stabilized Binoculars correct spherical aberration and distortion thanks to the traditional Porro prisms and an integrated field-flattener lens. Even at the edges, you get the same type of distortion/aberration-free views. Canon has used Super Spectra Coating that controls ghosting, color bias, and lens flare. If you have already used the other IS mechanisms models, you might find the difference in close focus distance in this product. The manufacturer has reduced close focus distance in this product. You get a large center wheel, ±3 right-eye dioptric correction, 2.7mm exit pupil, and 14.5mm eye relief that gives you a whole range of comfort.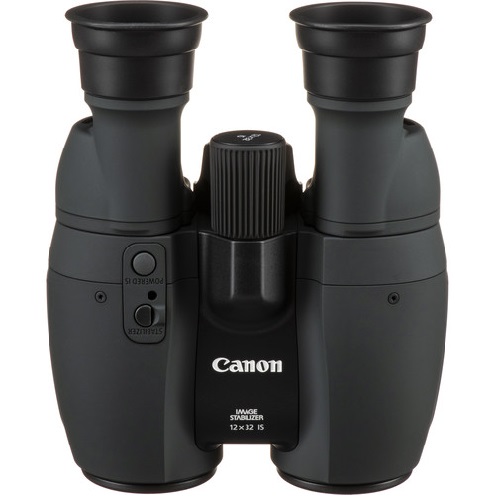 ---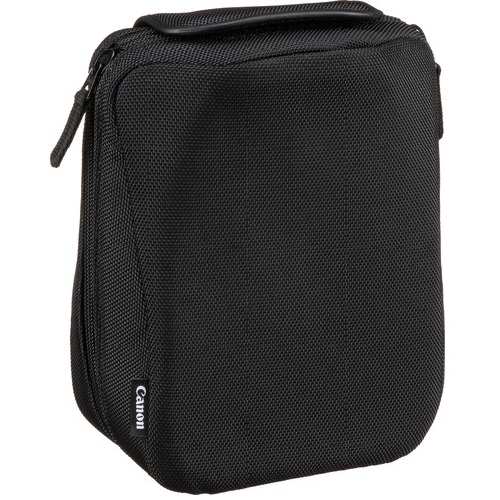 Canon 12x32 IS Image Stabilized Binoculars have fold-down rubber eyecups that give the same level of comfort with or without eyewear. It is lightweight and also provides a sure grip with its slip-resistant rubber armoring and redesigned chassis. The device is capable of giving a 262-foot field of view at 1000 yards. You may use it comfortably for long hours. Overall a great product, do not forget to carry it along when going for any outdoor trips.
TOP 10 KEY FEATURES:
| | |
| --- | --- |
| Magnification: | 12x |
| Prism Type: | Porro |
| Objective Lens Diameter: | 32 mm |
| Angle of View: | 5° (Actual) |
| Field of View: | 87.5 m @ 1000 m |
| Exit Pupil Diameter: | 2.7 mm |
| Eye Relief: | 14.5 mm |
| Interpupillary Adjustment: | 55 to 76 mm |
| Diopter Adjustment: | - 3 to +3 |
| Minimum Focus Distance: | 2 m |
Included in the box:
Canon 12x32 IS Image Stabilized Binoculars
Neck Strap
2 x AA Batteries
Carrying Case
One-Piece Ocular Rainguard (with cord)
Payment & Security
Canon Cameras US 12X32 IS Image Stabilizing Binocular, Black (1373C002)