---
✔ Get FREE Shipping. Confirmed orders might take 1-2 days for processing.
Description
The Canon EF 40mm f/2.8 STM is a lens ideal for all your days and all your lightning conditions. The stepping AF motor helps score quick, accurate, and near-silent autofocus performance!
If you're someone who has to work a lot with selective focus techniques and difficult lighting conditions, the Canon EF 40mm f/2.8 STM lens can help as it has a maximum aperture of f/2.8 and helps you adjust the depth of field while shooting. An aspherical element is incorporated into the optical design that helps in minimizing spherical aberrations and distortions for the finest, best, and highest of picture quality. There is a Super Spectra coating in the lens that helps you reduce lens flare and ghosting which leads to an improved color accuracy even in the most difficult light and weather conditions, which in turn benefits both the photo and video applications. It also comes with an STM stepping AF that works towards delivering an accurate, quick, and near-silent autofocus performance.
---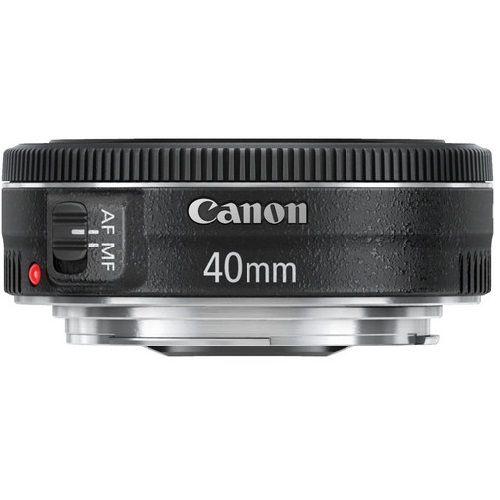 Our Take on the Canon EF 40mm f/2.8 STM Lens:
The Canon EF 40mm f/2.8 STM lens is a short normal-length prime designed to work perfectly with both Canon EF-mount DSLRs and APS-C models and goes on to provide a focal length equivalent to 64mm. It offers a bright f/2.8 maximum aperture which modestly helps in working low-light conditions and also lets you get a grip over the depth of field which goes on to result in a lightweight experience as it makes it compact and handy.
---
The most eye-catching part about the Canon EF 40mm f/2.8 STM lens is the pancake-like shape that makes it super compact, lightweight, and portable. An aspherical element doesn't let any distortion and spherical aberrations come in the way of your perfect shot and blesses you with greater sharpness and accurate rendering. All the individual elements of this lens are covered with a Super Spectra coating that helps in limiting ghosting and flare for a better contrast and color correctness when working in unfavorable weather and light conditions.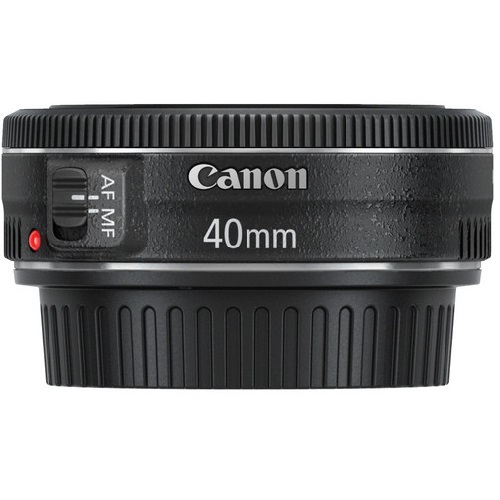 ---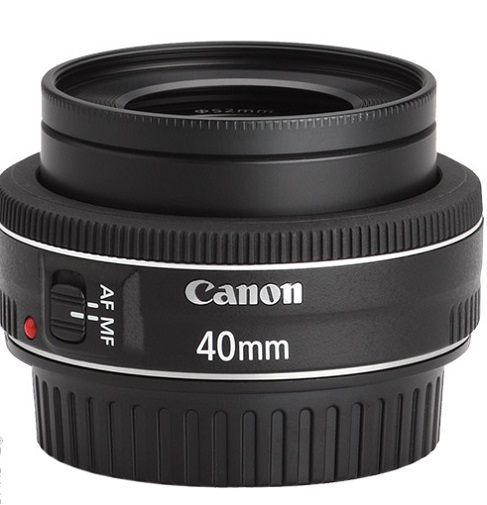 An STM stepping AF motor in the Canon EF 40mm f/2.8 STM lens realizes smooth and near-silent autofocus which is paired with a rear focus, high-speed CPU, and advanced AF algorithms for a quick and efficient AF performance. As they say the more the merrier, and the Canon EF 40mm STM Lens gets better than anything since it also comes with a rounded seven-bladed diaphragm which works towards giving a pleasant out of focus quality that benefits the shallow depth! Be it too bright or too dark, too sunny or too windy. This lens with a sleek and magnificent design can give you good company. You can walk around with it shooting without a care!
TOP 10 KEY FEATURES:
| | |
| --- | --- |
| Focal Length: | 40mm |
| Maximum Aperture: | f/2.8 |
| Minimum Aperture: | f/22 |
| Lens Mount: | Canon EF |
| Format Compatibility: | Full-Frame |
| Maximum Magnification: | 0.18x |
| Optical Design: | 6 Elements in 5 Groups |
| Diaphragm blades: | 7 rounded blades |
| Filter Size: | 52 mm (Front) |
| Focus Type: | Autofocus |
Included in the box:
Canon EF 40mm f/2.8 STM Lens
Canon E-52, 52 mm lens cap
Canon Lens Dust cap E ( Rear lens cap)
Payment & Security
Canon - Ef 40Mm F/2.8 Stm Lens Product Description: Canon - Ef 40Mm F/2.8...