Description
The Canon DM–E100 Directional Microphone is an effective device for videographers and filmmakers to use in combination with Canon's high-quality digital cameras. Its directional design and noise reduction capabilities make it an excellent accessory with outstanding results!
The Canon DM–E 100 Directional Microphone has a built-in windscreen to detect the user's angle and various external noises. The design makes the subject-to-microphone distance minimal, and the microphone-to-noise distance is improved to reduce errors and provide the best sound quality. The device is placed right on the top of the digital camera, which yields high-performance noise correction and allows a clear path to record sound perfectly. It doesn't need a battery and can be used as a plug-and-play device by connecting it using the 3.5 mm plug.
---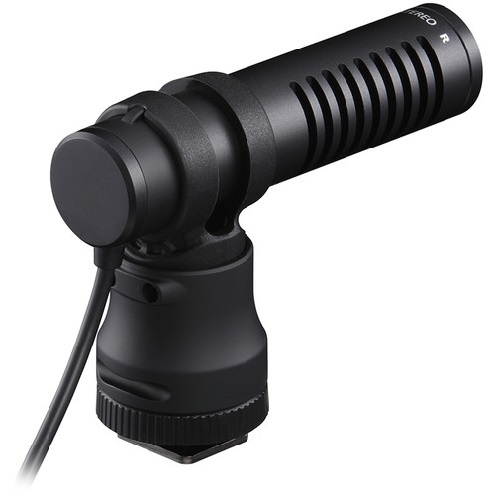 Our Take on the Canon DM–E100 Directional Microphone:
The information gathered from different windsocks and windjammers in-built in the Canon DM – E100 Directional Microphone helps the user record sounds effectively. The device gives its best efficiency when coupled with HF or HG series of camcorders. Attaching the microphone to these camcorders makes the best coordination between the two devices and results in a higher quality. The unit can be attached to the camcorder by screw action. The external weight of the device is around 65 grams, which makes it almost weightless.
---
The Canon DM–E 100 Directional Microphone is a stereo device and has multiple modes so that the user feels free to operate in various situations. It can be used for a wide range of recording applications and lets the user use the correct mode at a required time. It has two different stereo pickup options, unique 90 and 120-degree modes. The sound quality in the shotgun mode can be expected to be mono, filtering out the external noises. The two different stereo patterns differentiate and record the sound frequencies between left and right angles which increases the efficiency of the microphone. The 90-degree mode works best with recording the sound from the image that the connected camcorder records.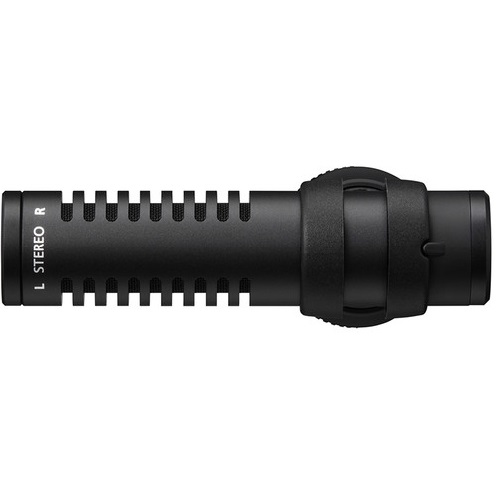 ---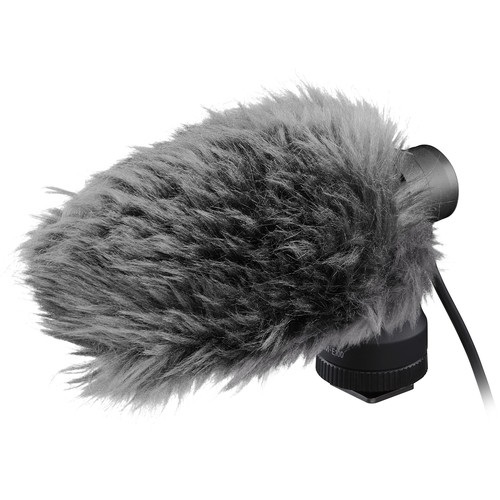 The directional feature of the Canon DM–E 100 Microphone makes it the best in filtering out the noises from directions other than the recording one. There is an added sensitivity to the microphone making the overall sensitivity around -40 dB. Also, the signal-to-noise ratio can be seen as 66 DB, making it a better choice for outdoor recordings and situations involving more noise. Its compactness makes it suitable for those looking to travel light. It has a fur-type wind-shield that gives it a neat and finished look. With its multiple modes, plug-and-play design, stereo sound, and low noise, you can take your movies to a brand-new level.
TOP KEY FEATURES:
| | |
| --- | --- |
| Sound field | Stereo |
| Windscreen included | Yes |
| Connector | Analog - 1 x 1/8" / 3.5 mm (on attached cable) |
| Sensitivity | -40 dB +/- 4 dB |
| Signal-to-noise ratio | 66 dB minimum |
| Color | Black |
| Mounting | Camera-mount |
| Power source | Plug-in power |
| Frequency range | 100 to 10000 Hz |
| Output impedance | 2 kilo-ohms maximum |
Included in the box:
Canon DM-E100 Directional Microphone
Windscreen
Payment & Security
Canon USA 4474C001 Canon Stereo Microphone DM-E100