Description
DJI Battery Charging Hub for Phantom 3 Quadcopter with LED Charge Status Indicators, Phantom 3 100/57W Chargers Compatibility, Sequential Charging of Up to 4 Batteries, and best for 4480mAh Batteries
DJI Battery Charging Hub for Phantom 3 Quadcopter is a great piece of equipment that gives you the power to charge up to four batteries of your drone in sequence. You get the flexibility to connect the hub with the charger or with a power cord depending on your preference and requirement. You will feel delighted to know that it is not a normal charging hub; it is an advanced and intelligent charging hub to an extent. It understands that when you are connecting four batteries together, you wanted to have all of them charged up for long-duration use. So, the hub charges the most charged battery with priority. In that way, you get one battery for the earliest use while the hub is charging others.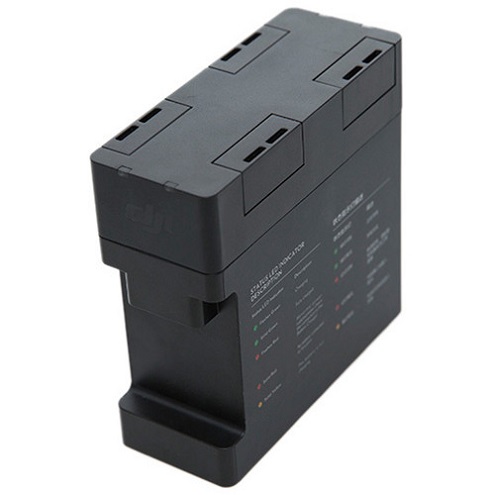 ---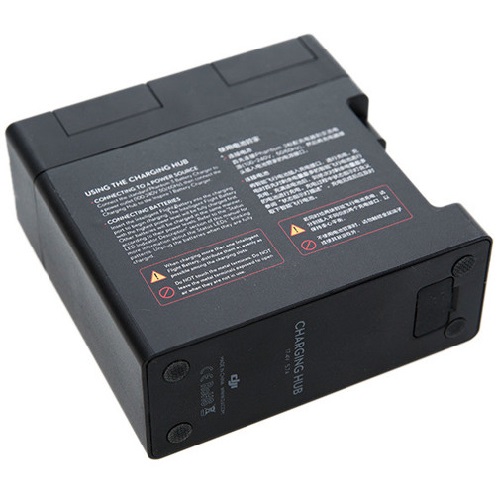 Our Take on DJI Battery Charging Hub for Phantom 3 Quadcopter:
DJI Battery Charging Hub for Phantom 3 Quadcopter comes with LED indicators that show each battery's status. The Hub monitors the whole charging process and provides excellent performance. Please note that the hub supports four battery charging at a time, but it does not charge all those batteries together. It is a sequential charger, it implies that it will charge one battery at a time. Start working on the most charged battery and go on to charging the next in the same manner.
---
DJI Battery Charging Hub for Phantom 3 Quadcopter has an internal power management system that ensures that you get a high level of safety during use at all times. It monitors the power fluctuation and automatically provided added safety by doing the required step. If you have a car charger for the same model of the quadcopter, you can even use it while traveling from one place to another.
---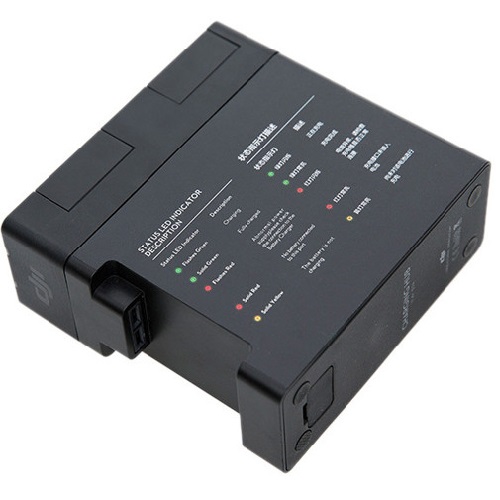 DJI Battery Charging Hub for Phantom 3 Quadcopter has Integrated port that is useful in the future firmware update. You can connect the hub with other devices via the port in case new firmware is released by the company. DJI is known for its quadcopter including its other accessories, and you get the feel of their perfection with this product. The Charging Hub is compatible with Phantom 3 Professional, Advanced, and Standard model of Aircraft from DJI. You can use 100 W and 57 W charger for powering up the batteries. Please note, the hub is compatible with Battery of 4480mAh capacity; so use it accordingly.
TOP 10 KEY FEATURES:
| | |
| --- | --- |
| Charging Time: | Depends on the Quality of Charger |
| Aircraft Compatibility: | Phantom 3 Professional, Advanced, and Standard models |
| Charger Compatibility: | Phantom 3 100 W and 57 W chargers |
| Battery Compatibility: | 4480mAh |
| Integrated Port: | Yes |
| Internal Power Management: | Yes |
| LED Indicators: | Yes |
| LED Indication Type: | Flashing Green, Solid Green, Flashing Red, Solid Red, and Solid Yellow |
| Working Principle: | Sequential Charging |
| Brand: | DJI |
Included in the box:
DJI Battery Charging Hub for Phantom 3 Quadcopter
Payment & Security
DJI Battery Charging Hub for Phantom 3 Quadcopter