Description
Eartec HUB7SMXD Intercom System is perfect for a small office or team's wireless communication requirement!
The Eartec HUB7SMXD Intercom System is your perfect office telephony solution. It comes with a HUB Mini Base Station, six UltraLITE Single Remote headsets, one Max 4G Double headset, seven batteries, an eight-port charger, and a large soft-side case. It can accommodate up to a seven-member team for seamless wireless and hands-free communication.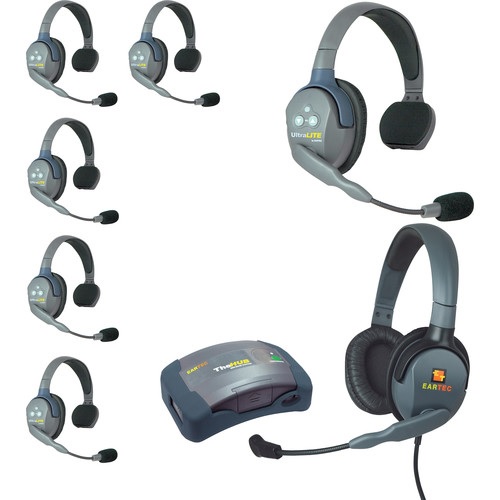 ---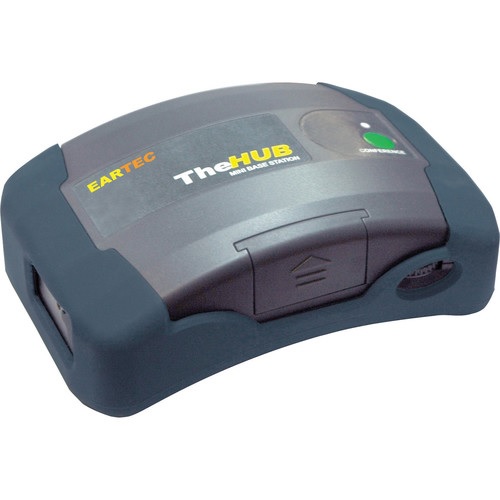 Our Take on the Eartec HUB7SMXD UltraLITE 7-Person HUB Intercom System with Max 4G Double Headset (USA):
The Hub can extend the range of your existing Eartec wireless system by approximately 1000'. You can extend this portability to wherever you go by wearing it on your belt; otherwise, you can also place it in a single central location. The headsets work in conjunction with the Hub and provide two-way voice communication. The microphone can swivel 270° for comfortable use.
---
One of the best features of the Max 4G Double headset is its noise-canceling microphone on the boom arm. You can interact while the mic is in a speaking position; however, if you put it back in the upright position, it will automatically mute, so you can prevent any noise from transferring to the other side. This is the most intuitive way of minimizing unwanted communication and disturbance while the speaker is speaking.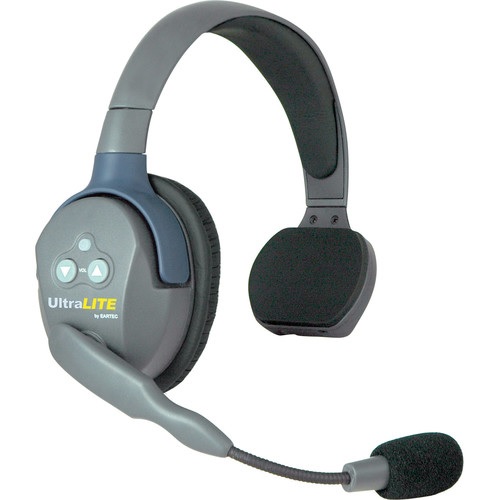 ---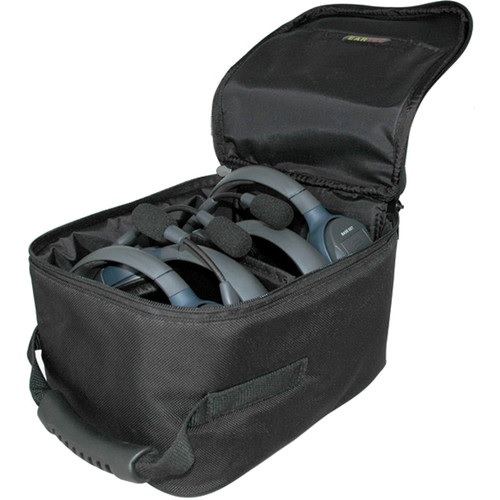 The Multi-Port Charging Base allows you to charge 8 batteries in one go. Further, it comes with individual LED lights that turn red to green when the batteries are fully charged. Using additional external batteries can ensure minimum downtime. One entire charging cycle takes approximately 3 hours to complete and remains good to use for 4 hours.
TOP 10 KEY FEATURES:
| | |
| --- | --- |
| Standard | DECT 6.0 |
| Frequency | 1920 to 1930 MHz |
| Connector | 2.5 / 3.5 mm plug-in |
| Channel Bandwidth | 1.728 GHz |
| Modulation Type | GFSK |
| Transmission Speed | 1.152 Mbps (baud rate) |
| Duplex Mode | Time Division Duplex (TDD) |
| Charge Time | 3 hours |
| Operation Time | 4 hours |
| Range | 0.25 mile / 400 m in open space |
Included in the box:
Eartec HUB Mini Duplex Transceiver Base for 1 Plug-In & up to 8 Wireless UltraLITE Headsets (USA)
6 x Eartec UltraLITE Single-Ear Remote Headset
Eartec Max 4G Double Headset with Dual 3.5-2.5mm Connectors
Eartec 8-Bay Multi-Port Charging Base
Eartec Large Soft Padded Case for Select Hub Series Headset Systems
Rechargeable Batteries
AC Adapters
Payment & Security
EARTEC HUB7SMXD Hub Mini Duplex Base 7-Person System