Description
The FreeVision VILTA G Two-in-One 3-Axis Gimbal for GoPro HERO 7, 6, 5, 4, 3 offers handheld and wearable operation modes that make it easy to use. It comes with a removable handle.
The FreeVision VILTA G is one of the best gimbals used by many professionals. It is incorporated with many advanced features that make it worth buying. For IOS users, VILTA G is a boon as it comes with a mobile app through which one can control and monitor the video of Go Pro. Besides other functions, auto-calibration features work to adjust the optimal balance whenever you power it on.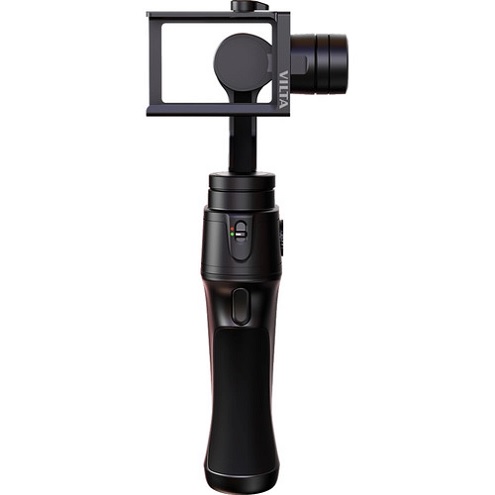 ---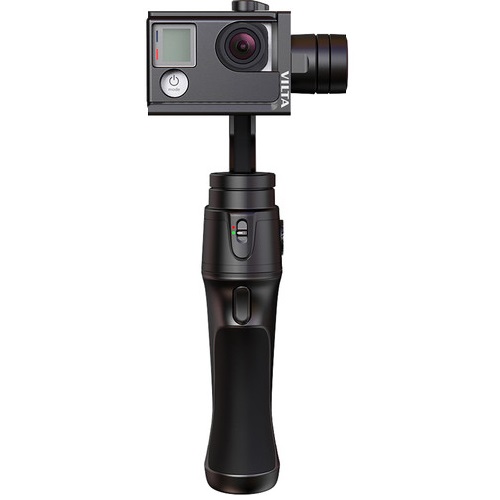 Our Take on the the FreeVision VILTA G Two-in-One 3-Axis Gimbal for GoPro HERO 7, 6, 5, 4, 3:
FreeVision VILTA G Gimbal is handheld and removable. The base of the Gimbal can be used differently and holds standard Go-Pro two-prong mounts. It can be folded out in the bottom and used with various Go-Pro accessories. You can also attach it to helmets, bikes, etc. Even if you use the base independently, you won't be deprived of the functionality as the VIlTA G joystick is not on the handle, but on the base itself. Go Pro HERO 7, HERO 6 Black, and HERO 5 Black directly attach to the camera holder of VILTA G.
---
The most interesting feature of the FreeVision VILTA G Gimbal is that the handle and the base carry two different batteries. When they both are used together, it runs for 9.5 hours but the base runs for 1.5 hours separately. The Gimbal provides manual control of the pan and tilt axes and it has a 360° infinite pan rotation capacity. The manual control features include a step-less thumb joystick through which the speed and sensitivity can be adjusted in different situations.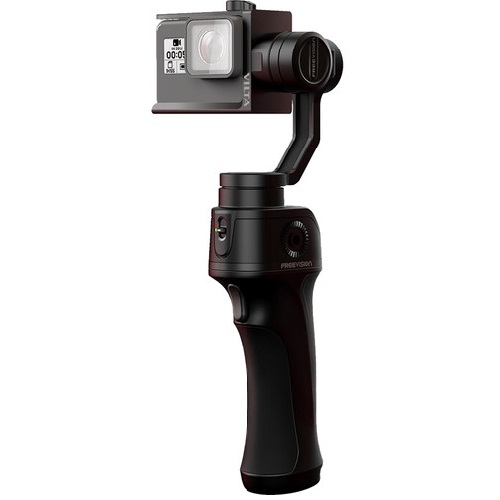 ---
Along with these features, the FreeVision VILTA G Gimbal is designed with advanced motor and servo control features. Both these features are beneficial as they deliver fast response speed and high control precision. The modes available on the device are Object lock, Inverted, Side Stand, Flashlight, Follow, Semi-follow, Fast reset, and Selfie. It can operate at a temperature of -10 to 50°C.
TOP 10 KEY FEATURES:
| | |
| --- | --- |
| Compatibility: | GoPro HERO 7 (Black/Silver/White), HERO 6 (Black), HERO 5 (Black), HERO 4/ HERO 3(via Included Bracket) |
| Rotation: | Pan Axis: 360°, Tilt Axis: -45 to 100°, Roll Axis: +/-40° |
| Mechanical Endpoint Range: | Pan Axis: 360°, Tilt Axis: -90 to 135°, Roll Axis: -44 to 90° |
| Rotation Speed: | +/-500°/sec (Max) |
| Static Accuracy: | Pitch: 0.001°, Roll: 0.001°, Yaw: 0.002° |
| Motion Accuracy: | Pitch: 0.01°, Roll: 0.01°, Yaw: 0.02° |
| Gimbal Battery: | 7.4 V, 400 mAh, 2.96 Wh Lithium-Ion, 1.5-Hour Operating Time, 1-Hour (5 V, 1 A) Charging Time |
| Handle Battery: | 7.4 V, 2000 mAh, 14.8 Wh Lithium-Ion, 8-Hour Operating Time, 2.5-Hour (5 V, 2 A) Charging Time |
| Voltage: | 8.5 V |
| Operating Current: | 350 mA (Static), 3 A (Dynamic) |
Included in the box:
FreeVision VILTA G Two-in-One 3-Axis Gimbal for GoPro HERO 7, 6, 5, 4, 3
Bracket for GoPro HERO 4/ HERO 3
Payment & Security
Freevision VILTA Best Performance, Stable, Versatile, Durable, Adaptable 3-Axis Gimbal, Black (VILTA-G)