Description
JVC RMG-805U A/B Roll Edit Controller is the ideal audio and video editing controller, offering professional-grade editing features and greater editing accuracy!
JVC's RM-G805U is a powerful and cost-effective edit controller, offering a full range of editing functions in a compact and lightweight form factor. The unit is an A/B Roll device that can control 3 VTRs - 1 recorder and 2 players - for cuts-based editing.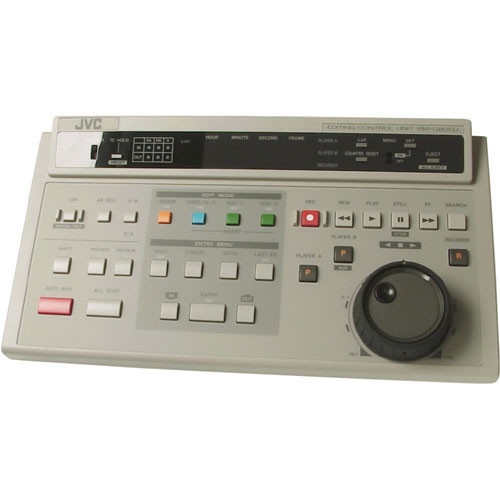 ---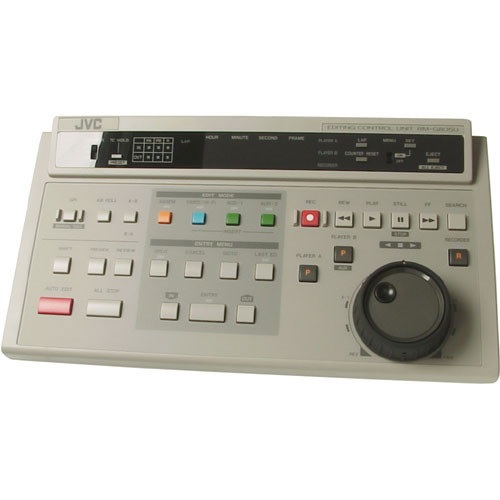 Our Take on the JVC RMG-805U A/B Roll Edit Controller (Body):
The controller is compatible with JVC BR-S500U, BR-S800U, and SR-S365 S-VHS VTRs. It offers greater accuracy and precision of time code referenced editing, meeting today's professional editing standards. It displays time codes clearly on the LED panel for easy data control. You can enter edit points numerically or on the fly. Further, you can even undertake CTL referenced (control track) editing using this controller.
---
The controller is equipped for professional-standard editing, including assemble, insert and match frame editing, audio insert, and preview/review for checking edits pre or post-editing. Further, the audio/video split-edit function helps you define independent edit-in points for audio and video.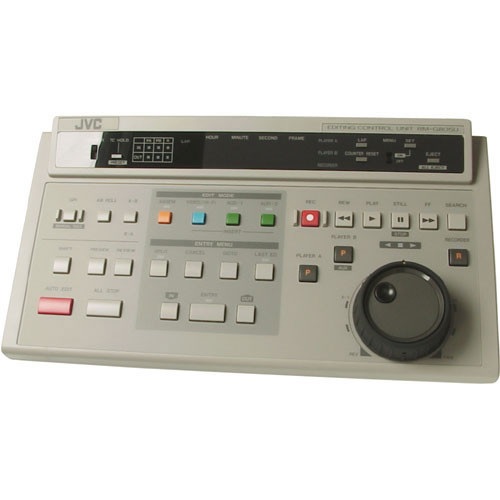 ---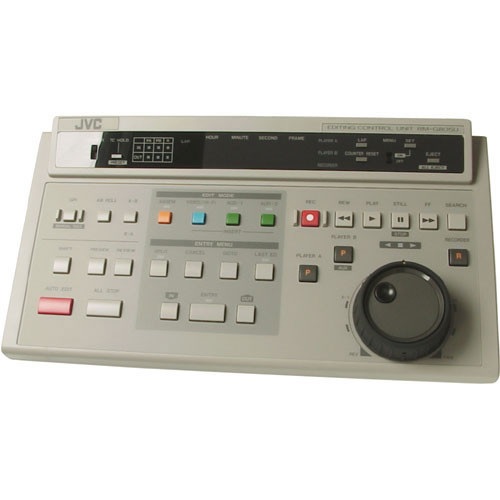 You don't even have to scroll through all edit points sequentially; you can use the go-to feature to access any edit point directly. The controller comes with the capstan bump function that provides greater edit consistency. Finally, the Last Edit Memory function stores data from the last completed edit for instant recall.
TOP 10 KEY FEATURES:
| | |
| --- | --- |
| Editing Modes: | Assemble and Insert |
| Editing Accuracy: | +/- 0 frames (with time code) |
| Reference Signal: | Time Code (SMPTE) or Control Track |
| Display: | 1 LED 8-digit counter |
| Display Modes: | Total Time, Elapsed Time of Edit, Edit In and Out points, Edit Duration |
| Memory Capacity: | Last Edit |
| Power Requirements: | DC 12V (supplied from VTR) |
| Maximum Connectable VTRs: | 3 (2 players, 1 recorder |
| Dimensions: | 13 x 3.11 x 7.2" (330 x 79 x 182mm) |
| Weight: | 2.9 lbs (1.3 kg) |
Included in the box:
JVC RMG-805U A/B Roll Edit Controller
Control Cables
Payment & Security
JVC RMG-805U A/B Roll Edit Controller