Description
Lilliput A7s is a small monitor designed for professional videographers who are ready to use the wide range of possible functions of this device.
Are you looking for a small 7 "monitor? If so, Lilliput's new A7S Full HD will come in handy. This is a model with a black rubber casing and an HDMI 1.4 input. This means people won't have any problems playing UHD 4K videos. The LCD panel with a 16:10 aspect ratio and 1000: 1 contrast ratio displays images with the utmost clarity. The following technical properties are no less important:
Screen resolution is 1920 x 1200
HDMIRGB format support
New A7S Full HD has 170° viewing angle
This manufacturer opted IPS LCD
Dot pitch is 26.25 x 78.75 µm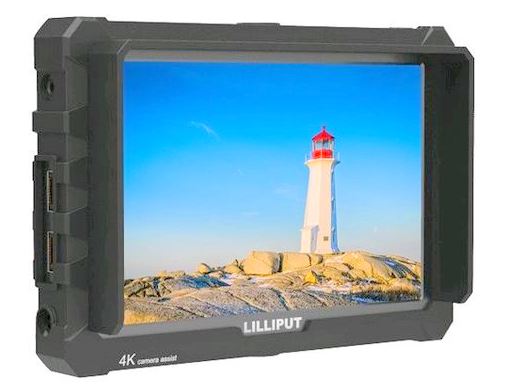 ---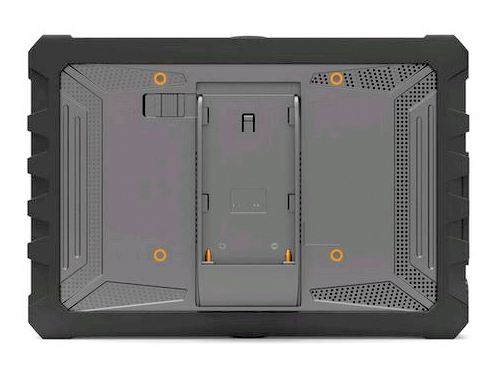 Our Take on the Lilliput A7S 7" Full HD Monitor with 4K Support (Black Case):
The HDMI function allows you to broadcast the signal via HDMI to any other compatible device. This means that people can pair Lilliput's equipment with smartphones and tablets, as well as connect another monitor. In this regard, the manufacturer has thought through everything to the smallest detail. The body of the device is made of black plastic and supplemented with a special rubberized protection. The insert prevents damage to the device if it falls, protects it from rain. The body is assembled with high quality, there are no gaps between the individual parts. Anyone holding this equipment for the first time will instantly understand how practical the new monitor is.
---
If you are constantly changing your workspace, the A7S is useful. The workflow can be organized both outdoors and in the studio. Operators can create shortcuts to their favorite and most frequently used monitor functions with two customizable function keys. This monitor can be mounted to the camera by attaching the included 1/4 "-20" foot mount adapter on the bottom. People can also use the VESA 75 hole on the back to attach the A7S to other mounts. In terms of functionality, the manufacturer has thought over this model to every detail.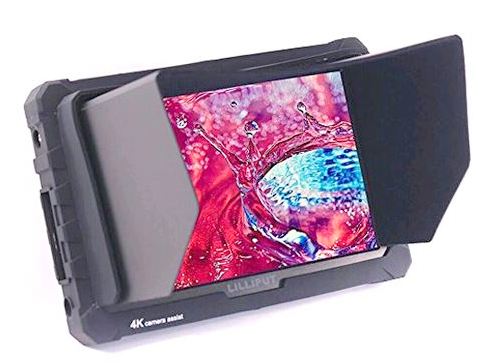 ---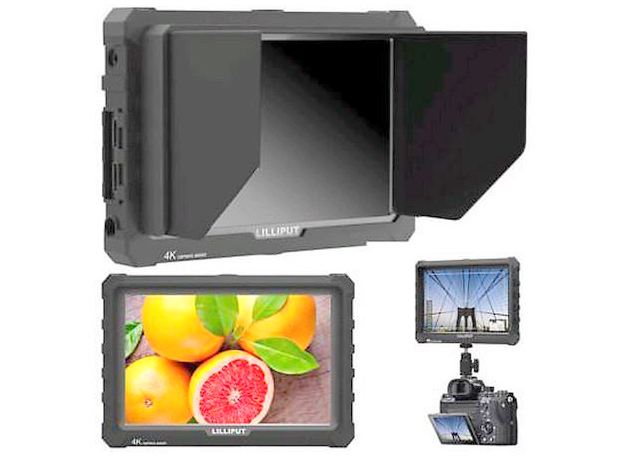 A special feature of this model is a silicon rubber cover with fasteners for a protective visor from sunlight. Instant experiments confirm that the monitor maintains its integrity when dropped and resists unintentional mechanical damage. This model can be powered from the mains through the adapter, or from rechargeable batteries. The wide voltage range and the many adapters available for the most common types of batteries make the device as versatile as possible. If you want to buy Lilliput's equipment, order on our website. We will deliver this small monitor in just a few days.
TOP 10 KEY FEATURES:
| | |
| --- | --- |
| Display: | IPS |
| Display Size: | 7.0" |
| Aspect Ratio: | 16:10 |
| Maximum Brightness: | 500 cd/m2 |
| Contrast Ratio: | 1000:1 |
| Pixels Per Inch: | 324 ppi |
| 4K: | Yes |
| HDMI: | Yes |
| DC Input Power: | 7 to 24 VDC |
| Weight: | 320 g |
Included in the box:
Lilliput A7S 7" Full HD Monitor with 4K Support (Black Case)
Sony F-970 Type Battery Plate
Shoe Mount Adapter
Mini-HDMI to HDMI Cable
Payment & Security
LILLIPUT 7 inch A7S Black 1920x1200 IPS On Camera Monitor with 4K HDMI Input Output Field Monitor