Description
IMPORTED
The Nikon D750 DSLR Camera (Body only) produces excellent results with the 24.3 MP sensor and a swift EXPEED 4 processor. It's packed with state-of-the-art features and connectivity options for quality and ease!
With the all-new Nikon D750 DSLR camera, you can get a highly-detailed image with dynamic range and high ISO performance. Nikon D750 makes no compromise when it comes to quality. It is probably the first camera to have a movie shooting menu with preset control settings. This DSLR camera lets you capture cinematic-quality videos and photos easily. You can give your movies an extra edge with professional effects. The optical design of this wide-range DSLR camera incorporates three aspherical elements to control spherical distortions throughout the zoom range. It also has a pair of extra-low dispersion elements to minimize chromatic aberrations.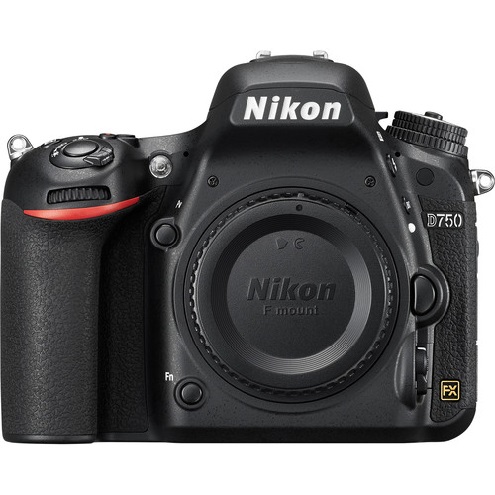 ---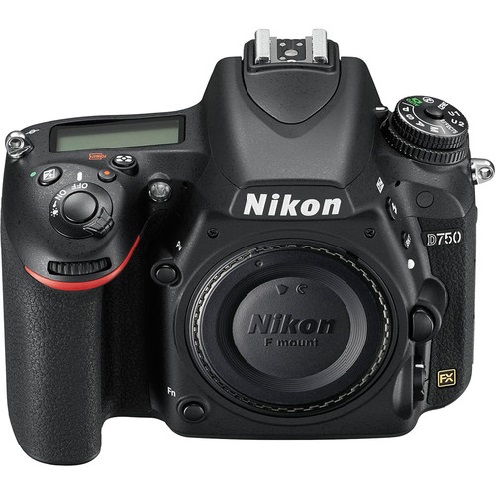 Our Take on the Nikon D750 DSLR Camera:
The Nikon D750 DSLR FX-format camera features a 24.3MP CMOS sensor that works with EXPEED 4 processor. It produces a highly-detailed and rich image accentuated by minimal noise and notable sensitivity. The ultra-wide ISO range of the DSLR camera offers stunning picture quality even in low light conditions. EXPEED 4 processor extends beyond to benefit 1080p video shooting in multiple frame rates. Thanks to the high-speed shooting rate, you can capture fast-moving objects with optimal clarity. It lets you adjust the sound across 20 levels before and while recording and monitoring audio. Like the other Nikon FX-Format wide-range DSLR cameras, it includes a Silent Wave Motor that ensures fast yet noise-less autofocus performance. Vibration Reduction (VR) stabilization technology minimizes camera shake effects and enables you to use it in a wide range of lighting conditions and slower shutter speeds.
---
The Nikon D750 includes a monocoque body that wraps around the camera base. It consists of Nano Crystal coating that aids in reducing flare and ghosting for enhanced clarity and contrast. It is resistant to dust and water droplets, making it all-weather resistant. Still-photographers and videographers find the camera handy owing to its versatility and performance to match any condition. The refined shutter of the D750 makes it long-wearing, and the unique energy-saving design of the camera empowers you to capture as many as 1230 shots or 55 minutes of video for a full battery charge. Concerning video shooting, the D750 supports full HD 1080p/60 fps format.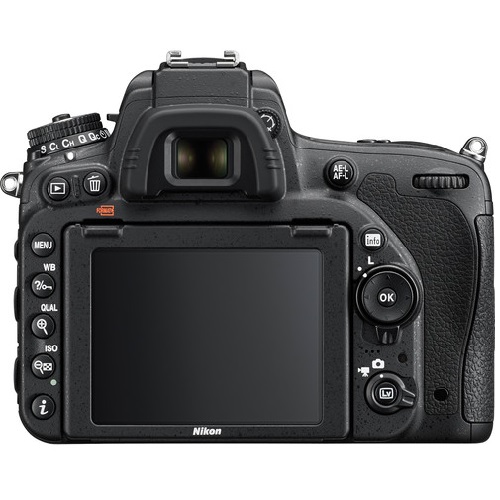 ---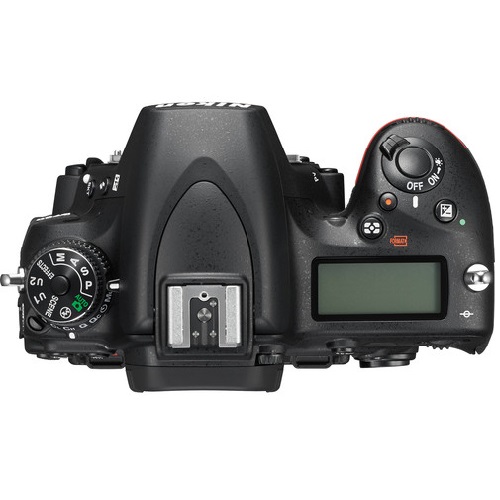 Nikon D750 allows uncompressed video recording to an external recorder. Likewise, it supports a Wi-Fi connection for remote shooting. It enables you to connect and communicate with compatible camera accessories. Nikon introduces the Nikon Wireless Mobility Utility App for Android and iOS Systems, which lets you share video and image files to your smart devices. It includes an in-camera stereo microphone for audio recording. You can also use an external microphone with the camera. The D750 incorporates a 1229k-dot, tilting LCD monitor, and a three-axis hinge that offers effortless handling of the device from multiple angles.
TOP 10 KEY FEATURES:
| | |
| --- | --- |
| Lens Mount: | Nikon F |
| Aspect Ratio: | 3:2 |
| Sensor Type: | CMOS |
| Image File Format: | JPEG, Raw |
| Bit Depth: | 14-Bit |
| ISO Sensitivity: | Auto, 100 to 12800 (Extended: 50 to 51200) |
| Exposure Modes: | Aperture Priority, Manual, Program, Shutter Priority |
| Viewfinder Type: | Optical (Pentaprism) |
| Video Encoding: | NTSC/PAL |
| Audio file format: | Linear PCM |
The Nikon AF-S NIKKOR 24-85mm f/3.5-4.5G ED VR Lens is one of the budget-friendly full-range camera lenses. It can give you an excellent shot, whether it a landscape or a portrait!
The Nikon AF-S NIKKOR 24-85 mm lens includes a metal mount and a 23mm rear element. One of the distinguishing features of the Nikon 24-85mm lens is the focus distance that ranges from (extensive) wide-angle to the modest telephoto. It covers the frequently used focal range (24mm to 85mm). Thus, it is perfect for regular and professional photographers. It comes in handy when capturing landscapes, group photos, candid shots, architecture, head-to-shoulder portraits, and so on.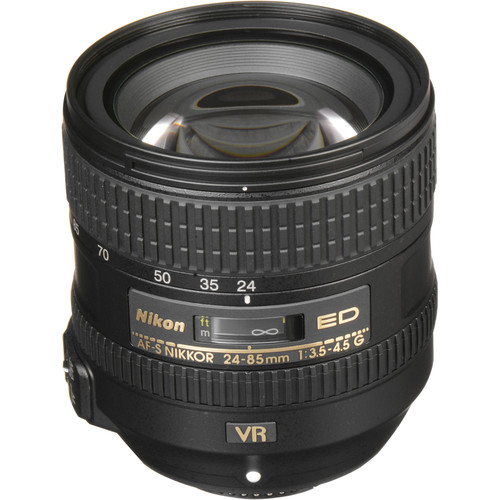 ---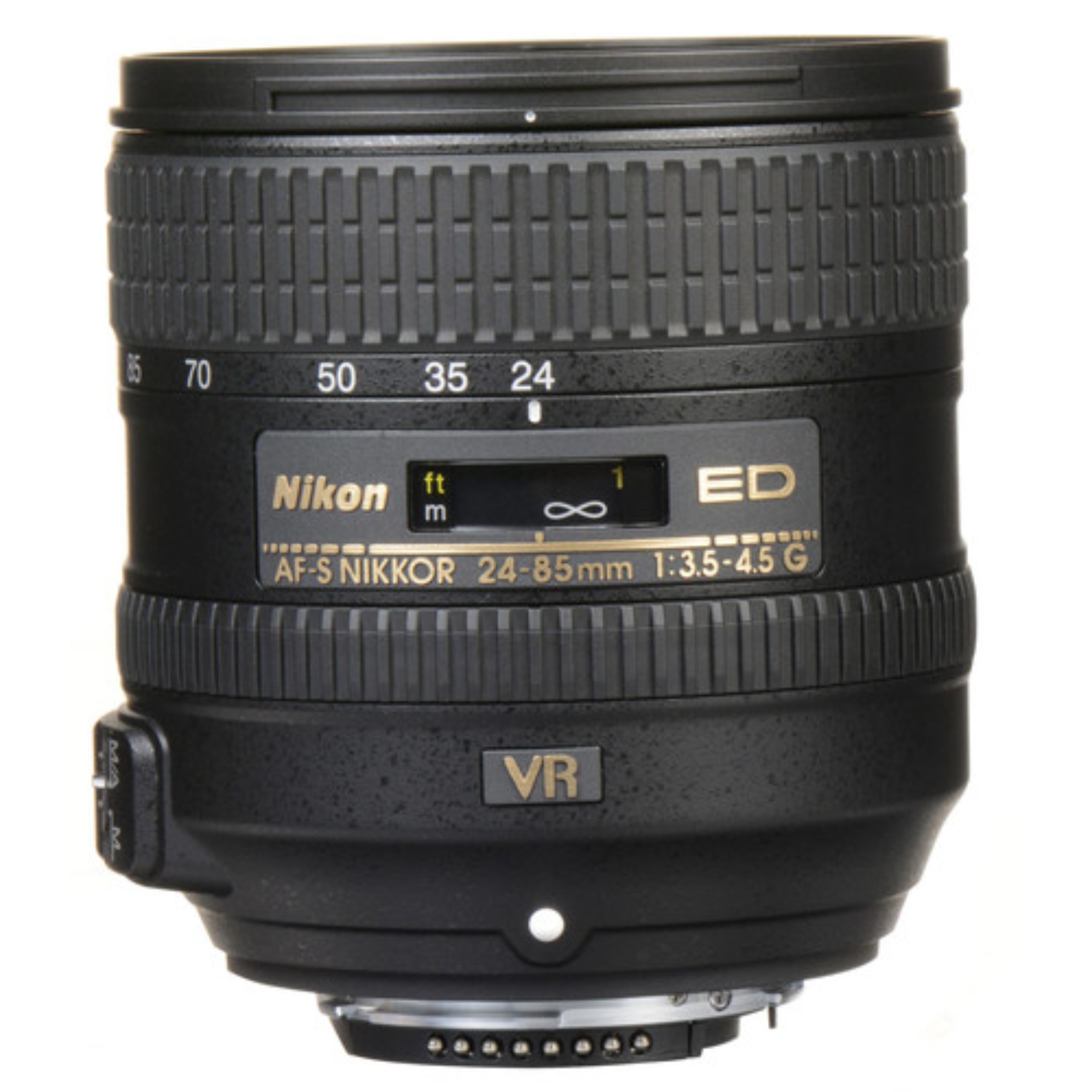 Our Take on the the Nikon AF-S NIKKOR 24-85 mm lens:
The Nikon AF-S NIKKOR 24-85 mm lens unit has a 22mm zoom ring located a few millimeters behind the rear section of the full-frame lens. There is a rubber grip band with the "focus distance" settings stamped on the trailing end of the lens. As you turn the zoom ring, the lens gets extended by 31mm. It highlights an inner focusing system. And the slider at the back end of the focusing range of the NIKKOR 24-85mm lens barrel lets you switch from auto-focus to manual focus. It is compatible with D600 and other full-range camera bodies from the Nikon DX series. The distance scale is located behind the zoom ring and reads distance in meters and feet. Both zooming and focusing are internal, which implies that the rear element of the lens can't rotate.
---
The Nikon AF-S NIKKOR 24-85 mm lens incorporates one lens element made of ED (ultra-low dispersion) glass to minimize chromatic aberrations. It also includes three aspherical elements to reduce spherical aberrations. You will likely find minimal chromatic aberrations when shooting in jpg as there is no aberration in jpg files. Still, they are visible in RAW files. You can compensate for chromatic aberrations using Capture NX, Photoshop, and Lightroom software tools, but doing so will take extra time in pre-processing the shots. However, if you're looking for an affordable, mid-range zoom lens, Nikon 24-85 ED VR is a good option.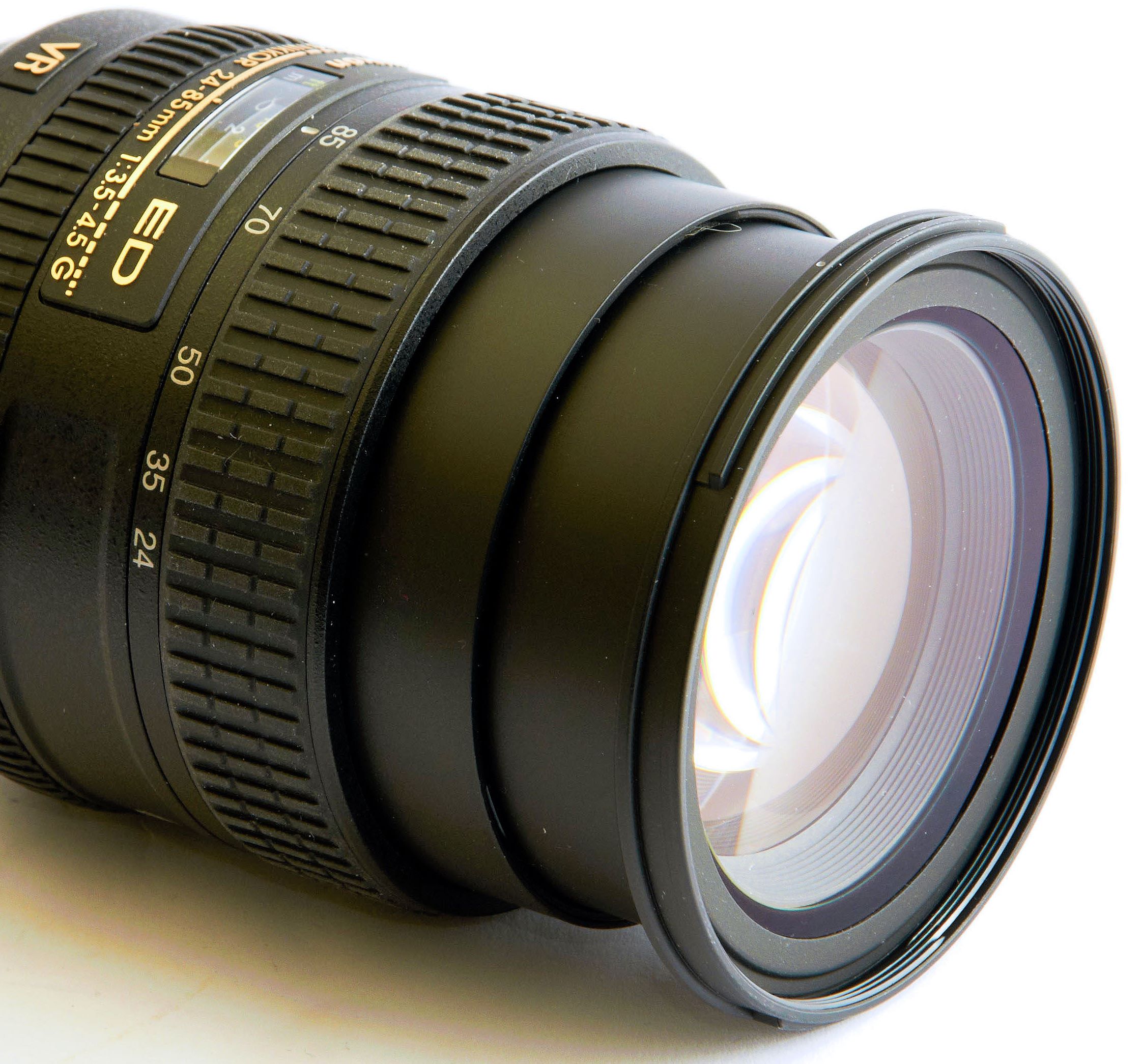 ---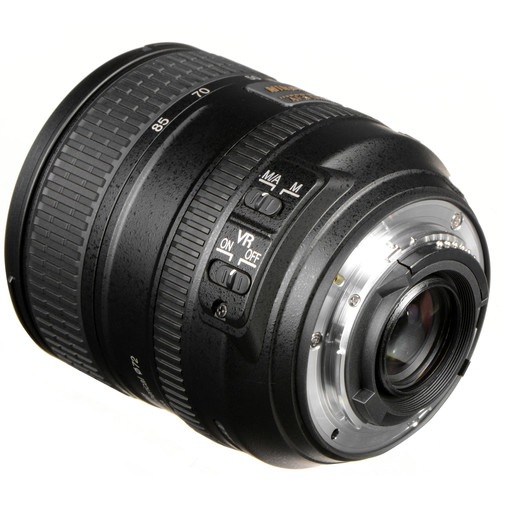 The optical design of the Nikon AF-S NIKKOR 24-85 mm lens incorporates 16 elements in 11 groups. What's more, this unit comprises traditional Super Integrated Coating that minimizes flare and ghosting. Seven rounded aperture blades combine to form an iris diaphragm. The lens includes a 72mm filter. The SWM or Silent Wave Motor technology justifies its name and offers a rapid, accurate, and noise-free autofocus with the motor. Weighing just 465g, the AF-S Nikkor f/3.5-4.5G ED VR is lighter and compact than other standard Nikon zoom lenses.
TOP 10 KEY FEATURES:
| | |
| --- | --- |
| Focal Length: | 24 to 85mm |
| Maximum Aperture: | f/3.5 to 4.5 |
| Minimum Aperture: | f/22 to 29 |
| Lens Mount: | Nikon F |
| Minimum Focus Distance: | 1.25' / 38 cm |
| Maximum Magnification: | 0.22x |
| Diaphragm Blades: | 7, Rounded |
| Focus Type: | Autofocus |
| Filter Size: | 72 mm (Front) |
| Image Stabilization: | Yes |
Payment & Security
Nikon D750 with 24-85mm f/3.5-4.5G ED VR Lens (International Model)