Description
The Nikon KeyMission 360 4K is an effective combination of dual-lens action camera and Ultra HD 4K resolution video recording, which helps in delivering exceptional results!
Nikon KeyMission 360 4K comprises a dual-lens action camera that captures two 180 degrees + UHD 4K images in tandem, which is automatically converted into a single 360-degree video. The user can then see this single image by using VR goggles or on 360 platforms where the image can be moved around in all directions. The recording can also be enhanced by using various VR editing software before viewing using goggles or 360 platforms.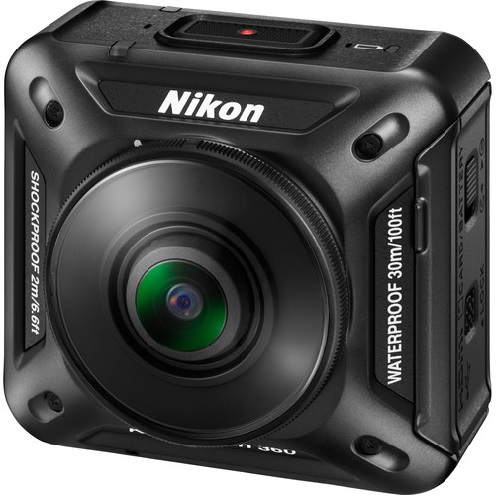 ---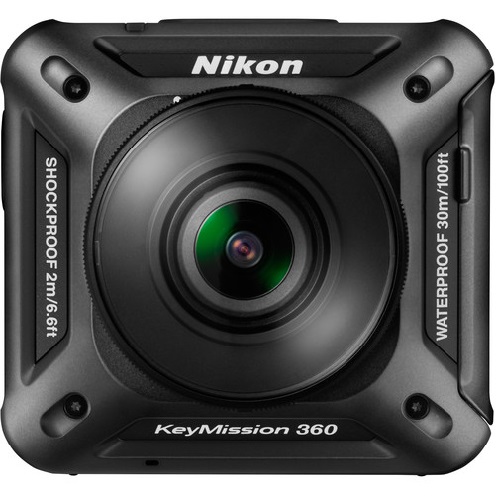 Our Take on the Nikon KeyMission 360 4K Action Camera:
The Nikon KeyMission 360 4K Action camera has the capability of recording Ultra HD 4K resolution at 24 fps, Full HD 1080p video at 24 fps, 1440 x 960 video at 25/30 fps, and 29MP still images. Both lenses of the camera work simultaneously in all types of shooting modes. Each lens comprises 7 lens elements in 7 groups and offers a focusing distance of 12" approximately. The Nikon KeyMission 360 camera uses Nikon Nikkor lenses. The camera also has a feature of internal electronic Vibration Reduction (for 1080p capture), which helps the users when they are traveling on outdoor adventures to capture clear and smooth images by reducing the effects of shakes and jitters.
---
The Nikon KeyMission 360 4K Action camera also offers the user a Nikon app that is compatible with iOS and Android mobile devices on a free download basis and helps the user control the camera. The camera has a rugged design and can withstand the elements. Though it does not have any additional housing, it is capable of withstanding extreme weather conditions, which allows users to capture images or record video in a wide range of environments. The device is waterproof till 100 ft, shockproof from 6.6 ft, freezeproof, and dustproof.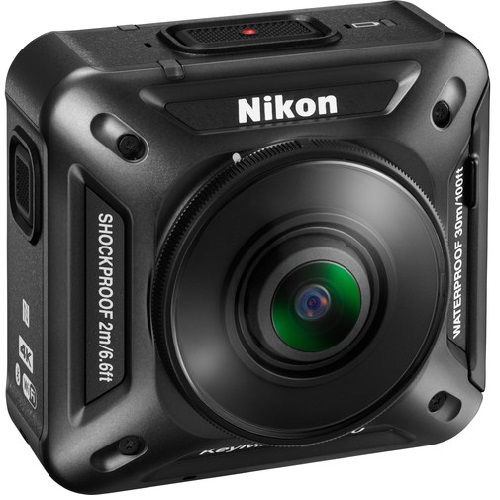 ---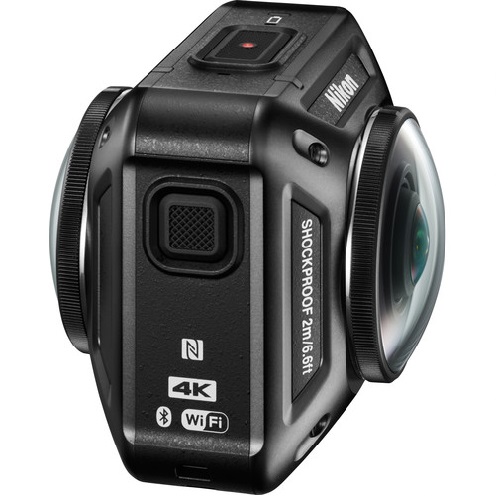 The absence of housing allows the user to capture cleaner images and audio as no obstructing layers come in between the subject and lenses or the microphone. Nikon KeyMission 360 4K Action cameras, with the help of an underwater lens protector, allow the users to achieve better focus when underwater. It also comes with a whole lot of accessories that consist of a cage-like jacket, lens protector, and underwater protector. The camera also supports various other KeyMission accessories during outdoor activities like water sports, riding, etc.
TOP 10 KEY FEATURES:
| | |
| --- | --- |
| Sensor Chip: | 1/2.3" CMOS |
| Sensor Resolution: | 21 MP |
| Focal Length: | 1.6mm |
| 35mm-Equivalent Focal Length: | 8.7mm |
| Maximum Aperture: | f/2 |
| Image stabilization: | Digital |
| Shockproof Rating: | 6.6' / 2.0 m |
| Waterproof Depth Rating: | 100.0' / 30.0 m (Camera) |
| IP Rating: | IP6X |
| Shutter Speed: | 1/16000 - 1/30 Second (Video) |
Included in the box:
Nikon KeyMission 360 4K Action Camera
Nikon Rechargeable Lithium-Ion Battery
Nikon Charging AC Adapter
Nikon Cable: Male Type-A to Micro Male Type-B (Black)
Nikon Base Adapter for KeyMission 360 & 80 Action Cameras
Nikon Base Mount Set for KeyMission Base Adapters
Nikon Silicone Jacket for KeyMission 360 Action Camera (Black)
Nikon Lens Protector for KeyMission 360 Action Camera
Nikon Lens Protector (Underwater) for the KeyMission 360 Action Camera
Head-mounted Display
Payment & Security
Nikon KeyMission 360