Description
Rokinon 16mm T2.2 Cine Lens for Nikon F comes with plush features for maximum effectiveness. Some of its highlights include a Multi-Layer Coating to Reduce Flare, Standard Gearing for Focus and Iris, De-Clicked Aperture Ring, Aspherical Lens Elements, Depth of Field Markings, Min. Focus Distance of 7.87 Inches, Bayonet Mount Lens Hood, just to mention a few.
Its bright f/2.2 aperture guarantees flawless operations in areas with poor lighting conditions. It helps with the production of shallow depth of field imagery for the most satisfactory results. You will like its one-of-a-kind optics design as well as individual elements for reducing distortion and spherical aberrations. That is why you can be sure of taking shots of high clarity and sharpness at all times. With the application of the Ultra Multi-coating, there is maximum suppression of flare as well as ghosting. Hence, you can experience enhanced color accuracy and contrast when operating in areas with poor lighting conditions.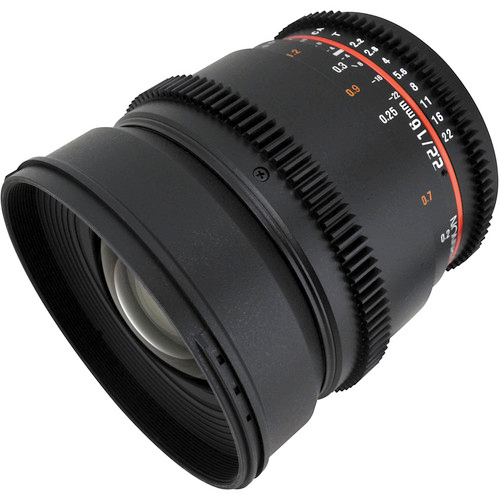 ---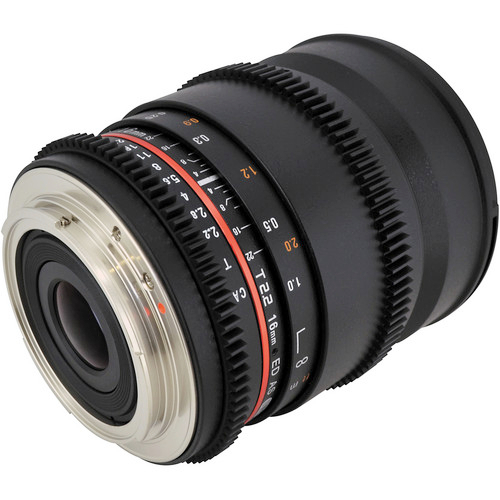 Our Take on the Rokinon 16mm T2.2 Cine Lens for Nikon F:
The Rokinon 16mm T2.2 Cine Lens is specially designed for full-frame Nikon F Super35/APS-C cameras. It features an eight-blade diaphragm, which helps in enhancing selective focus technique as well as the use of shallow depth of field. That is why this lens is popular among professional and amateur photographers who want to stay on top of their games.
---
Also, its maximum aperture stands at f/2.2 while its minimum aperture is f/22, and that is why it is one of the most coveted lenses in the market right now. With its focal length standing at 16 millimeters, you can be certain of capturing images the way you want them. Its angle of view is 83.1° making it possible for you to get your shots right at all times. Its minimum focus distance is 7.9 inches or 20 centimeters, which guarantees effective coverage of your subjects. You will like its industry-standard 0.8 pitch gearing of focus and aperture rings for convenient attachment of a follow focus unit.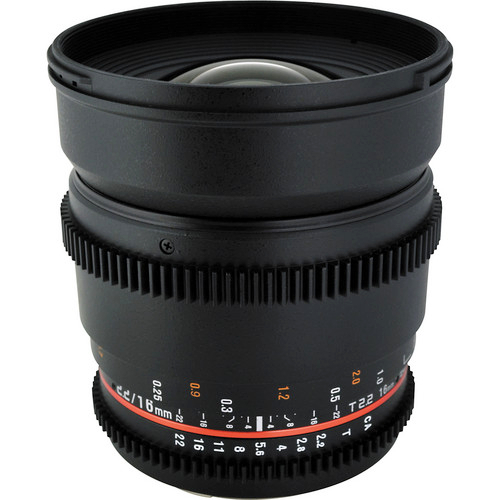 ---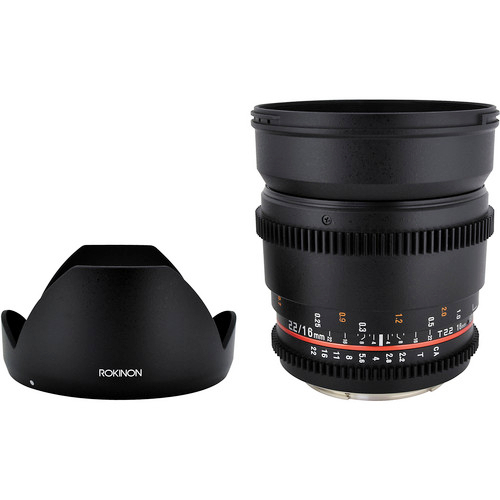 Besides, its optical design features 13 elements in 11 groups so that you won't have issues taking the best shots. Its compactness is a plus, measuring 3.27 inches in diameter and 3.4 inches in length. You can conveniently place it in your bag without the consumption of too much space. Weighing 20.1 ounces, this lens is easy to maneuver to get the most satisfactory result. Featuring aspherical elements, you can be confident of maximum reduction of distortion and chromatic aberrations. The aperture ring is de-clicked so that there can be seamless iris pulls during operations.
TOP 10 KEY FEATURES:
| | |
| --- | --- |
| Focal Length: | 16mm |
| Lens Mount: | Nikon F |
| Format: | Super35/APS-C |
| Maximum T-Stop: | T2.2 |
| Minimum T-Stop: | T22 |
| Diagonal Angle of View: | Super35: 83.1° |
| Minimum Focus Distance: | From : 7.9" / 20 cm |
| Optical Design: | 13 Elements in 11 Groups |
| Iris Blades: | 8 |
| Weight: | 20.1 oz / 571 g |
Included in the box:
Rokinon 16mm T2.2 Cine Lens for Nikon F
Lens Pouch
Lens Hood
Payment & Security
Rokinon CV16M-N 16mm T2.2 Cine Wide Angle Lens for Nikon F Mount Cameras