Description
Looking for accessories to clean your optical equipment? If so, you should buy SWAROVSKI accessories. This is a brand with a worldwide reputation that will never let the buyer down.
The SWAROVSKI CSO cleaning kit is perffect. It provides a thorough and gentle cleaning of all-optical lenses. If people use their equipment very often in extreme conditions, this is an indispensable set. This manufacturer includes a lens cleaner, cleaning brushes, 2 microfiber cloths of different sizes. All this is packed in a high-quality bag. The set is very durable, making the microfiber cloths and bag easy to machine washable (40° C/100° F). The following is equally important:
The manufacturer offers an anti-static and anti-fogging solution without silicone and alcohol
The kit includes a brush attachment for removing small particles of dirt before using liquid and cloth
The cleaning brush is round and soft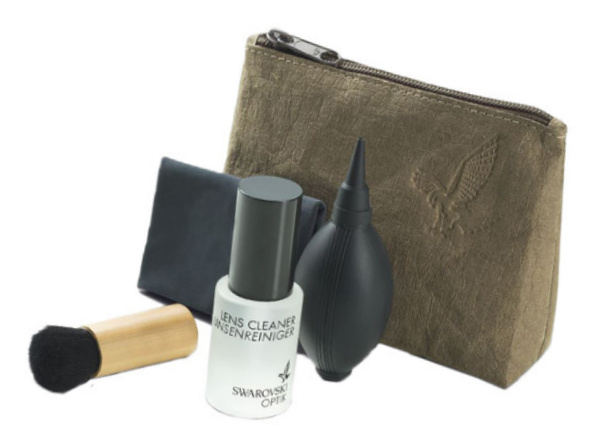 ---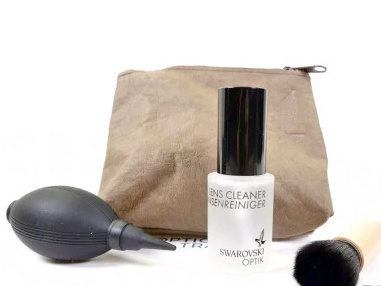 Our Take on the Swarovski CSO Cleaning Set for Optics:
The Swarovski CSO contains everything you need to properly care for your optics. The kit includes a lens cleaner and other accessories. The cleaning brush and vacuum cleaner are very effective. This is due to the correct choice of material.
In addition, the manufacturer added two microfiber cloths of different sizes. The reusable glass bottle was selected as part of Swarovski's plastic waste.
Designed for binoculars, spotting scopes, telescopes, and monoculars, this Swarovski CSO cleaning kit will help people maintain equipment for a lifetime. All elements of the set are in the included bag
---
A photographer who removes dirt and grit particles while preventing scratches will make their equipment last forever. The CSO Cleaning Kit provides a thorough and gentle cleaning of optical lenses. As a result, people have a streak-free surface.
Swarovski has largely avoided the use of plastic and opted for alternative materials like bamboo or glass instead. This manufacturer guarantees that with regular cleaning of the lenses, the device will retain its optical brilliance throughout its entire lifespan. Refill a glass bottle with lens cleaner (liquid) at selected stores.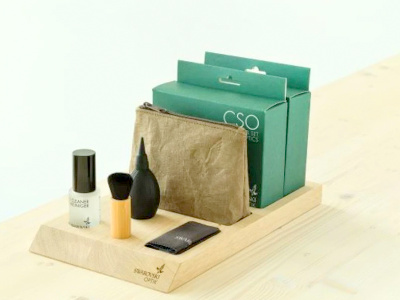 ---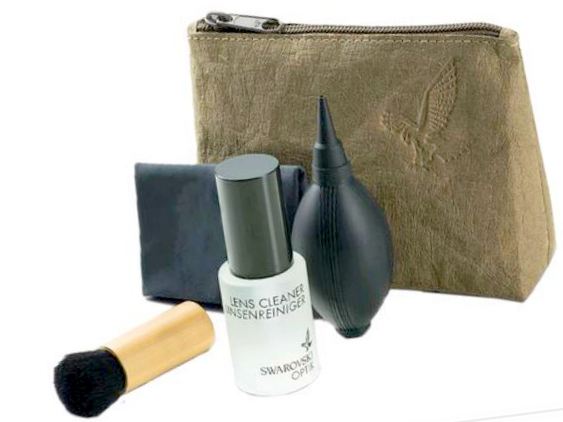 The manufacturer prefers the highest quality materials, includes a natural bristle brush and stylish finish. This is what the buyer expects from the highest quality optics brand. When choosing Swarovski products, people are guaranteed to receive the highest quality products. If the optics are very dirty, use a liquid and microfiber cloth to thoroughly clean any stains, grease marks. Order the product today and in just a few days you will be able to see how effective it is.
TOP 10 KEY FEATURES:
Category:
Accessories for binoculars
Brand:
Swarovski
Microfibre cloths:
2x
Size:
1x 17x17cm and 1x 25x25cm
Lens Cleaner:
Silicone and alcohol-free solution
Dust Blower:
Yes
Cleaning Brush:
Rounded
Carrying Bag:
Yes
Included in the box:
Swarovski CSO Cleaning Set for Optics
Liquid Lens Cleaner
Dust Blower
Cleaning Brush
6.7 x 6.7" Mircofiber Cloth
9.8 x 9.8" Mircofiber Cloth
Carrying Bag
Payment & Security
Swarovski CSO Cleaning Set Optics (6-Piece Set)