Description
IMPORTED
The Nikon SB-5000 AF Speedlight revolutionizes the camera lighting system by applying radio control to the Creative Lighting System. Its wireless lighting can support up to a hundred continuous flashes without overheating, thanks to the world's first shoe-mounted flash cooling system!
The Nikon SB-5000 AF Speedlight has revamped the camera lightning system with its radio control Advanced Wireless Lighting that supports up to 100 continuous full-power flashes by using the world's first shoe-mounted flash cooling system. The Speedlight offers a robust guide number of 113' at ISO 100 and 35mm, which makes it efficient enough to be among the top Speedlights list. The model is more compact as compared to the previous models.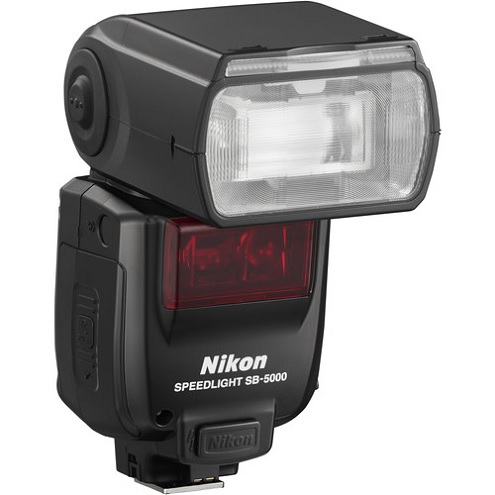 ---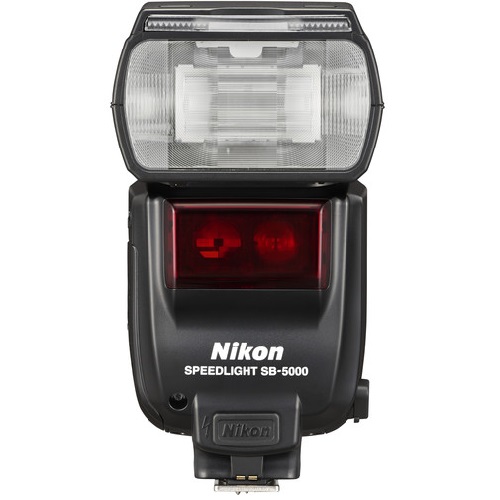 Our Take on the Nikon SB-5000 AF Speedlight:
The Nikon SB-5000 AF Speedlight has a faster and efficient operation by deploying Nikon's i-TTL automatic exposure system found in many of the Nikon cameras. You must use a compatible DSLR with Wireless Remote Controller and Wireless Remote Adapter to use the power system of the radio control efficiently. You do not need a line of sight to activate up to 6 groups of flashes that are up to 98' away through its camera and flash. Besides, its shoe-mount flash cooling system comes packed with a heat-shedding design that assures up to 100 bursts at full-output without overheating the system.
---
Nikon SB-5000 AF Speedlight built-in cooling system is formulated for efficiency plus versatility. It not only absorbs the heat effectively but also extends smaller flash possibilities without sacrificing the performance. The all-new layout of the Speedlight enables faster access to some of the most commonly used settings and also ensures fast and intuitive operations. Moreover, it provides the coverage of 14-24mm in FX while deploying a built-in wide-angle diffusion panel. The user can automatically adjust the light distribution angle to the camera's image area in both FX and DX formats with even, standard, and center-weighted alternatives.
---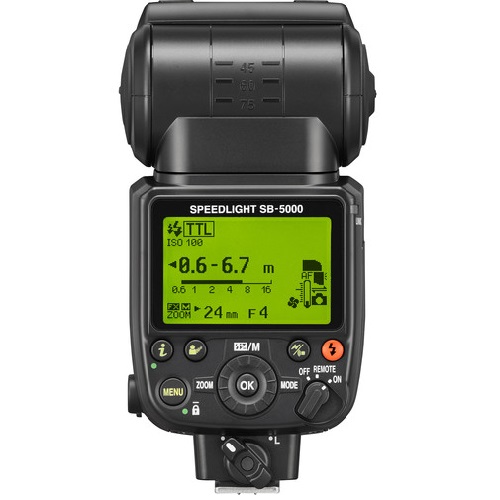 The Nikon SB-5000 AF Speedlight provides a wide range zoom head of 24-200mm that can also be brought down to 14mm by using the built-in diffusion panel. For providing full bounce capabilities, its head tilts from -7 to +90° and rotates left and right 180°. It also supports full sync mode with options like slow, high-speed, and first and second curtain options. The units' flash can provide a recycle time of 1.8-2.6 seconds and operates on four AA batteries. It can also be powered by select external battery packs. Furthermore, it has automatic color filter detection that can be utilized for adjusting the camera's color temperature settings.
TOP 10 KEY FEATURES:
| | |
| --- | --- |
| Guide Number: | 113.19' / 34.5 m at ISO 100 for 35 mm Position; 180.45' / 55 m at ISO 100 for 200 mm Position |
| Coverage: | Full-Frame, 24 to 200 mm, 14 mm (with Wide-Angle Adapter) |
| Angle of Coverage: | 12 to 84°; 84 to 114° with Wide-Angle Adapter |
| Bounce Head: | -7 to +90° |
| Swivel Head: | 360° |
| Flash Duration: | 1/980 to 1/30820 Second(Extended: 50 to 51200) |
| Recycle Time: | Approx. 1.8 to 2.6 Seconds |
| Exposure Control: | Manual, Nikon i-TTL |
| Flash Modes: | hi-Speed Sync, Second-Curtain Sync, Slow Sync |
| Power Range: | 1/1 to 1/256 |
Included in the box:
Nikon SB-5000 AF Speedlight
Nikon Diffusion Dome for SB-5000 Speedlight
Nikon Speedlight Stand
Nikon Fluorescent Filter
Nikon Incandescent Filter for SB-5000 AF Speedlight
Nikon Soft Case for SB-5000 AF Speedlight
Payment & Security
Nikon SB-5000 AF Speedlight (International Version) No Warranty