Description
Chefman 12 Liter Auto-Stir Air Fryer Oven + is perfect for home use, because of its Just Right Size & Capacity, 14 Cooking Presets & 3 Cooking Functions & 98% Less Oil Consumption!
With Chefman 12 Liter Auto-Stir Air Fryer Oven + you can satiate your cravings for comfort food. It is an easy-to-use device that fits your countertop. You can enjoy the flavor without feeling guilty as the fryer uses 98% less oil. Further, it comes with dishwasher-safe accessories, which make the cleaning after cooking easier. The infrared heating and convection cooking reduce cooking time without compromising on the health quotient.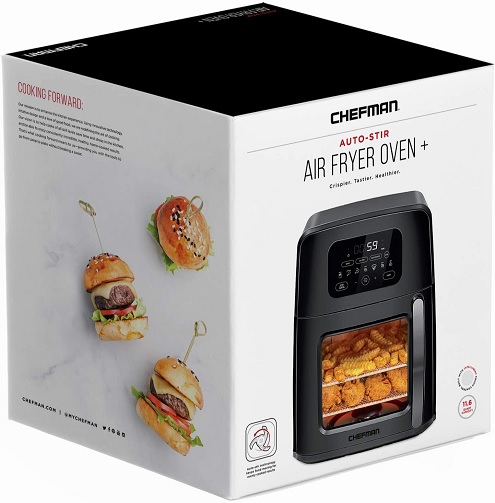 ---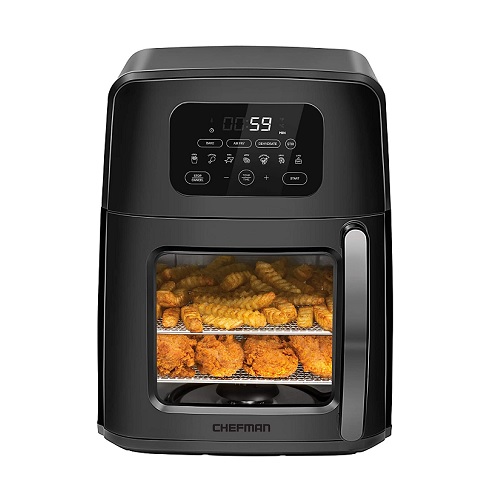 Our Take on the Chefman 12 Liter Auto-Stir Air Fryer Oven +
With this digital oven, you can enjoy evenly cooked meals. The advanced and automatic stirring technology makes cooking even the most difficult recipes, a piece of cake; all you need to do is simply select "STIR!" The fryer will stir till your food is perfectly cooked. Further, the automatic shutdown functionality provides additional safety and convenience.
---
The counter-top fryer is just the right size for daily use and cleaning, but it isn't too small too. With this 11-quart air fryer, you can easily cook family-size meals. The oven provides an extra-large capacity sufficient for home use. The dual heating elements make the fryer highly effective and help in faster cooking.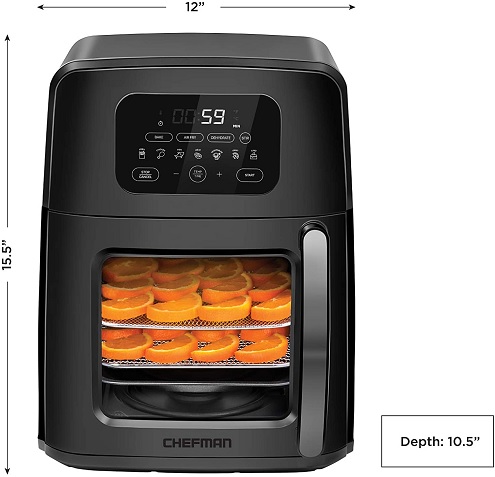 ---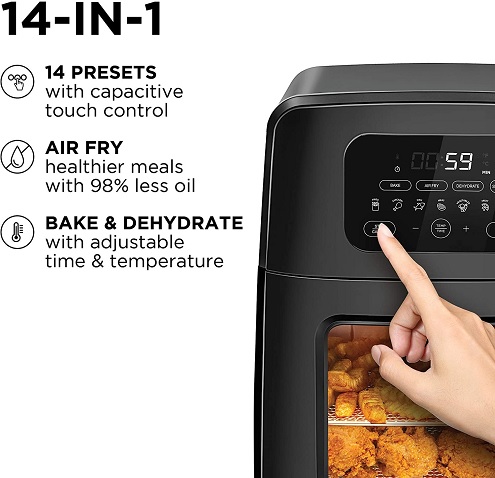 You can cook almost anything with convenient and in-built cooking functions. You can choose from as many as 14 presets with a simple and capacitative touch control. Press the button and Presto! You have your favorite recipes prepared. In case you wish to perfectly cook the larger food through the innovative air frying preset, select the rotisserie function.
TOP 10 KEY FEATURES:
| | |
| --- | --- |
| Build Quality: | Plastic |
| Capacity: | 12 Liters |
| Wattage: | 120V |
| Weight: | 20 pounds |
| Dimensions (W x H x D): | 11 x 13 x 16 inches |
| Cooking Functions: | 3 Cooking Functions & 14 Presets |
| Operation Mode: | Digital With Capacitative Touch Buttons |
| Cleaning & Handling: | Dishwasher Safe Accessories |
| User-Friendly Features: | Automatic Shutdown |
| Health Marker: | 98% Less Oil Consumption |
Included in the box:
Chefman 12 Liter Auto-Stir Air Fryer Oven +
Nonstick Drip Tray
Wire Roasting Rack
Stir Attachment
Fry Basket
2 x Wire Racks
Power Cord
Payment & Security
Chefman Auto-Stir Air Fryer Convection Oven